architecture - engineering - construction

Mantrap Portal Solutions Eliminate Piggybacking
January 23, 2017
Proven Mantrap Portal Solutions Cost-Effectively Replace "Do-It-Yourself" Vestibules
Today, many companies build their own mantrap vestibules. However, they often overlook how expensive and difficult it can be to achieve consistent, error-free piggybacking prevention. They don't know that an alternative solution already exists - Boon Edam security portals!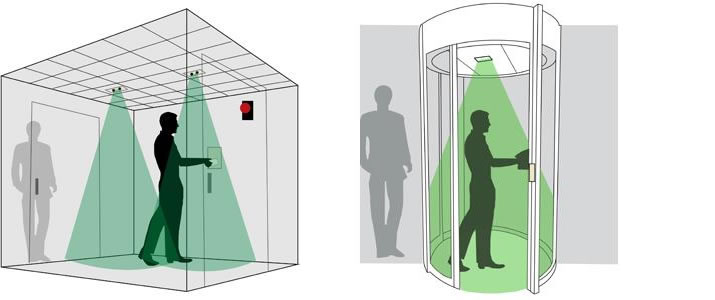 Do-It-Yourself Vestibule

Inability to measure false acceptance risks
Unpredictable false rejection rates
Must be manned and monitored at all times
High operational costs
Large footprint
Constant testing and troubleshooting

Mantrap Portal Solution

Proven solution with measurable false acceptance risks
Predictable and manageable false rejection rates
Completely unmanned solution
One-time investment with minimal operating costs
Space efficient
Quick and simple installation
Company:

Boon Edam Inc.
Product: Security Revolving Doors & Portals
Source: http://www.boonedam.us/mantrap-portal-solutions-eliminate-piggybacking
---
Tags:
Tunnel Vision: New York City's East Side Access Project (November 21, 2016), What if Someone is Determined to Get into Your Building? (September 12, 2016), GuardDog Self-Closing Gate uses two stainless steel torsion springs so the gate can open in any direction (September 9, 2016), Isabel Bader Center (August 17, 2016), The Sir John A MacDonald Building (June 3, 2016), Turnstiles to Appear on Discovery Channel Show (May 6, 2016), Helping to retrofit Bronx Community College (October 5, 2015)
StonePly Success Story: Atlantis - The Cove (January 11, 2017), Sun Control Sunshades (January 5, 2017), Parking Booth (December 27, 2016), 4 'Gotchas' that could derail your front entrance security upgrades (December 16, 2016), Solutions for the entire building façade (December 9, 2016), The Dock Gate's custom gas struts make the vertical gate easy to open. Easy as 1, 2, 3! (September 21, 2016), What if Someone is Determined to Get into Your Building? (September 12, 2016), GuardDog Self-Closing Gate uses two stainless steel torsion springs so the gate can open in any direction (September 9, 2016), First Appearances Matter: remove the dirt | absorb the moisture | preserve your floors (August 31, 2016), Mirror polished stainless steel enclosure top and return grilles at New York City Hospital Lobby (August 26, 2016)
StonePly Success Story: Atlantis - The Cove (January 11, 2017), How to Choose the Right Product for a Nuisance Bird (January 4, 2017), Parking Booth (December 27, 2016), Architectural Glass Takes on a New Shape (December 23, 2016), Creating a Healthy, Safe, Age-Friendly Work Environment (December 7, 2016), Safety standards for slips, trips, and falls (November 30, 2016), Tunnel Vision: New York City's East Side Access Project (November 21, 2016), Rigorous Testing Standards Ensure Effective Security (November 16, 2016), Winner in NADRA 2016 Deck Competion (November 4, 2016), Critical Infrastructure Protection: U.S. Data Centers and Ballistic Barriers (October 3, 2016)
Iconic TWA Terminal Receives New Life (January 18, 2017), Parking Booth (December 27, 2016), Architectural Glass Takes on a New Shape (December 23, 2016), Loss Prevention: Ramping Up Retail Security for the Holidays (December 21, 2016), 4 'Gotchas' that could derail your front entrance security upgrades (December 16, 2016), Rigorous Testing Standards Ensure Effective Security (November 16, 2016), Register for a FREE Senseon Secure Access webinar: transforming lock and key systems for commercial environments (October 7, 2016), Critical Infrastructure Protection: U.S. Data Centers and Ballistic Barriers (October 3, 2016), Videoconferencing cameras and security: Is someone watching? (September 16, 2016), What if Someone is Determined to Get into Your Building? (September 12, 2016)