architecture - engineering - construction

Material Highlight: High-Density Polyethylene
February 11, 2019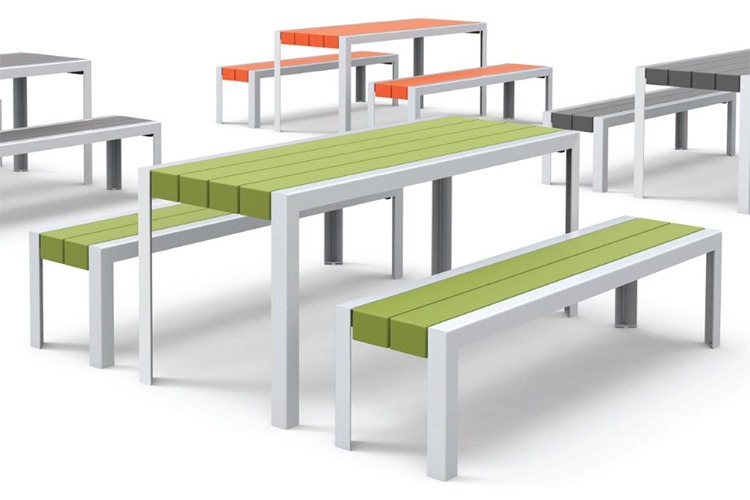 Recycled Plastic Lumber
(Wood grain appearance)

Maglin uses plastic lumber from recycled High-Density Polyethylene, creating a durable environmentally friendly alternative to traditional lumber.
Recycled plastic lumber does not incorporate any fillers such as wood fiber or wood flour which can absorb moisture and cause material degradation and color fading. The recycled plastics utilized in our plastic lumber is a combination of post-industrial, post-consumer regrind and wide-spec (industrial by-product) which would normally be disposed of in our landfills. It is perfect for most outdoor applications and utilized by industry, and manufacturing for OEM projects, park and recreation, government and agriculture.
Our plastic lumber is produced from high-density polyethylene (HDPE), colorants (pigments) and UV inhibitors.
Manufactured to exacting specifications and is resistant to corrosive substances, oil and fuels, insects, fungi, salt spray, and other environmental stresses
Does not absorb moisture and will not rot or splinter
Recycled Plastic Panels
(Orange peel appearance)
The recycled plastic panel material is comprised of a UV resistant pigment that is solid throughout the sheet allowing for less noticeable nicks or scratches, full color cut ends, and maintenance free use.
Our product is made from 100% recycled materials and is 100% recyclable.
Panel plastic can be used in an array of applications where high durability and no maintenance are desired in both wet and dry applications.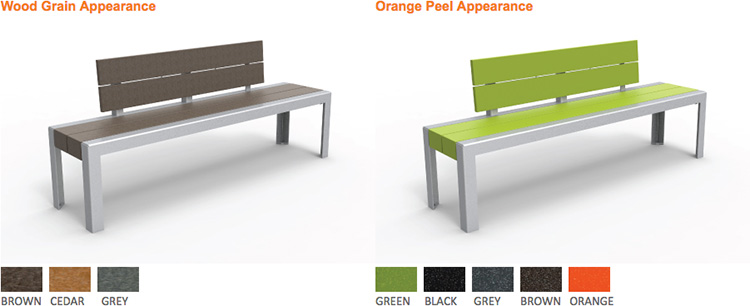 Benefits
Long lasting and virtually maintenance free
Never needs to be treated/painted and is resistant to most graffiti
Does not splinter or absorb moisture
Can be shaped using conventional woodworking methods and tools
It is resistant to salt and acids and unaffected by termites, rodents, worms, marine parasites, or other insects
Does not leech or bleed toxins or carcinogens into the soil or marine ecology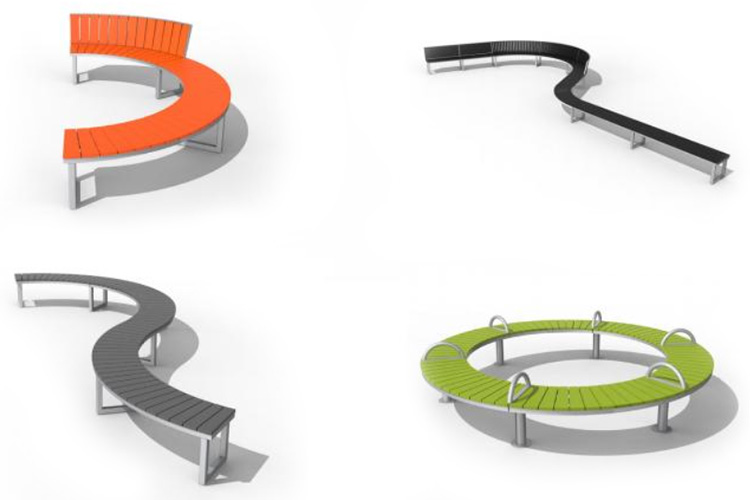 Features
100% Recycled
Vibrant Colors
No Maintenance
UV Stabilizing Additives
BPA Free
Benefits
Durable
Material contributes to LEED Points
No VOC Off Gassing
100% Recyclable
No Maintenance
Versatility in many applications
@maglinfurniture #maglinfurniture #maglin #streetfurniture
Company:
Maglin Site Furniture
Product: 1050 Series
Source: http://www.maglin.com/recycledplastic.html
---
Tags:
REFLECTOR™ Enhancer Flooring Systems (January 16, 2019), Head of Its Class: An Award-Winning School Design (January 9, 2019), Whistler's Cultural Connector (December 19, 2018), Working Inside Out (November 14, 2018), Color Strategies for a Successful Coworking Space (November 12, 2018), Sherwin-Williams Colormix® Color Forecast 2019 (September 7, 2018), Metallic black is a dazzling new face brick (September 3, 2018), Razzle Dazzle Camouflage Design (August 13, 2018), Black Aluminum Cable Railing (June 15, 2018), Art in Motion by Ethereal Light Installation Artist Spencer Finch (June 9, 2018)
What Is Fixed Theater Style Seating? How to Calculate Fixed Theatre Seating (December 24, 2018), Whistler's Cultural Connector (December 19, 2018), Working Inside Out (November 14, 2018), Modern Heirlooms - Historic Urban Mixed-Use Developments (June 25, 2018), Connect with Ancora (June 4, 2018), Flipper & Pocket Doors: What's the Difference? (March 29, 2018), Educational design: Connecting people and place (March 28, 2018), Custom outdoor furniture that reflects your vision (November 10, 2017), LumiSplash™ Decorative Laminates with LED Edge Lighting (October 23, 2017), Theater Seating that says enjoy the show! (October 17, 2017)
How Lightweight Planters Can Lower Your Costs (January 25, 2019), Bronze Aluminum Cable Railing (January 18, 2019), Whistler's Cultural Connector (December 19, 2018), 'Tis the Season (December 12, 2018), Why Choose Glass Deck Railing? (November 26, 2018), Working Inside Out (November 14, 2018), An alternative to union metal light poles: resin-based lampposts (November 2, 2018), Resin planters and lampposts: easy to maintain and graffiti resistant (October 1, 2018), Gateway Arch Expansion (September 22, 2018), Landscape lighting solutions: 7 signs your business should upgrade lighting systems (September 13, 2018)
Visual Blog: Kalwall in the Retail/Commercial Market (February 8, 2019), Meeting modern trends in multifamily construction (October 17, 2018), Facades+ features UW NanoES building with finishing by Linetec (October 15, 2018), Daylight modeling services (September 10, 2018), Varying perforation pattern technique provides sun shading system (April 30, 2018), A Gateway To A Translucent Space (December 15, 2017), Now from Armstrong ceilings: Tectum wall & ceiling panels (November 9, 2017), Kawneer Project Profile: Heifer International World Headquarters (November 2, 2017), Draper takes new angle to solve glare and heat gain (October 30, 2017), Sustainable Single-Family House (October 5, 2017)
Resin planters and lampposts: easy to maintain and graffiti resistant (October 1, 2018), An orderly revolution in waste control (August 3, 2016), New product launched minutes ago! Central Park Conservancy (March 12, 2015)