architecture - engineering - construction

Microtopping Floors in Retail Furniture Stores
November 28, 2018
Shopping for furniture is a bit like shopping for a new car or a piece of art. The environment in which the furniture is displayed is important enough that it should present the beauty of the furniture while at the same time not distracting potential customers from imagining how it might look if it was theirs. Microtopping floors in retail furniture stores achieve this, by being both durable and beautiful, as well as presenting a clean, blank slate for shoppers to project their own dreams upon.
Concrete is an increasingly important design criteria for modern architects and designers. People have finally discovered that concrete is much more than cinder blocks or the plain gray of a broom-finished sidewalk. Microtoppings are an innovative solution for flooring that combines the elegance and durability of concrete with the ability to change the look of a floor.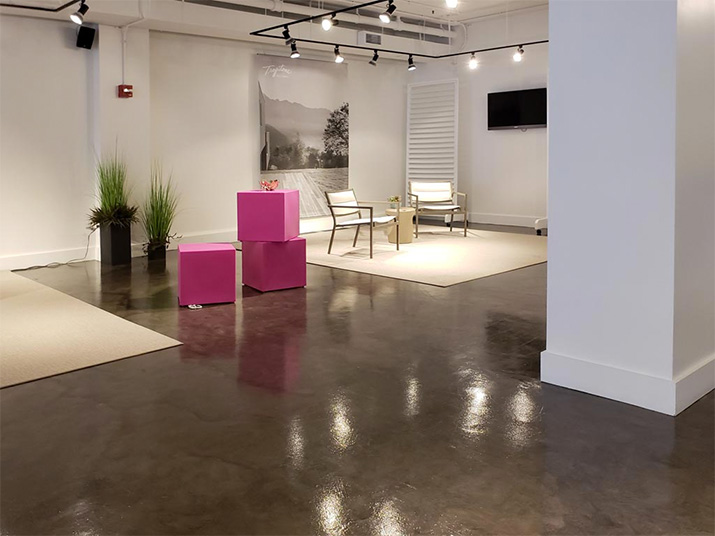 Microtoppings are thin coatings that are applied on top of a flooring substrate, often concrete that is in disrepair. It applies very thinly, does not add a lot of weight and bonds very well to the prior surface. Microtoppings by Duraamen are developed to lend a smooth finish that can take on any look or color with ease, making them perfectly suited for the retail environment.
Because microtoppings are so durable, they can be used indoors and outdoors, which can provide you with seamless transitions in all of your retail spaces. It is also equally suited for flooring as well as for vertical surfaces such as stairs or walls in order to provide a consistent, coherent look for any of your retail outlets.
Microtoppings used in a retail furniture store has numerous benefits. A custom, tailored appearance is just one. The final appearance of your floor is so versatile, you can choose any color scheme, border or design as well as any color combination, from soft contemporary grays to splashes of color on stenciled borders or logos. Anything is possible. Your floor can be perfectly smooth or look worn from age, although, of course, still being brand new and long-lasting.
Most flooring is completed quickly and with minimal downtime, and pricing is comparable to other flooring, particularly when you compare the durability of your microtopping floor.
The resistance to impact, abrasion and compression makes microtopping floors a perfect choice for retail stores selling heavy furniture items. Move the furniture around as often as you like and be assured that your floor can handle it.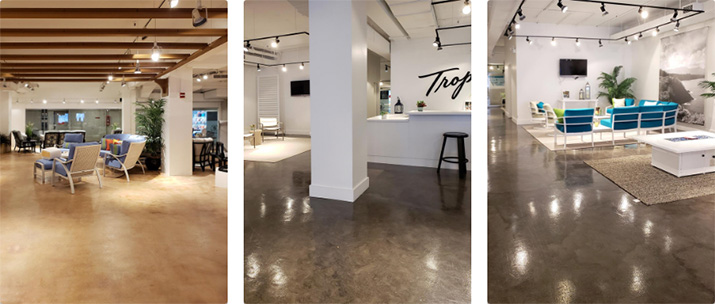 Company:
Duraamen Engineered Products Inc.
Product: Concrete Flooring: Overlays / Micro-toppings
Source: https://www.duraamen.com/blog/microtopping-floors-retail-furniture-stores
---
Tags:
Color Strategies for a Successful Coworking Space (November 12, 2018), Razzle Dazzle Camouflage Design (August 13, 2018), Is Polyaspartic Coating better than Epoxy or Polyurethane Coating? (April 26, 2018), The allure of 'in-between' colors (April 4, 2018), Architectural Color Trends for 2018 (February 26, 2018), Color underfoot: new design possibilities with concrete (January 17, 2018), Modern & Seamless Custom Flooring Systems (November 14, 2017), New! West Elm Fall/Winter 2017 Paint Palette (November 8, 2017), Slate, Portland's new, LEED Gold, mixed-use, transit-oriented development features Linetec's paint, anodize and thermal improvement services (November 1, 2017), Linetec finishes Loewen windows for Canada's Windermere House (September 27, 2017)
Gateway Arch Expansion (September 22, 2018), Waterproof and protect below-grade slabs and perimeter walls (July 18, 2018), Penetron project: Melaka Harbour City, Malacca, Malaysia (June 11, 2018), Paint vs. Stain: know the difference (April 6, 2018), How to Fluid-Proof Circular Joints in Concrete (March 26, 2018), An introduction to waterstop (February 28, 2018), Color underfoot: new design possibilities with concrete (January 17, 2018), Polished Concrete Flooring (December 13, 2017), Modern & Seamless Custom Flooring Systems (November 14, 2017), Distinctive dual towers built on Penetron (October 12, 2017)
7 Fun ideas using glass to jazz up your outdoor patio or deck this summer (July 27, 2018), Structural glass floor pavers landings & stair treads (May 7, 2018), Is Polyaspartic Coating better than Epoxy or Polyurethane Coating? (April 26, 2018), From west to east with Howe Green access covers (January 4, 2018), Polished Concrete Flooring (December 13, 2017), Modern & Seamless Custom Flooring Systems (November 14, 2017), 4 Major Advantages of Decorative Concrete in Commercial Settings (September 25, 2017), Keeping the castle cosy with Howe Green access covers (September 11, 2017), Concrete Resurfacing (August 23, 2017), Slipnot® provides slip resistance and aesthetic display for Times Square spotlight on Broadway project (August 7, 2017)