architecture - engineering - construction

Modern & Seamless Custom Flooring Systems
November 14, 2017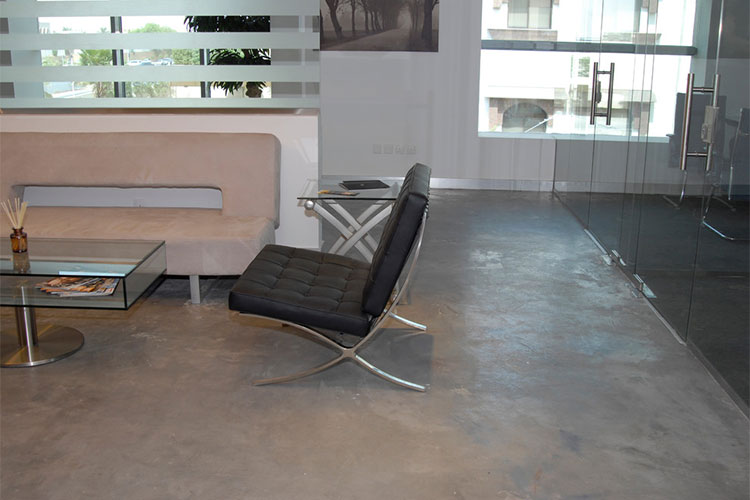 Elite Crete Systems has solutions to concrete floor problems and the design and decor experience to provide a truly unique one of a kind floor system.
REFLECTOR Enhancer Flooring Systems for a residential garage floor.
REFLECTOR Enhancer Flooring Systems in a dining room. Seamless, durable and beautiful.
Although this floor looks like traditional wood floor, it is not actually wood at all. It was created with THIN-FINISH™ Pre-Mixed Overlay and is a polymer modified cementitous topping. Because it is cement based, it is seamless and will not scratch like conventional wood floors.
Custom seamless floor created with REFLECTOR™ Enhancer Flooring System.
This beautiful and custom floor was created with THIN-FINISH™ and MICRO-FINISH™ polymer modified cementitious overlay.
This floor is not tile. It is fluid applied but made to look like stone tile. It was created with TEXTURE-PAVE™ pre-mixed overlay and colored with ULTRA-STONE™ Antiquing Stain.
Elite Crete Systems is a leading manufacturer of exterior decorative concrete finishes and custom seamless interior flooring. With a national network of trained installers and local technical support offices Elite Crete Systems is able to service individual residential clientele along with large corporate installations and construction projects.
Company:

Elite Crete Systems, Inc. (Headquarters)
Source: http://www.elitecrete.com/
---
Tags:
New! West Elm Fall/Winter 2017 Paint Palette (November 8, 2017), Slate, Portland's new, LEED Gold, mixed-use, transit-oriented development features Linetec's paint, anodize and thermal improvement services (November 1, 2017), Linetec finishes Loewen windows for Canada's Windermere House (September 27, 2017), Achieving Sustainability and Luxury in a Multi-Family Project (September 22, 2017), Anodize Nickel Test (August 17, 2017), How to deliver true color to your clients (August 11, 2017), An Award-Winning Project that Includes StoGuard® (August 1, 2017), Stenciled Concrete for your Pool decks, patios and driveways (July 11, 2017), Colormix® Forecast 2018 (June 14, 2017), HERMETIC Industrial Flooring (May 22, 2017)
Distinctive dual towers built on Penetron (October 12, 2017), 4 Major Advantages of Decorative Concrete in Commercial Settings (September 25, 2017), Concrete Resurfacing (August 23, 2017), Stenciled Concrete for your Pool decks, patios and driveways (July 11, 2017), HERMETIC Industrial Flooring (May 22, 2017), Xypex in London (May 8, 2017), 2017 Excellence in Hardscape Awards Recognizes County Materials' Concrete Pavers, Slabs and Retaining Walls (May 4, 2017), Decorative Concrete Can Be Gray or Colorful and is Ideal for Interior or Exterior... Take a Look (April 27, 2017), Protecting concrete against freeze-thaw damage (March 29, 2017), Project profile: flooring installation for busy bank in El Paso exceeds tight turnaround expectations while delivering a functional masterpiece (March 27, 2017)
New! West Elm Fall/Winter 2017 Paint Palette (November 8, 2017), Slate, Portland's new, LEED Gold, mixed-use, transit-oriented development features Linetec's paint, anodize and thermal improvement services (November 1, 2017), Achieving Sustainability and Luxury in a Multi-Family Project (September 22, 2017), Concrete Resurfacing (August 23, 2017), How to deliver true color to your clients (August 11, 2017), Durable skylight finishes by Linetec (July 4, 2017), 5 Things to Know About On-Site Finishing Repair and Restoration (June 15, 2017), Colormix® Forecast 2018 (June 14, 2017), HERMETIC Industrial Flooring (May 22, 2017), New Design Tools to Meet Green Guidelines (March 30, 2017)
4 Major Advantages of Decorative Concrete in Commercial Settings (September 25, 2017), Keeping the castle cosy with Howe Green access covers (September 11, 2017), Concrete Resurfacing (August 23, 2017), Slipnot® provides slip resistance and aesthetic display for Times Square spotlight on Broadway project (August 7, 2017), Howe Green 'raises the bar' at former olympic site (July 18, 2017), Stenciled Concrete for your Pool decks, patios and driveways (July 11, 2017), ADA compliant aluminum walkway provides safe public tours at Harpoon Brewery (July 5, 2017), Floor Marking by Color (June 30, 2017), Swedish hospital 'takes a chance' on Howe Green (June 21, 2017), 7 Hot 2017 Bathroom Design Trends You Need to Add Style to Your Space (June 13, 2017)
Now from Armstrong ceilings: Tectum wall & ceiling panels (November 9, 2017), New! West Elm Fall/Winter 2017 Paint Palette (November 8, 2017), Andamar Lifestyle Center uses revolving doors to combat wind, air infiltration (October 25, 2017), LumiSplash™ Decorative Laminates with LED Edge Lighting (October 23, 2017), Theater Seating that says enjoy the show! (October 17, 2017), Which Metal Ceiling Tile Finish Is Right For You? (October 11, 2017), Using Glass Creatively In Office Interiors (October 2, 2017), Artistry in Architectural Grilles Custom Laser-Cut Decorative Metal Screen (September 28, 2017), Achieving Sustainability and Luxury in a Multi-Family Project (September 22, 2017), Top Interior Design Ideas with Masonry Veneers (September 19, 2017)