architecture - engineering - construction

Morintegrated - Design Like a Kid Again
July 24, 2018
At Morin, we recognize that when you choose to design with Single Skin Metal, it's to get a particular look. Our job is to convert those CAD concepts into metal reality.
We understand that choosing a Color and Profile for a building is a part of the signature look. Over the years, we have seen the evolution and increase of using multiple profiles and combining colors for a specific effect.
We saw more demand for combining profiles, we wanted to expand our offering to match that demand. We wanted to give Architects a large simple palette of profiles to use with an infinite color selection.
To that end, we share three concepts.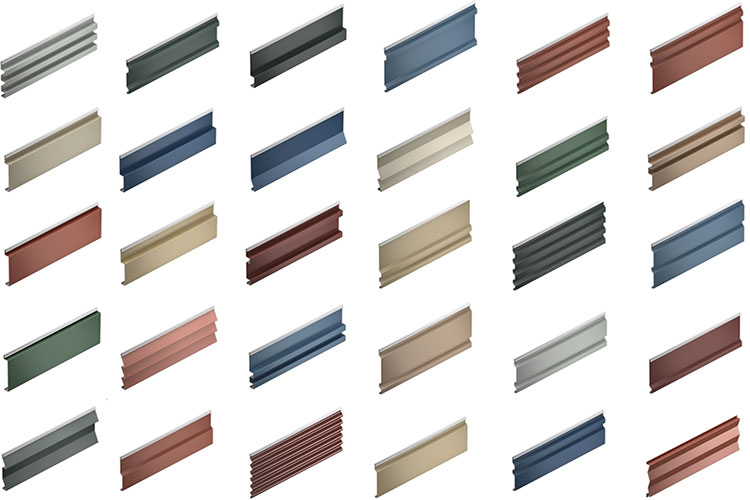 Matrix, Integrity and Pulse Series - concealed fastener rain screen, wall panel system
Morinnovative & Morintegrated
We took our strongest and most popular joinery system and made it slightly better. We then took many of our most popular profiles from other series and added them to Matrix and Integrity compatible series. Adding to that, we are launching the new Pulse Series, with angular looks in the fall of 2018.
Morinspiring - The net result: Inspiration!
Morin now offers over 25 profiles with the same proven joinery that can be mixed and matched for different signature looks. Both Vertical and Horizontal design options are available. When you integrate other design options like Miter or Radius corners, or perforations, it's hard to not get excited at all the options.
We look forward to seeing all the creative design ideas and love the challenge of intense architectural design that integrates heavier gauge metals. With decades of expertise in a variety of challenges, you can trust us with your most difficult ideas. Get inspired with our Indexed Gallery of Work.
See all the Wall and Roof Systems at www.Morincorp.com or simply remember #morincorp
Company:
Morin - A Kingspan Group Company
Product: Matrix Series®
Source: http://morintranet.blogspot.com/2018/07/design-like-kid-again.html
---
Tags:
How to find the perfect architect for you (July 10, 2018), Modern Heirlooms - Historic Urban Mixed-Use Developments (June 25, 2018), Art in Motion by Ethereal Light Installation Artist Spencer Finch (June 9, 2018), Design spotlight: enhancing the grid (June 3, 2018), Wind-driven rain louvers (May 21, 2018), Varying perforation pattern technique provides sun shading system (April 30, 2018), Daylight & Learning (April 20, 2018), Kalwall in the Manufacturing Market (April 10, 2018), Educational design: Connecting people and place (March 28, 2018), Understanding the five phases of design (March 18, 2018)
Using controls to personalize shading systems (July 23, 2018), Art in Motion by Ethereal Light Installation Artist Spencer Finch (June 9, 2018), Connect with Ancora (June 4, 2018), Wind-driven rain louvers (May 21, 2018), Structural glass floor pavers landings & stair treads (May 7, 2018), LuxCore FRP Fusion Wall Panels by Decorative Ceiling Tiles (May 1, 2018), Kalwall in the Manufacturing Market (April 10, 2018), Understanding the five phases of design (March 18, 2018), Entrances & entryways - making an impact (March 2, 2018), Architectural Color Trends for 2018 (February 26, 2018)
Design spotlight: enhancing the grid (June 3, 2018), Elevare™ Mullion High Wall System (May 16, 2018), LuxCore FRP Fusion Wall Panels by Decorative Ceiling Tiles (May 1, 2018), Varying perforation pattern technique provides sun shading system (April 30, 2018), Kalwall in the Manufacturing Market (April 10, 2018), Folded Zinc Panels in One Henry Adams, A Multi-Family Residence in Design District, South San Francisco (March 9, 2018), Entrances & entryways - making an impact (March 2, 2018), Building orientation & daylighting (February 9, 2018), Blue polycarbonate translucent wall system for Gap in Times Square NYC (December 5, 2017), Design spotlight: daylighting for privacy (December 2, 2017)