architecture - engineering - construction

MultipliCITY wins a 2015 IDEA Goldaward
August 25, 2015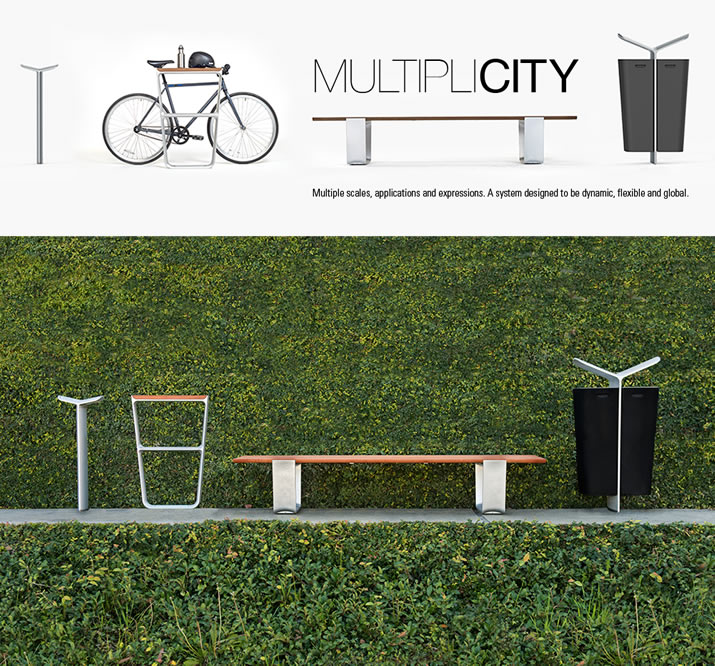 In a red carpet ceremony at stunning Benaroya Hall in Seattle, WA on August 22, 2015, the Industrial Designers Society of America (IDSA) unveiled the Gold, Silver and Bronze winners of the 2015 International Design Excellence Awards (IDEA). Among more than 1,700 entries from around the world, the Gold winner of IDEA 2015, category Outdoor & Garden, is MultipliCITY.
MultipliCITY is an international collection of outdoor public furniture elements that gives new meaning to the term "global design." MultipliCITY pioneers the integration of mass production and custom materials and configurations for the world market. The flexible, dynamic system addresses multiple scales, applications and creative expressions and includes six elements: a backed and backless bench; table; bike rack; LED path light; and litter container. Structural parts are manufactured by Landscape Forms; seating and table surfaces are produced from hardwoods sourced in markets outside North America; and flat shipping and local assembly to international locations supports carbon-reducing sustainability. MultipliCITY is a citizen of the world— equally at home in Buenos Aires, Barcelona or Boston.
Designed by: Yves Béhar, IDSA and fuseproject; and Landscape Forms Industrial Design Group
Contact: cindyc@landscapeforms.com
Company: Landscape Forms Inc.
Source: http://www.idsa.org/news/top-news/big-reveal
---
Tags:
Plastic Bollard Covers: Security Post Sleeves (August 7, 2015), Benefits of Precast Concrete Bollards (July 10, 2015), The FGP Collection by Francisco Gomez Paz (July 6, 2015), How To Create The Best Large Flower Pots On The Block (June 22, 2015), Introducing a whole new personalized approach to site furnishing... (June 15, 2015), Must watch video! Landscape design and the history of ASLA-NY (May 22, 2015)
Case Study: Sustainability without Sacrificing Beauty - the Linstroth Residence (July 22, 2015), The FGP Collection by Francisco Gomez Paz (July 6, 2015), Composite, Synthetic Decking and Deck Railing Materials (June 1, 2015), Architects turn to prefab materials (May 1, 2015)