architecture - engineering - construction

New facility at Dupage Airport in Chicago features Extech's systems
September 21, 2017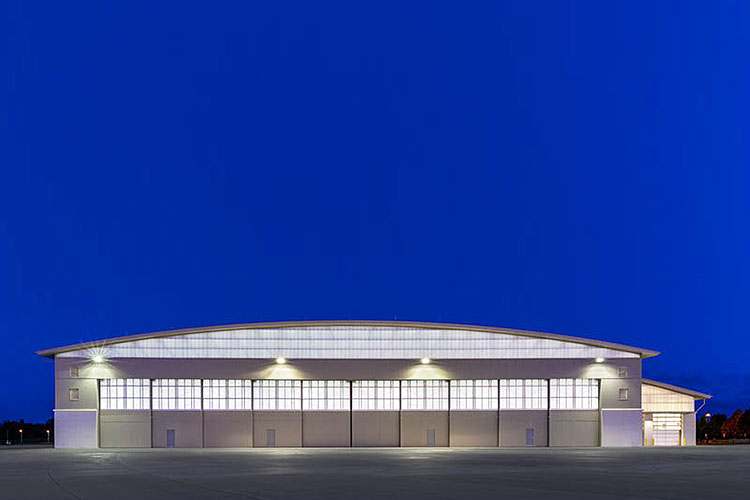 Images ©balloggphoto.com
Chicagoland's DuPage Airport Authority is home to the largest concentration of corporate aircraft in Illinois. It supports more than 400 based aircraft and is the only general aviation airport in Illinois with four active runaways, two instrument landing system approaches and a 24-hour FAA Air Control Tower, U.S. Customs and 24-hour onsite rescue and firefighting capabilities.
In addition to the aircraft on site, the airport receives daily transient aircraft. To better accommodate their aviation needs, the DuPage Airport Authority opened a new hangar in August 2017, reflecting its goal to build and maintain a world-class facility in the heart of the United States.
The new 31,000-square-foot hangar spans 244 feet wide by 134 feet deep with 29-foot-high doors. It features EXTECH's LIGHTWALL 3440 and SKYGARD 3300 polycarbonate systems. Mark Doles, the Director of Aviation Facilities and Properties and DuPage Flight Center, says of the new facility and EXTECH's systems: "We chose EXTECH's systems to give us the architecturally attractive look we wanted and the translucent polycarbonate lets us take advantage of the borrowed light. With the natural light, we usually will not have to utilize any electric lighting at all during the day. When we do illuminate the hangar, it's stunning to see at night."
Company: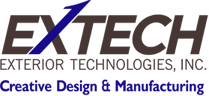 EXTECH/Exterior Technologies, Inc.
Product: Custom Facades
Source: https://extechinc.com/see-photos-dupage-airport-chicago/
---
Tags:
Stagescreen Portable Projection Screen® (September 12, 2017), Mitigating Protests, Smart Mobs and Crime with Manual Revolving Doors (September 6, 2017), Green: The Color that Became a Building Philosophy (September 5, 2017), Ogden by Maglin Site Furniture offers flexible straight, curved or circular bench options to suit any style (August 25, 2017), Visual Blog: Kalwall in the Cultural Market (August 22, 2017), Ruskin's acoustical louvers are AMCA licensed for water penetration and air performance (August 21, 2017), Little things make a big difference (August 14, 2017), How to deliver true color to your clients (August 11, 2017), Sustainable and small: The tiny house movement (August 9, 2017), Architectural Series Roof Guardrail System (August 8, 2017)
Visual Blog: Kalwall in the Transportation Market (September 15, 2017), Blast protection and pressure relief systems (August 24, 2017), Visual Blog: Kalwall in the Cultural Market (August 22, 2017), Project Spotlight: Work-friendly Daylight (July 13, 2017)
Design A Better Shaftwall System (August 29, 2017), Blast protection and pressure relief systems (August 24, 2017), Tectum Panel Art (August 18, 2017), Global warming: how architects & building owners can prepare the world (July 27, 2017), 5 Little Known Facts about High Gloss Acrylic Wall Panels (July 24, 2017), Kalwall Featured In Winning 2017 RIBA London Award Project (June 20, 2017), 7 Hot 2017 Bathroom Design Trends You Need to Add Style to Your Space (June 13, 2017), Designed for resiliency and acoustic performance (May 17, 2017), EXTECH offers LIGHTWALL 3440 translucent wall system with three new glazing options (May 15, 2017), Concealed Access Doors, a high-end architectural panel (March 24, 2017)
Visual Blog: Kalwall in the Cultural Market (August 22, 2017), Little things make a big difference (August 14, 2017), Draper Launches Acoustical Shading Solution (May 29, 2017), Four new ways to think about solar control (May 10, 2017), Solar shading systems: fixed & motorized louvers (May 3, 2017), Use of louvers-between-glass can contribute up to 31 LEED certification credits (April 5, 2017), Make rooms quieter with a little help from EchoControl acoustical shading (November 14, 2016), New Unicel white paper provides guidance for specifying privacy and shading solutions (October 19, 2016), Architects Inspiration Handbook for Glass applications in commercial interiors (August 29, 2016), E2JS thin line louver used on Reptile House at the Cincinnati Zoo (August 22, 2016)