architecture - engineering - construction

New! West Elm Fall/Winter 2017 Paint Palette
November 8, 2017
Whether a client wants a perfect neutral, refreshed trim or a bold accent wall, the new West Elm paint palette has a hue for your next project.
The Sherwin Williams Fall/Winter 2017 paint palette from west elm makes it simple to coordinate colors with their latest collections of furniture, bedding and home accessories. Whether you're picking the perfect neutral, refreshing tired trim or adding a bold accent wall, find favorite hues for every room of the house.
*Wall colors shown are Dustblu SW 9161, French Moire SW 9056, and Rocky River SW 6215.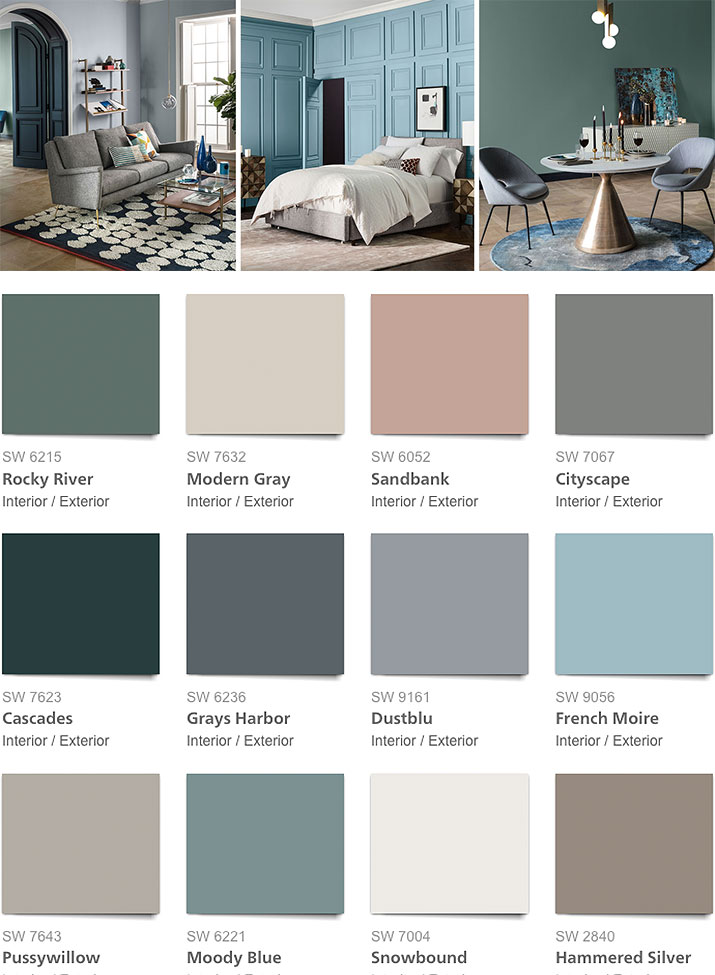 Company:
The Sherwin-Williams Company
Product: Interior Paints
Source: https://www.sherwin-williams.com/architects-specifiers-designers/inspiration/stir
---
Tags:
Slate, Portland's new, LEED Gold, mixed-use, transit-oriented development features Linetec's paint, anodize and thermal improvement services (November 1, 2017), Linetec finishes Loewen windows for Canada's Windermere House (September 27, 2017), Achieving Sustainability and Luxury in a Multi-Family Project (September 22, 2017), Anodize Nickel Test (August 17, 2017), How to deliver true color to your clients (August 11, 2017), An Award-Winning Project that Includes StoGuard® (August 1, 2017), Stenciled Concrete for your Pool decks, patios and driveways (July 11, 2017), Colormix® Forecast 2018 (June 14, 2017), HERMETIC Industrial Flooring (May 22, 2017), Decorative Concrete Can Be Gray or Colorful and is Ideal for Interior or Exterior... Take a Look (April 27, 2017)
LumiSplash™ Decorative Laminates with LED Edge Lighting (October 23, 2017), OSHA's new Respirable Crystalline Silica Rule is now in effect. The deadline has passed. Are you compliant? (October 9, 2017), Linetec finishes Loewen windows for Canada's Windermere House (September 27, 2017), Achieving Sustainability and Luxury in a Multi-Family Project (September 22, 2017), Stagescreen Portable Projection Screen® (September 12, 2017), Manchester Blend tan bricks a hot trend in the color world (August 28, 2017), Ogden by Maglin Site Furniture offers flexible straight, curved or circular bench options to suit any style (August 25, 2017), Tectum Panel Art (August 18, 2017), How to deliver true color to your clients (August 11, 2017), 5 Little Known Facts about High Gloss Acrylic Wall Panels (July 24, 2017)
Slate, Portland's new, LEED Gold, mixed-use, transit-oriented development features Linetec's paint, anodize and thermal improvement services (November 1, 2017), Achieving Sustainability and Luxury in a Multi-Family Project (September 22, 2017), Concrete Resurfacing (August 23, 2017), How to deliver true color to your clients (August 11, 2017), Durable skylight finishes by Linetec (July 4, 2017), 5 Things to Know About On-Site Finishing Repair and Restoration (June 15, 2017), Colormix® Forecast 2018 (June 14, 2017), HERMETIC Industrial Flooring (May 22, 2017), New Design Tools to Meet Green Guidelines (March 30, 2017), Navigating the wide selection of polymer overlays over concrete substrates (February 2, 2017)
Andamar Lifestyle Center uses revolving doors to combat wind, air infiltration (October 25, 2017), LumiSplash™ Decorative Laminates with LED Edge Lighting (October 23, 2017), Theater Seating that says enjoy the show! (October 17, 2017), Which Metal Ceiling Tile Finish Is Right For You? (October 11, 2017), Using Glass Creatively In Office Interiors (October 2, 2017), Artistry in Architectural Grilles Custom Laser-Cut Decorative Metal Screen (September 28, 2017), Achieving Sustainability and Luxury in a Multi-Family Project (September 22, 2017), Top Interior Design Ideas with Masonry Veneers (September 19, 2017), 9300 Slides – for the heavier bear (September 18, 2017), Cable railing ideas for indoors - stairs, lofts & more (September 14, 2017)