architecture - engineering - construction

Now from Armstrong ceilings: Tectum wall & ceiling panels
November 9, 2017
TECTUM WALL & CEILING PANELS: A PERFECT FIT OF DURABILITY, ACOUSTICS, AND UNIQUE VISUALS
From a natural factory finish or white, to integration with COLORATIONS colors (that's 13 standard colors) or made-to-order Sherwin-Williams® colors, TECTUM panels can coordinate or complement your color palette with the sizes, shapes, and forms that make your designs happen.
Toughness and acoustics are at the heart of TECTUM interior products, ideally suited to open spaces and high traffic, high impact areas. Panels can be attached directly to walls and ceilings in forms of panels, clouds, and square or curved. TECTUM linear hanging baffles give you even more design options.
Create a signature element in a space to complement your interior design. The possibilities are endless, the look is one-of-a-kind, and the acoustic properties of TECTUM panels can help quiet the space.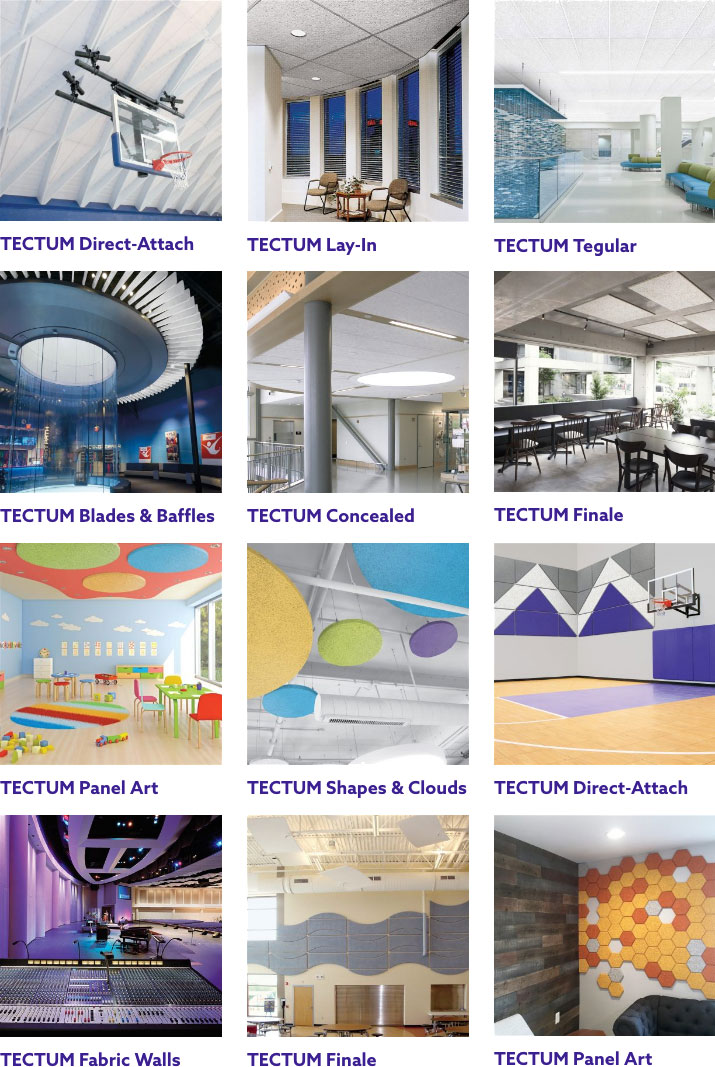 KEY FEATURES

Durable for heavy-use interiors
Sound absorption (NRC) values up to 1.0
Great acoustical retrofit solution
Color options include standard, Colorations colors, and custom Sherwin-Williams colors
Contributes to LEED credit areas including FSC certified wood
Attach to a variety of ceiling substrates
Easy to install

SPECIAL APPLICATIONS

Gymnasiums
Auditoriums
Multi-purpose Spaces
Acoustical Retrofits
Exposed Structures
Education Spaces
Company:
Armstrong Building Solutions
Product: TECTUM Wall & Ceiling Panels
Source: https://www.armstrongceilings.com/commercial/en-us/articles/tectum-part-of-armstrong-portfolio.html
---
Tags:
Armstrong® Ceilings Taps Broad Range of Capabilities To Bring One-of-a-Kind Ceiling Ideas to Life (October 4, 2017), Tectum III & Tectum IIIP Acoustical Roof Deck (September 7, 2017), Ruskin's acoustical louvers are AMCA licensed for water penetration and air performance (August 21, 2017), Tectum Panel Art (August 18, 2017), Draper Launches Acoustical Shading Solution (May 29, 2017), Designed for resiliency and acoustic performance (May 17, 2017), Make rooms quieter with a little help from EchoControl acoustical shading (November 14, 2016), Acoustical Walls, Ceilings and Special Applications (November 11, 2016), Interior Acoustical Finalé Wall Panels (October 10, 2016), Architects Inspiration Handbook for Glass applications in commercial interiors (August 29, 2016)
Which Metal Ceiling Tile Finish Is Right For You? (October 11, 2017), Armstrong® Ceilings Taps Broad Range of Capabilities To Bring One-of-a-Kind Ceiling Ideas to Life (October 4, 2017), An Introduction to Access Covers (December 12, 2016), Kalwall Featured in Major Award-Winning College Project (November 28, 2016), Acoustical Walls, Ceilings and Special Applications (November 11, 2016), AAG100 Plaster J-Bead™ Curved Linear Grille (November 9, 2016), Benefits of Decorative Metal Ceilings (July 22, 2016), Restaurant Ceiling Tiles (July 1, 2016), Where Champions Train: Kalwall® Lights Up Broncos' Indoor Facility (May 16, 2016), Guardian 275® translucent skylights provide a wide range of color, thermal performance and specialty application options (April 6, 2016)
New! West Elm Fall/Winter 2017 Paint Palette (November 8, 2017), LumiSplash™ Decorative Laminates with LED Edge Lighting (October 23, 2017), OSHA's new Respirable Crystalline Silica Rule is now in effect. The deadline has passed. Are you compliant? (October 9, 2017), Linetec finishes Loewen windows for Canada's Windermere House (September 27, 2017), Achieving Sustainability and Luxury in a Multi-Family Project (September 22, 2017), Stagescreen Portable Projection Screen® (September 12, 2017), Manchester Blend tan bricks a hot trend in the color world (August 28, 2017), Ogden by Maglin Site Furniture offers flexible straight, curved or circular bench options to suit any style (August 25, 2017), Tectum Panel Art (August 18, 2017), How to deliver true color to your clients (August 11, 2017)
New! West Elm Fall/Winter 2017 Paint Palette (November 8, 2017), Andamar Lifestyle Center uses revolving doors to combat wind, air infiltration (October 25, 2017), LumiSplash™ Decorative Laminates with LED Edge Lighting (October 23, 2017), Theater Seating that says enjoy the show! (October 17, 2017), Which Metal Ceiling Tile Finish Is Right For You? (October 11, 2017), Using Glass Creatively In Office Interiors (October 2, 2017), Artistry in Architectural Grilles Custom Laser-Cut Decorative Metal Screen (September 28, 2017), Achieving Sustainability and Luxury in a Multi-Family Project (September 22, 2017), Top Interior Design Ideas with Masonry Veneers (September 19, 2017), 9300 Slides – for the heavier bear (September 18, 2017)
Kawneer Project Profile: Heifer International World Headquarters (November 2, 2017), Draper takes new angle to solve glare and heat gain (October 30, 2017), Sustainable Single-Family House (October 5, 2017), How health factors into green building rating systems: LEED v4 (September 13, 2017), Green: The Color that Became a Building Philosophy (September 5, 2017), SC Railing Company: Offering a View from the Top (July 31, 2017), Auburn® custom & pre-engineered skylights (May 1, 2017), KINETICWALL wins 2017 Architizer A+ Award (April 19, 2017), Use of louvers-between-glass can contribute up to 31 LEED certification credits (April 5, 2017), The Original Orange Elevator Smoke Curtain (March 28, 2017)
Lines, grids & aesthetics in translucent panel systems (November 3, 2017), Kawneer Project Profile: Heifer International World Headquarters (November 2, 2017), Translucent Panels | Chesapeake Boathouse, Oklahoma City (October 31, 2017), LumiSplash™ Decorative Laminates with LED Edge Lighting (October 23, 2017), Which Metal Ceiling Tile Finish Is Right For You? (October 11, 2017), Sustainable Single-Family House (October 5, 2017), New facility at Dupage Airport in Chicago features Extech's systems (September 21, 2017), Design A Better Shaftwall System (August 29, 2017), Blast protection and pressure relief systems (August 24, 2017), Tectum Panel Art (August 18, 2017)