architecture - engineering - construction

OSHA's new Respirable Crystalline Silica Rule is now in effect. The deadline has passed. Are you compliant?
October 9, 2017
What you need to know to be compliant with the New OSHA Crystalline Silica Rule
The previous OSHA Crystalline Silica standard had not been updated in over 40 years. The agency determined that silica dust exposure at the previous levels resulted in a significant health risk of developing silicosis and other lung or kidney diseases. The new OSHA silica standard for PEL limits exposures to 50 micrograms of Respirable Crystalline Silica (RCS) per cubic meter of air, averaged over an 8-hour work day.
In order to keep exposure at or below the PEL, using engineering controls and work practices such as local exhaust ventilation systems or wet cutting is recommended. If these practices do not sufficiently lower RCS levels, the use of respirators is required. As industry leaders Seton offers a full range of safety product including warning signs, barricades, and respirators to help you work safely with silica and keep your workplace OSHA compliant.
Have more questions? See FAQs on seton.com/osha-silica.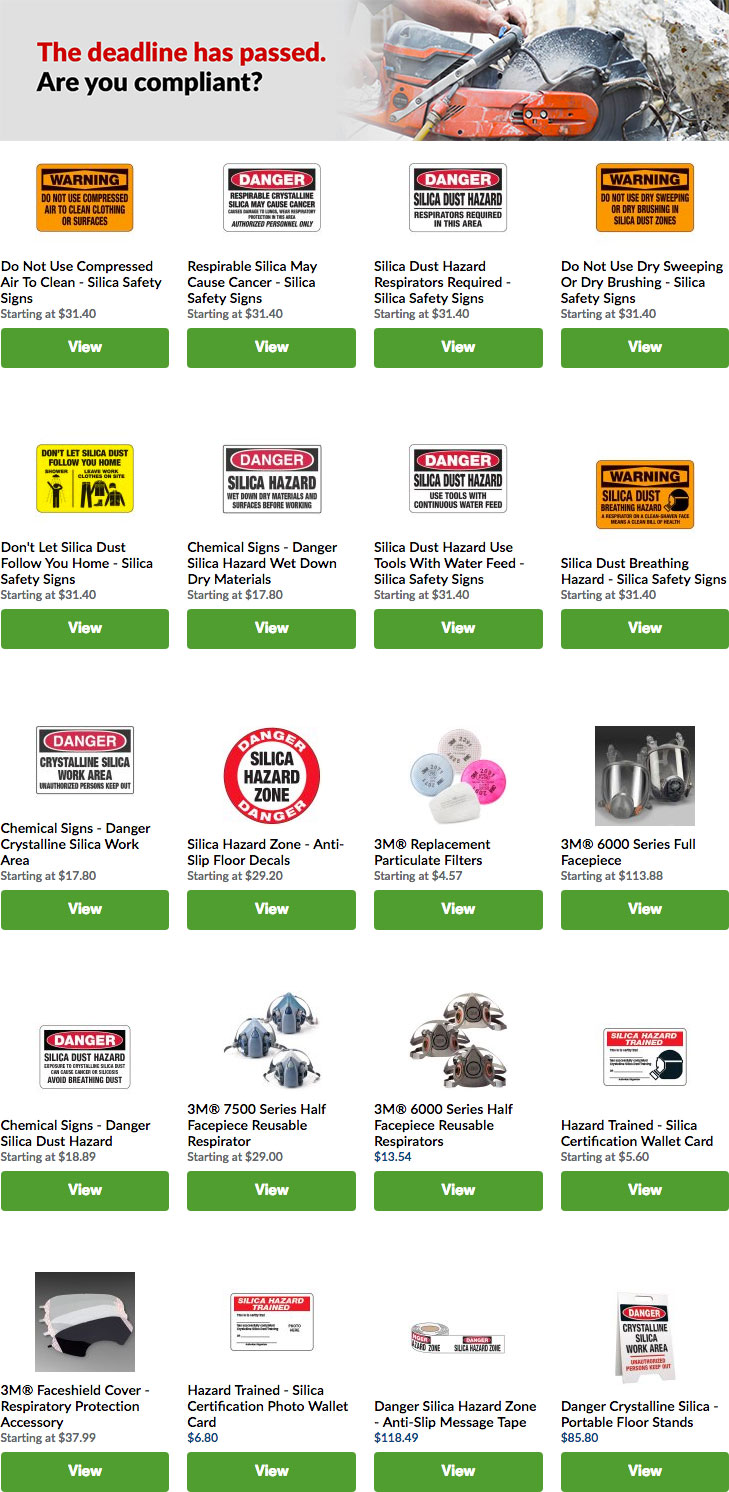 Company:

Seton
Product: Signs
Source: https://www.seton.com/osha-silica.html
---
Tags:
Linetec finishes Loewen windows for Canada's Windermere House (September 27, 2017), Achieving Sustainability and Luxury in a Multi-Family Project (September 22, 2017), Stagescreen Portable Projection Screen® (September 12, 2017), Manchester Blend tan bricks a hot trend in the color world (August 28, 2017), Ogden by Maglin Site Furniture offers flexible straight, curved or circular bench options to suit any style (August 25, 2017), Tectum Panel Art (August 18, 2017), How to deliver true color to your clients (August 11, 2017), 5 Little Known Facts about High Gloss Acrylic Wall Panels (July 24, 2017), Creating the perfectly flat viewing surface (July 11, 2017), Maglin Moves Manhattan (July 6, 2017)
Sustainable Single-Family House (October 5, 2017), Protecting concrete against freeze-thaw damage (March 29, 2017), Global changes in construction: Kalwall's insights from BAU (March 1, 2017), Despite economic uncertainties, healthy outlook for the nonresidential construction market (February 3, 2017)
Security Trends: Campus Challenges, Manpower Importance, & Measuring ROI (September 26, 2017), Accuride Integrated Access Solutions: The New Frontier of Access Control (August 15, 2017), 4 Tips to Plan for Packages (September 26, 2016)
Cable railing ideas for indoors - stairs, lofts & more (September 14, 2017), Removable storm shutters & panels (August 30, 2017), Design A Better Shaftwall System (August 29, 2017), Blast protection and pressure relief systems (August 24, 2017), Bike lockers: The right bike parking for your site (August 16, 2017), Accuride Integrated Access Solutions: The New Frontier of Access Control (August 15, 2017), Architectural Series Roof Guardrail System (August 8, 2017), Slipnot® provides slip resistance and aesthetic display for Times Square spotlight on Broadway project (August 7, 2017), SC Railing Company: Offering a View from the Top (July 31, 2017), Gorgeous Atriums that Meet Design Aesthetic and Safety Code (July 19, 2017)