architecture - engineering - construction

Portable security booths
February 22, 2018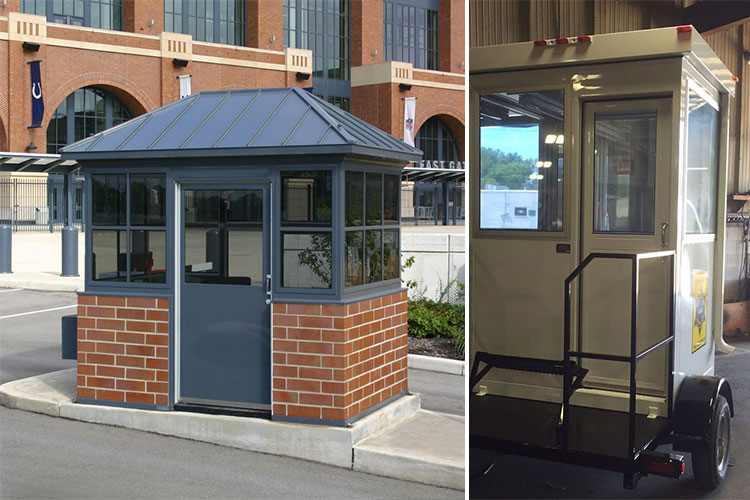 Security booth 0062-PRZ, security booth 15-170
If you need to secure multiple gates or entrances, it is essential to have a security booth, guard house or parking booth you can position and use immediately. Par-Kut portable security booths are perfect for guarding multiple entrances and gates. These security booths are easily moved from one place to another. So you can have these guard booths ready to use as soon as they are deployed or installed.
There are many advantages to having a portable security booth that is easy to transport. Par-Kut portable security booths are easy to order, and do not require assembly, because Par-Kut security booths are all factory-assembled. In addition, since there's no on-site construction, you will save time and money. These security booths can be moved easily with a fork lift or a crane. For even more rapid and frequent relocations, trailer mounted security booths are available. Bullet resistance can also be added.
Par-Kut's climate controlled and well insulated portable security booth can also reduce the officer's stress and fatigue. Further, a Par-Kut portable security booth provides a safe shelter for the security personnel. Moreover, your security booth can be enhanced to reflect architectural elements found on your facility. A variety of paint color schemes, various roof lines and styles, brick or stone wall treatments and even custom building shapes can be incorporated into a unique portable security booth design for your location. Interior options and lighting enhancements contribute to the aesthetics and function of the portable guard booth or guard building.
For more information about Par-Kut portable security booths, one of our skilled sales persons can help. Whatever your requirement for your security booths, contact Par-Kut today to discuss your particular operation.
Company:
Par-Kut International, Inc.
Product: PAR-KUT STANDARD
Source: http://www.parkutblog.com/security-booth/portable-security-booths/
---
Tags:
Why access control systems will never be enough to protect your premises (January 11, 2018), Art Gallery of Ontario enjoys more space and comfort with BoonAssist TQ revolving door entrance (November 28, 2017), Kawneer Project Profile: Heifer International World Headquarters (November 2, 2017), Attractive Bulletproof Barrier Design (October 27, 2017), Andamar Lifestyle Center uses revolving doors to combat wind, air infiltration (October 25, 2017), Security Trends: Campus Challenges, Manpower Importance, & Measuring ROI (September 26, 2017), Mitigating Protests, Smart Mobs and Crime with Manual Revolving Doors (September 6, 2017), You Deserve to be Delighted: 10 Essential Elements to Look for in a Security Entrance Manufacturer (July 25, 2017), Howe Green 'raises the bar' at former olympic site (July 18, 2017), Active Shooter Safety: 4 Things Your High Security Entrances Must Have (June 26, 2017)
Parking Booth (December 27, 2016), Architects turn to prefab materials (May 1, 2015)
Best places to use cable railing (February 19, 2018), Railing color: a hidden choice (January 24, 2018), Builder Spotlight: Jordan Iverson - Pride of Eugene, Oregon (November 13, 2017), The Benefits of Fire Retardant Curtains in Schools (October 16, 2017), Skylight guarding with SRC - Skylight Screens (October 10, 2017), OSHA's new Respirable Crystalline Silica Rule is now in effect. The deadline has passed. Are you compliant? (October 9, 2017), Cable railing ideas for indoors - stairs, lofts & more (September 14, 2017), Removable storm shutters & panels (August 30, 2017), Design A Better Shaftwall System (August 29, 2017), Blast protection and pressure relief systems (August 24, 2017)
Using security bollards and barriers to protect property and pedestrians (February 2, 2018), Why access control systems will never be enough to protect your premises (January 11, 2018), Securing your bulletproof glass investment in 2018 (December 18, 2017), Bullet Proof Barriers For Utility And Electric Co-Op Offices (November 21, 2017), Attractive Bulletproof Barrier Design (October 27, 2017), Andamar Lifestyle Center uses revolving doors to combat wind, air infiltration (October 25, 2017), Four Cross-Departmental Benefits of Electronic Access Control (October 13, 2017), Security Trends: Campus Challenges, Manpower Importance, & Measuring ROI (September 26, 2017), Mitigating Protests, Smart Mobs and Crime with Manual Revolving Doors (September 6, 2017), Blast protection and pressure relief systems (August 24, 2017)