architecture - engineering - construction

Railing color: a hidden choice
January 24, 2018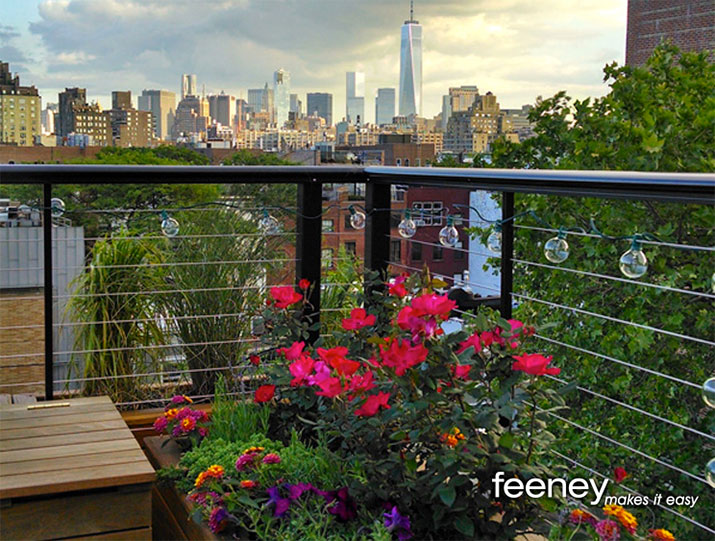 Black railing lets the eye focus on the foliage and the cityscape
In a previous post, we examined the pros and cons of railing infill alternatives. If an unobstructed view is a priority, the railing in-fill is usually glass or cable. Glass has its fans, but frequent cleaning can be a turn-off to some. Cable rail requires much less effort to keep up a fresh appearance.
However, both in-fill systems are identical in one respect: An attractive, durable railing system is required. In most applications, the strength, affordability, and beauty of long-lasting aluminum is the preferred railing choice. Aluminum also works well in interior or exterior applications.
But what about aluminum railing color?
Feeney offers 14 standard colors and over 200 custom colors for its DesignRail® aluminum railing system. To make sure the color holds up, especially in exterior projects, the aluminum railing receives a power-coated finish to the AAMA-2604 standard. That helps ensure color retention, impact resistance, and harsh weather protection.
With so many color choices, is there a one that especially supports an unobstructed view?
Absolutely, say Jason Russell, Tacoma, Wash.-based deck contractor and aka Dr. Decks®. In the doctor's professional opinion, one color stands out for an outstanding viewing prognosis.
"It's black," Russell says. "When you're sitting on your deck, admiring your view of the water, mountains, field, trees, or your neighbor's place, the less obstructed the better.
"You tend to look past darker colors, minimizing visual conflict. Lighter colors, like white, tend to draw the eye and distract. If you're framing glass or cable, all you see is that white aluminum frame." Says the 21-year deck-building veteran, "black helps avoid the distraction."
"I've heard some homeowners say, 'Okay, but won't a black railing look funny with my house?' I know curb appeal is important. But many homeowners become attracted to a railing color without thinking through what they'll really see when they're sitting on their lounge chair or the view from the kitchen. A black railing is better than being penned-in by a white or light-colored railing."
Russell cites another reason for his recommendation: "I live on the West Coast and black and other dark colors are trending hot. Black is my number one, go-to color."
Feeney customers agree. Black and Bronze Matte (another darker shade) top the popular colors list for the DesignRail® aluminum railing line of colors.

Company:

Feeney, Inc
Product: DesignRail® Custom Aluminum Railings
Source: http://media.feeneyinc.com/blog/railing-color-a-hidden-choice
---
Tags:
Color underfoot: new design possibilities with concrete (January 17, 2018), Oceanside: the 2018 color of the year (December 20, 2017), Polished Concrete Flooring (December 13, 2017), Blue polycarbonate translucent wall system for Gap in Times Square NYC (December 5, 2017), High gloss acrylic wall panels - back painted glass alternative (November 30, 2017), Custom outdoor furniture that reflects your vision (November 10, 2017), Now from Armstrong ceilings: Tectum wall & ceiling panels (November 9, 2017), New! West Elm Fall/Winter 2017 Paint Palette (November 8, 2017), LumiSplash™ Decorative Laminates with LED Edge Lighting (October 23, 2017), OSHA's new Respirable Crystalline Silica Rule is now in effect. The deadline has passed. Are you compliant? (October 9, 2017)
Upscale GFRC (Glass Fiber Reinforced Polymer) at Caesar's Palace on the Vegas strip (October 19, 2017), Before and after deck railing with Ultra-tec® cable railing (October 6, 2017), Removable storm shutters & panels (August 30, 2017), Anodize Nickel Test (August 17, 2017), Bike lockers: The right bike parking for your site (August 16, 2017), Global warming: how architects & building owners can prepare the world (July 27, 2017), You Deserve to be Delighted: 10 Essential Elements to Look for in a Security Entrance Manufacturer (July 25, 2017), Project Spotlight: Work-friendly Daylight (July 13, 2017), Stenciled Concrete for your Pool decks, patios and driveways (July 11, 2017), Transform your yard, patio, or outdoor cafe into majestic gathering places with these beautiful brick outdoor entertainment pieces (July 3, 2017)
Brick Stairways (November 20, 2017), Custom outdoor furniture that reflects your vision (November 10, 2017), 5 Innovative Public Square Design Ideas (September 29, 2017), Ogden by Maglin Site Furniture offers flexible straight, curved or circular bench options to suit any style (August 25, 2017), Concrete Resurfacing (August 23, 2017), Bike lockers: The right bike parking for your site (August 16, 2017), Modular Seating - Volare™ (August 10, 2017), Lake Avenue light poles restoration - Pasadena, California (August 2, 2017), TerraCast Step Planters Bring Innovation to Reclaim Public Spaces in Major U.S. Locations (July 28, 2017), Transform your yard, patio, or outdoor cafe into majestic gathering places with these beautiful brick outdoor entertainment pieces (July 3, 2017)
Builder Spotlight: Jordan Iverson - Pride of Eugene, Oregon (November 13, 2017), Before and after deck railing with Ultra-tec® cable railing (October 6, 2017), Cable railing ideas for indoors - stairs, lofts & more (September 14, 2017), Green: The Color that Became a Building Philosophy (September 5, 2017), Architectural Series Roof Guardrail System (August 8, 2017), SC Railing Company: Offering a View from the Top (July 31, 2017), Top NYC architect selects Feeney for notable barn project (July 26, 2017), CableView® Aluminum Cable Railing System by Stainless Cable & Railing Inc. (June 23, 2017), Rustic Meets Modern: Transitional Design Style (May 26, 2017), Deck Railing Ideas (April 7, 2017)
Builder Spotlight: Jordan Iverson - Pride of Eugene, Oregon (November 13, 2017), The Benefits of Fire Retardant Curtains in Schools (October 16, 2017), Skylight guarding with SRC - Skylight Screens (October 10, 2017), OSHA's new Respirable Crystalline Silica Rule is now in effect. The deadline has passed. Are you compliant? (October 9, 2017), Cable railing ideas for indoors - stairs, lofts & more (September 14, 2017), Removable storm shutters & panels (August 30, 2017), Design A Better Shaftwall System (August 29, 2017), Blast protection and pressure relief systems (August 24, 2017), Bike lockers: The right bike parking for your site (August 16, 2017), Accuride Integrated Access Solutions: The New Frontier of Access Control (August 15, 2017)