architecture - engineering - construction

Railing Infill Face-Off: Cable vs. Glass
March 10, 2017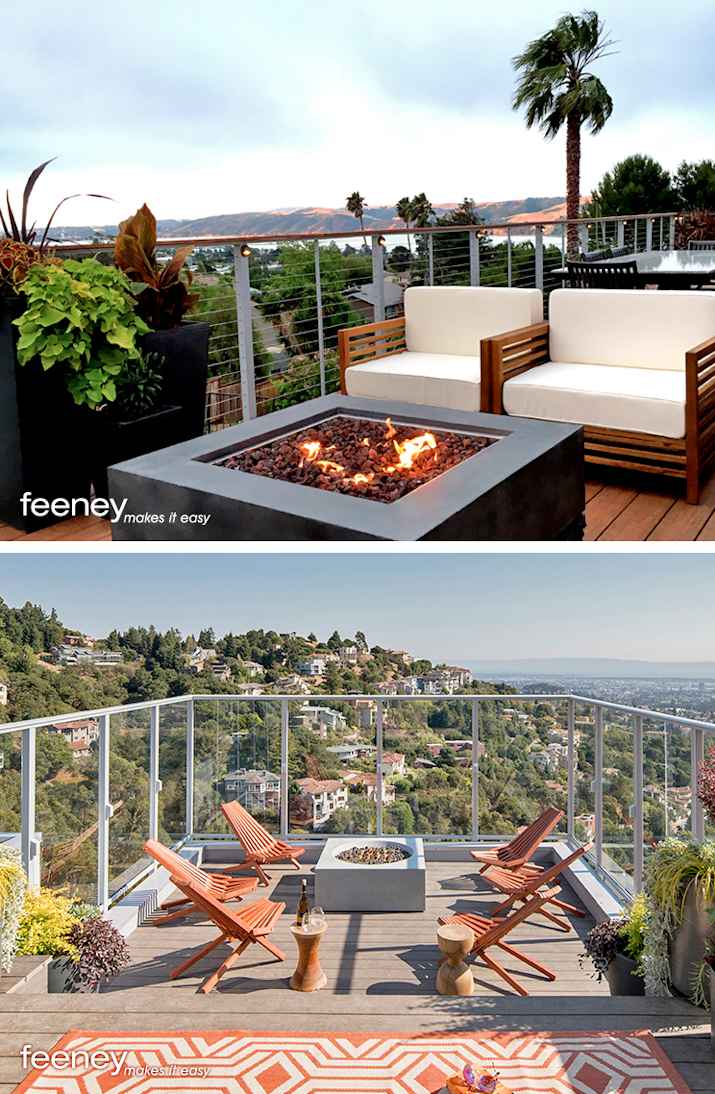 With all the direct work we do with residential and commercial architects, we know meeting your design vision is at the heart of our business. That's why we offer a premium palette of posts, top rails, frame colors, and infill options for your specification needs.
When that interior or exterior aesthetic calls for maximum transparency, as it often does, the usual railing infill defaults are a cable or a tempered glass system. It may come as a mild surprise to some to learn our DesignRail® system offers designers both view-friendly systems. Yes, we're a single-source, infill agnostic when it comes to meeting your project goals and budget.
Both glass and cable railing systems offer style, proven performance, and unfettered sight lines for interior or exterior applications. As you consider the best infill solution for your project, keep this in mind:
Cable Infill
Wind
Allows full air flow across the deck or balcony area.
Installation
CableRail is easy to install with patented automatic locking jaw Quick-Connect® fittings. No crimp tools or wedge-type compression fittings required.
Sustainability
Stainless steel cables contain 70% pre-consumer content and 0% post-consumer content.
Safety
Compliant with the International Building Code and International Residential Code when vertical or horizontal cable spacing is 3 inches or less.
Maintenance
Minimal. Periodic treatment with a stainless steel cleaner and protectant is recommended. Occasional cable tightening is a routine procedure.
Tempered Glass Infill
Wind
Offers a full or partial wind break, which can be a consideration in coastal projects.
Transparency
Can be modulated from clear to custom tinted, helping manage light flow and privacy.
Environmental impact
Clear tempered exterior glass panels can prove to be a hazard to birds.
Durability
Tempered laminated glass can be specified for varying safety and security levels.
Maintenance
Requires periodic cleaning, though higher quality glass can help reduce cleaning time and frequency.
Tempered glass or cable... both infill msystems offer important design advantages. Feeney is at your service with winning solutions for both.
Company:

Feeney, Inc
Source: http://media.feeneyinc.com/blog/railing-infill-face-off-cable-vs.-glass
---
Tags:
The evolution of the educational landscape (February 17, 2017), New from Thomas Steele: Monona benches, chairs, side tables and litter receptables (February 13, 2017), Waldorf™ Benches (January 12, 2017), Sherwin-Williams VinylSafe® Paint Colors (January 9, 2017), Sun Control Sunshades (January 5, 2017), Louvers Play Key Role in Passive Air Management (December 14, 2016), Winner in NADRA 2016 Deck Competion (November 4, 2016), Benefits of Smoking Shelters (October 28, 2016), 8 Questions You Need Answered Before Buying Commercial Grade Outdoor Furniture (October 24, 2016), Ace Hotel New Orleans restores historic Art Deco exterior and updates performance with Winco Windows finished by Linetec (October 14, 2016)
High-Function Custom Bullet Resistant Solutions for Banks (February 17, 2017), Architectural Glass Takes on a New Shape (December 23, 2016), Case study: Otterbein University's STEAM Innovation Center featuring Extech's Lightwall 3000 series curtain wall system (December 15, 2016), Kalwall Featured in Major Award-Winning College Project (November 28, 2016), Rigorous Testing Standards Ensure Effective Security (November 16, 2016), 5 Crazy Modern Glass Wall Partition Ideas for a Loft Apartment (October 17, 2016), Glass Shower & Tub Enclosures by Fleurco (September 2, 2016), Armortex Waterjet Cutting (August 24, 2016), 5 Proven Questions to Get the Size of Your Shower Opening Right (July 29, 2016), Premium Ballistic Frames Offer Huge Boosts in Sustainability and Multi-Threat Risk Mitigation (April 12, 2016)
Brass clad & bronze clad doors & frames (January 30, 2017), The Dock Gate's custom gas struts make the vertical gate easy to open. Easy as 1, 2, 3! (September 21, 2016), Mirror polished stainless steel enclosure top and return grilles at New York City Hospital Lobby (August 26, 2016), Armortex Waterjet Cutting (August 24, 2016), E2JS thin line louver used on Reptile House at the Cincinnati Zoo (August 22, 2016), Summer 2016 in the Hamptons (August 19, 2016), Benefits of Decorative Metal Ceilings (July 22, 2016), Structural steel services for the building and construction sector (July 20, 2016), Slip Resistant Aluminum Flooring in Bubble Capsule (June 22, 2016), Sotheby's 2016 Designer Showhouse + Auction (June 8, 2016)
Backyard 2.0: 2017 Deck and Railings Forecast (February 8, 2017), Winner in NADRA 2016 Deck Competion (November 4, 2016), Kelly Edwards' Tiny Home: Shipping container turned elegant living space with rooftop deck (October 21, 2016), Color Rendering Index: Why It's important in Outdoor Lighting (September 23, 2016), Architects Inspiration Handbook for Glass applications in commercial interiors (August 29, 2016), Commercial Grade Soft-Close Undermount slide (July 27, 2016), Smart Ways to Upgrade Your Deck (July 8, 2016), Why We Love Ipe and You Will Too (April 18, 2016), Home Free - the Reality Show with a Heart - features Feeney CableRail (September 3, 2015), Composite, Synthetic Decking and Deck Railing Materials (June 1, 2015)
6 Ways To Overcome Coastal Landscape Installation Challenges (March 3, 2017), Global changes in construction: Kalwall's insights from BAU (March 1, 2017), Active Shooter Safety: 4 Things Your High Security Entrances Must Have (February 20, 2017), High-Function Custom Bullet Resistant Solutions for Banks (February 17, 2017), Bird decoys: the hawk vs. the owl (February 10, 2017), Backyard 2.0: 2017 Deck and Railings Forecast (February 8, 2017), Flexible bollards guide traffic while avoiding costly collision damage and repairs (January 27, 2017), Mantrap Portal Solutions Eliminate Piggybacking (January 23, 2017), StonePly Success Story: Atlantis - The Cove (January 11, 2017), How to Choose the Right Product for a Nuisance Bird (January 4, 2017)
Choosing the right finish for coastal projects (February 24, 2017), Despite economic uncertainties, healthy outlook for the nonresidential construction market (February 3, 2017), Is polycarbonate the future of architecture? (February 2, 2017), Louvers Play Key Role in Passive Air Management (December 14, 2016), An Introduction to Access Covers (December 12, 2016), Architects empowered to drive positive change at SXSW Eco (December 5, 2016), Kalwall Featured in Major Award-Winning College Project (November 28, 2016), 8 Questions You Need Answered Before Buying Commercial Grade Outdoor Furniture (October 24, 2016), New Unicel white paper provides guidance for specifying privacy and shading solutions (October 19, 2016), The future of insulated wall panels has arrived (September 28, 2016)