architecture - engineering - construction

Reflector Designer Metallic Epoxy Flooring
October 14, 2016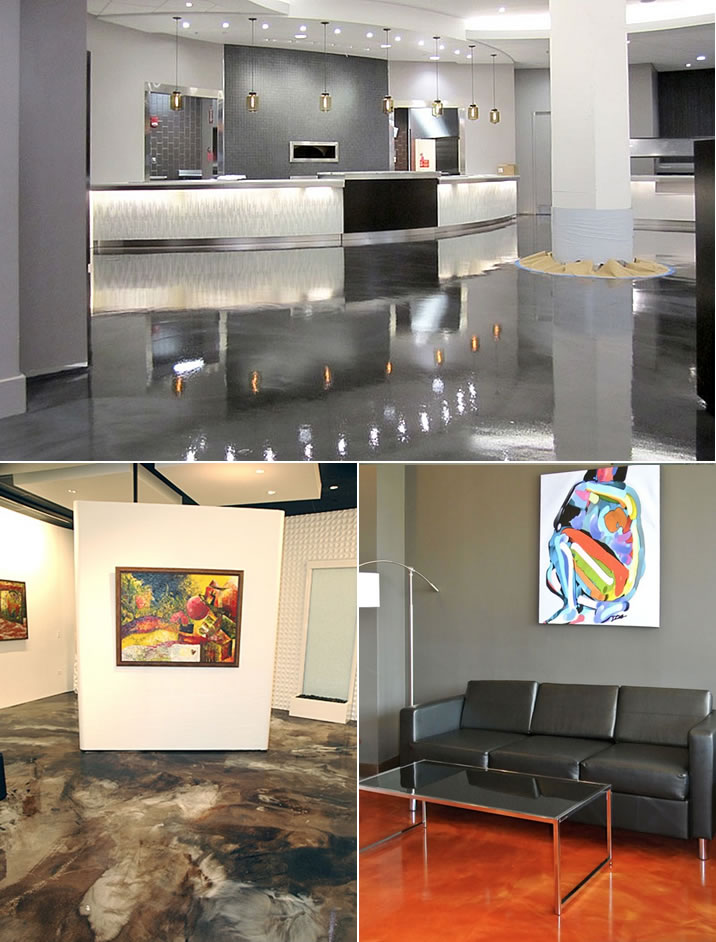 Lumiere - Reflector Designer Epoxy Coatings with miniscule metallic pigment particles suspended in translucent epoxies are giving contractors the uncanny ability to produce mirror-like surfaces without having to grind the first diamond to achieve that shine.

Offered in a dazzling array of colors, reflector designer epoxy coatings are being used to create gorgeous and highly durable designer floors largely in metropolitan areas throughout the world where superior surfaces are needed and a contemporary look is desired. These places run the gamut, from nightclubs, restaurants, car showrooms and offices to health care facilities, spas, salons, gyms and high-end retail stores.
Some of these epoxy coatings don't contain any metal and are largely mica or synthetic mica particles coated with colors. Others have different aluminum pigments, various metals and liquid colorants. Some are a combination of all of the above. But the traits making these premium coatings so popular are their consistent three-dimensional depth, color and shine that rival the luster achieved with more labor-intensive polishing. The shine comes from the metallic pigments in the coatings that reflect light instead of absorb it.
Today's easy-to-use reflector metallic epoxy coatings are attractive for many other reasons as well. Overall, epoxy formulas have been greatly improved to flow more efficiently and not to produce nearly as many bubbles as in years past. The coatings, which are clearer and less likely to amber, dry fast without compromising their integrity. They also have an extended pot life.
Installers report a quicker turnaround time with the newer metallic products with less labor involved. For floors in bad shape, reflector designer epoxy coatings can be a less expensive and viable alternative to overlays, polishing and stains.
The decorative thin-film systems generally require a primer before applying the metallic coating and then a topcoat of a clear polyurethane or high-build polyaspartic sealer. Although the products are self-leveling, they can be spread with a notched trowel, roller or squeegee in a random back and forth motion.
Lumiere, Reflector Designer epoxy coatings can produce seamless floors that are chemical resistant, easy to clean and highly durable. In restaurants, these coatings meet the USDA criteria for flooring. They are also environmentally friendly products, with very little to no VOCs.
Company:
Duraamen Engineered Products Inc.
Source: https://www.duraamen.com/p/metallic-epoxy-flooring/
---
Tags:
4 Reasons you should choose a resurfaced concrete floor (August 10, 2016), Designer John Gidding on Finding Color Inspiration (July 18, 2016), Antimicrobial Protection for Architectural Aluminum (July 16, 2016), Wood grain finishes for aluminum (May 27, 2016), Fleur de Sel (SW 7666) invites comfort and luxury into contemporary Atlanta home (March 18, 2016), 2016 Color Forecast (February 22, 2016), Online Color Selection and Specification Tool (January 11, 2016), NOVA Effects coatings provide rich color and vibrant sparkle (December 14, 2015), Protecting Industrial Flooring with Polyaspartic Coatings (November 30, 2015), Specialty systems improve on standing architecture (November 27, 2015)
First Appearances Matter: remove the dirt | absorb the moisture | preserve your floors (August 31, 2016), Mirror polished stainless steel enclosure top and return grilles at New York City Hospital Lobby (August 26, 2016), 4 Reasons you should choose a resurfaced concrete floor (August 10, 2016), SlipNOT is keeping the Indians fans at Progressive Field on their feet (August 5, 2016), Slip Resistant Aluminum Flooring in Bubble Capsule (June 22, 2016), Benefits of Slip Resistant Aluminum Plates (April 27, 2016), Consider Glass Flooring Systems for Dramatic Design (April 1, 2016), Non Slip Aluminum Plank (March 16, 2016), Better than real wood planks (March 9, 2016), High Performance Coatings (March 7, 2016)
Interior Acoustical Finalé Wall Panels (October 10, 2016), Register for a FREE Senseon Secure Access webinar: transforming lock and key systems for commercial environments (October 7, 2016), 4 Tips to Plan for Packages (September 26, 2016), Delray LED Circles: Uno • Dos • Cylindro I/II/III (September 14, 2016), Glass Shower & Tub Enclosures by Fleurco (September 2, 2016), First Appearances Matter: remove the dirt | absorb the moisture | preserve your floors (August 31, 2016), Architects Inspiration Handbook for Glass applications in commercial interiors (August 29, 2016), Mirror polished stainless steel enclosure top and return grilles at New York City Hospital Lobby (August 26, 2016), Accuride's flagship 3800 series slides are now available from bisco (August 12, 2016), 5 Proven Questions to Get the Size of Your Shower Opening Right (July 29, 2016)