architecture - engineering - construction

Round stainless steel railing systems
November 5, 2018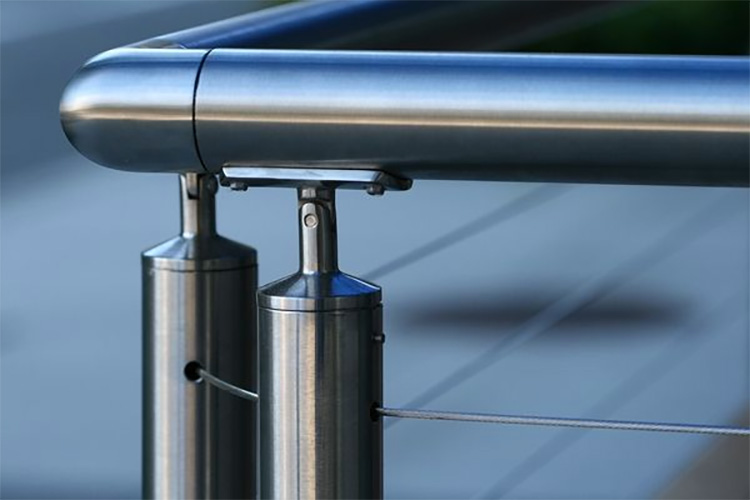 Stainless steel cable railing systems are revered for their beauty, and longevity. The brushed finish, subtle curves and bold lines of our round stainless steel cable railing systems give them modern eye appeal and class that exceed anything on the market today.
Building our round stainless steel cable railing systems consists of the following 5 steps:
Select Quantity of Drilled and Un-Drilled 2" Round Stainless Steel Posts and Mounting Brackets
Select Quantity of Top Rail if needed
Select the Top Rail Mounts
Select Angle Joints and End Caps for Top Rail
Select Stainless Steel Cable and Fitting Assemblies
3 Things to decide first:
Anticipated Rail Height - Usually 36" or 42"
Top (Deck) Mounted or Side (Fascia) Mounted Posts
Our 2" OD Stainless Steel Top Rail (Matches our Posts) or your Own (Can Match your Decking)
See our Square Stainless Steel Railing Systems by Stainless Cable & Railing Inc.
Stainless Cable & Railing™
Recognizes the importance of the long term investment, our customers make when choosing our products.
Only offers the best and most affordable Marine Grade 316 Stainless Steel Deck Railings, Cable Rail Fittings, and Stainless Steel Cable for your deck railings and balustrades.
Need help designing your railing project or an estimate? Fill out our Estimate Request Form, email quotes@stainlesscablerailing.com or fax 1-888-686-7245 (RAIL). We are here to help!
Company:

Stainless Cable & Railing Inc.
Product: CableView® Stainless Steel Round Cable Railing System
Source: https://stainlesscablerailing.com/round-stainless-steel-railing-systems.html
---
Tags:
Traditional + Contemporary = Transitional Design (October 4, 2018), Sherwin-Williams Colormix® Color Forecast 2019 (September 7, 2018), Metallic black is a dazzling new face brick (September 3, 2018), Louver and Architectural Solutions (August 23, 2018), Aesthetics: When Looks and Beauty Matter for Security Entrances (August 15, 2018), Razzle Dazzle Camouflage Design (August 13, 2018), Tips for specifying postal specialties (July 30, 2018), Morintegrated - Design Like a Kid Again (July 24, 2018), Using controls to personalize shading systems (July 23, 2018), Art in Motion by Ethereal Light Installation Artist Spencer Finch (June 9, 2018)
Traditional + Contemporary = Transitional Design (October 4, 2018), 'Megadeck' transforms outdated home into vacation retreat (August 29, 2018), Black Aluminum Cable Railing (June 15, 2018), Roof top safety (May 3, 2018), Best places to use cable railing (February 19, 2018), Railing color: a hidden choice (January 24, 2018), Builder Spotlight: Jordan Iverson - Pride of Eugene, Oregon (November 13, 2017), Before and after deck railing with Ultra-tec® cable railing (October 6, 2017), Cable railing ideas for indoors - stairs, lofts & more (September 14, 2017), Green: The Color that Became a Building Philosophy (September 5, 2017)
Accuride slides a safe partner for Kaso Oy (October 24, 2018), National Fire Protection Month (October 10, 2018), Traditional + Contemporary = Transitional Design (October 4, 2018), 'Megadeck' transforms outdated home into vacation retreat (August 29, 2018), What industries should utilize bullet-resistant glass? (August 28, 2018), SafetyRail 2000 Roof Fall Protection Guardrail System (August 11, 2018), Finding the Right Label for the Job (August 10, 2018), Black Aluminum Cable Railing (June 15, 2018), Roof top safety (May 3, 2018), Data center protection (April 15, 2018)