architecture - engineering - construction

Rustic Meets Modern: Transitional Design Style
May 26, 2017
Contemporary architectural styles are on the rise, but for those that don't want to lose that traditional feel, consider a rustic design complemented by modern touches. In the design world, this style is called transitional. The experts at Fresh Home define transitional design as the blending of modern and traditional elements; the result is a cohesive design.
Transitional design can be applied in many different ways in most every room in the house as well as outdoors. Case and point below.
This kitchen embodies all the charm of a rustic space with its large, weathered beams grounded by wide wooden plank flooring. However, the sleek stainless steel appliances, industrial lighting, and brightly colored bar stools and give this room a more modern touch. The addition of the CableRail stair and loft railing opens up the space, making the interior more dramatic.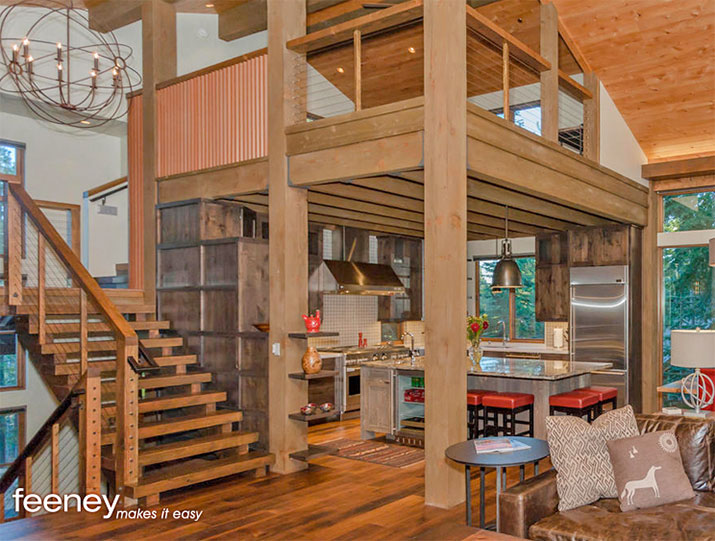 Here's another great example of a transitional design that incorporates a more natural, rustic feel but is balanced with contemporary components. This home was featured on the FOX television show HOME FREE. Feeney's CableRail was utilized as an alternative to traditional wood railing to create a sleek look complemented by the nature-inspired color palette. In addition, the patterned plywood accent wall with cylindrical concrete sconces adds depth to the space, resulting in a bucolic, simple design.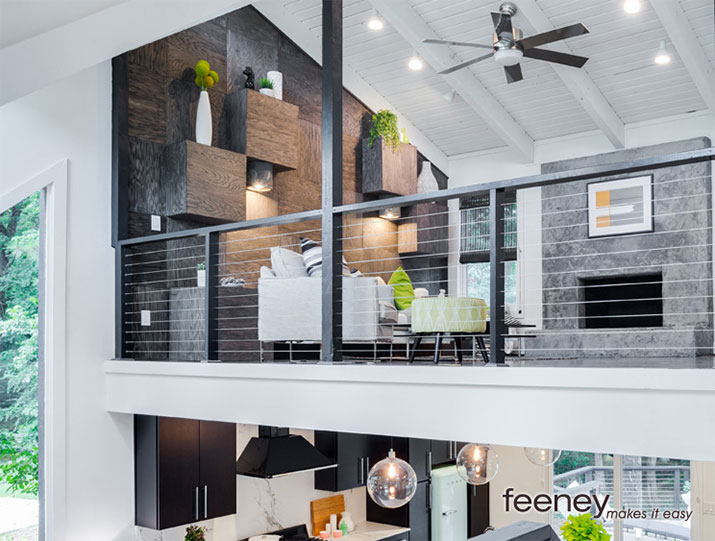 When it comes to exterior spaces, Feeney's CableRail and DesignRail® systems are just one of the many ways to transform a rustic-style design into a more contemporary one. A cable rail infill paired with a wooden railing offers a warm yet sleek look. The railing allows the homeowners enjoy what is certainly a lush wooded view from their Adirondack chairs. The outdoor area also incorporates a beautiful natural stone accent wall giving it a cabin-like appearance, and the additional exterior walls have a dark tone to them providing a more modern feel. While each of the design elements has a distinct style, the "mix and match" approach and blends cohesively and beautifully with the environment.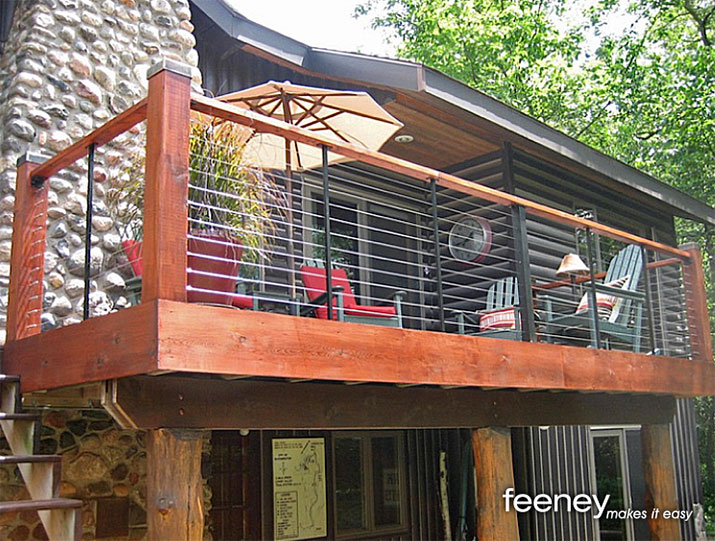 Company:

Feeney, Inc
Source: http://media.feeneyinc.com/blog/rustic-meets-modern-transitional-design-style
---
Tags:
Deck Railing Ideas (April 7, 2017), Railing Infill Face-Off: Cable vs. Glass (March 10, 2017), The evolution of the educational landscape (February 17, 2017), New from Thomas Steele: Monona benches, chairs, side tables and litter receptables (February 13, 2017), Waldorf™ Benches (January 12, 2017), Sherwin-Williams VinylSafe® Paint Colors (January 9, 2017), Sun Control Sunshades (January 5, 2017), Louvers Play Key Role in Passive Air Management (December 14, 2016), Winner in NADRA 2016 Deck Competion (November 4, 2016), Benefits of Smoking Shelters (October 28, 2016)
HERMETIC Industrial Flooring (May 22, 2017), Interior Corner Protection (May 18, 2017), 5 Compelling reasons you need to eliminate your shower pan threshold (May 16, 2017), What is a Drawer Slide and How Do I Choose the Right One? (May 12, 2017), Custom Period-Matched Perforated Grilles (April 26, 2017), Nystrom Launches 1 Inch Pan Floor Door (April 21, 2017), Bulletproof Systems and Accessories for Every Building (April 18, 2017), Decorative quartz flooring: choosing epoxy, urethane, or MMA resin? (April 13, 2017), Space Saving Solutions: Under the Staircase Storage (April 12, 2017), New Design Tools to Meet Green Guidelines (March 30, 2017)
Deck Railing Ideas (April 7, 2017), EnduraLine Mobile permanent warning line system (April 5, 2017), Railing Infill Face-Off: Cable vs. Glass (March 10, 2017), Backyard 2.0: 2017 Deck and Railings Forecast (February 8, 2017), Winner in NADRA 2016 Deck Competion (November 4, 2016), Kelly Edwards' Tiny Home: Shipping container turned elegant living space with rooftop deck (October 21, 2016), Color Rendering Index: Why It's important in Outdoor Lighting (September 23, 2016), Architects Inspiration Handbook for Glass applications in commercial interiors (August 29, 2016), Commercial Grade Soft-Close Undermount slide (July 27, 2016), Smart Ways to Upgrade Your Deck (July 8, 2016)