architecture - engineering - construction

SC Railing Company: Offering a View from the Top
July 31, 2017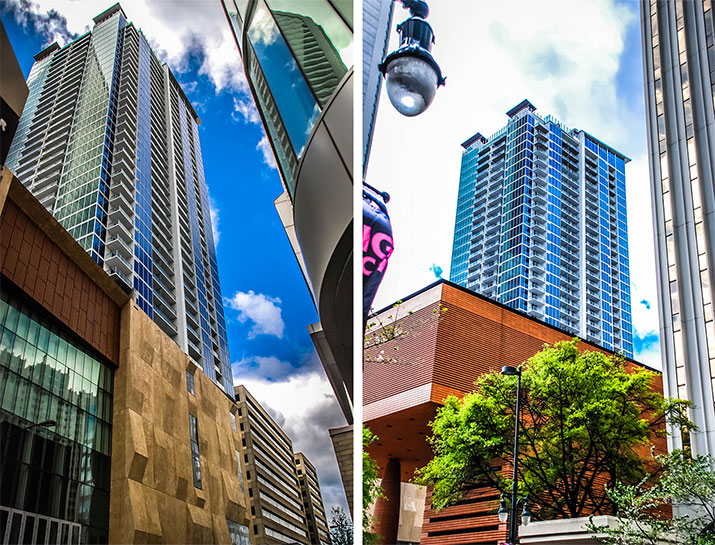 This 40+ story tower sitting atop the Mint Museum utilized 2-Line aluminum and glass balcony railing offering incredible city views, and double-sided acid etched dividers adding privacy between residences
Though the structural support for Museum Tower apartments was already in place by 2009, the recession and a stalled residential sales market indefinitely halted construction. Then, in late 2015, the tower began to rise – at a pace of one floor every four days, in fact! In just a year-and-a-half, we have witnessed Museum Tower come to life in Charlotte, North Carolina. [1]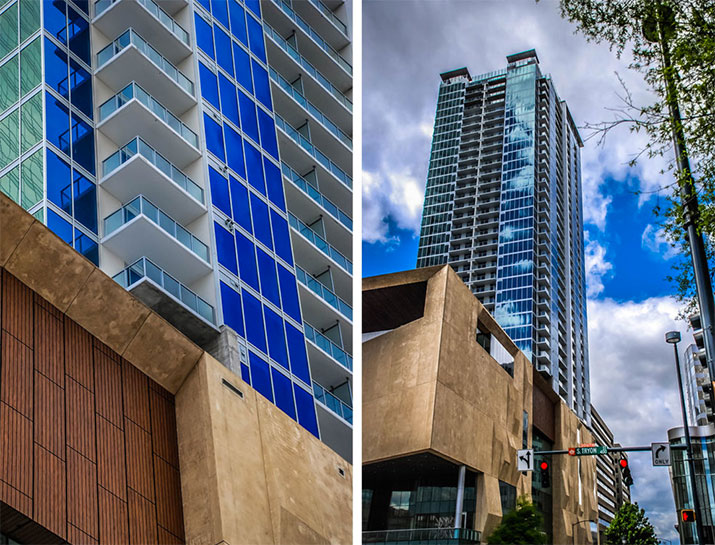 SC Railing provided over 8,000 combined lf of railing, windscreen and balcony dividers to this LEED Silver project
Owner/Developer, Childress Klein, had long planned for this 394-unit apartment tower to be constructed some 43 stories above the existing Mint Museum Uptown Charlotte. Juxtaposed with the luminous Duke Energy Center, Museum Tower apartments inherited a hefty responsibility; as any building sharing space with the Duke Energy skyscraper had better be worthy of the real estate it occupies. We believe Museum Tower earns that appointment, and then some!
SC Railing Company provided more than 8,000 combined linear feet of 2-line aluminum and glass balcony railing, along with balcony dividers and custom rooftop windscreen. Museum Tower marries a refined interior design aesthetic and floor-to-ceiling windows with glass balcony railings, for sweeping city views. Balcony railings were constructed using 3/8" clear tempered glass, and 1/4" tempered, double-sided acid etched balcony dividers for added privacy between residences.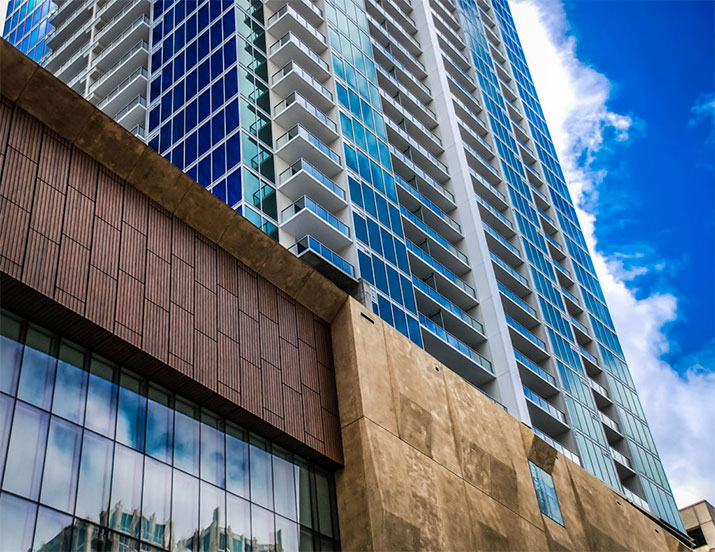 Mint Museum features 2-Line Glass and aluminum balcony railing with glass dividers
Museum Tower's rooftop lounge includes a heated saltwater pool with cabanas, indoor and outdoor fireplaces, and a game room. The amenity area's perimeter is wrapped with 8' high, 1/2" clear tempered glass panels, for which SC Railing Company provided custom aluminum segmented base shoe mounts. Transporting these panels, weighing upwards of 125 pounds, was one of the challenges of this high-rise project. Getting glass to the project safely became an issue early on, as one of our glass delivery trucks was struck by another vehicle on I-77, a mere couple of miles from the jobsite. Fortunately, there were no injuries, but we lost nearly an entire shipment of glass in the collision. For an already fast-tracked project, this threw us into high gear. We worked very hard to adhere to rigid timelines, replacing damaged glass, and getting all materials to the Museum Tower safely. Hurdle by hurdle, we endured!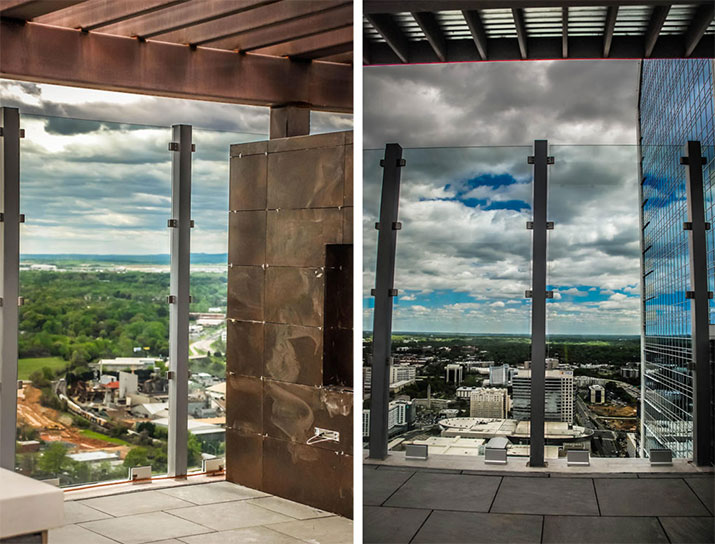 A post supported windscreen with custom aluminum segmented base shoe mounts secures 125-pound, 8-foot tall glass panels surrounding the pool and amenity area located on the 42nd floor
Bringing the Museum Tower project to a close has us coming full-circle, as this was the final phase of construction of the Mint Museum Uptown Charlotte project, which we provided railings for in 2010. This builiding's completion has been more than seven years in the making! SC Railing Company is pleased to have partnered with General Contractor, Batson-Cook, in providing our glass railing products for this LEED Silver project, a veritable crowning jewel of the Queen City skyline.
Architect: Rule Joy Trammell + Rubio
Owner/Developer: Childress Klein
General Contractor: Batson-Cook
---
[1] How is the Mint Museum apartment tower going up so fast?!?
Click Here for Project Information!
Company: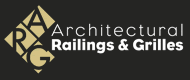 Architectural Railings & Grilles, Inc.
Product: Civic 2-Line
Source: http://www.sc-railing.com/news/sc-railing-company-offering-view-top/
---
Tags:
Top NYC architect selects Feeney for notable barn project (July 26, 2017), What the New Urban Agenda means for architects (July 21, 2017), Gorgeous Atriums that Meet Design Aesthetic and Safety Code (July 19, 2017), 5 Things to Know About On-Site Finishing Repair and Restoration (June 15, 2017), Xypex in London (May 8, 2017), Michelle Obama speaks to A'17 on the impact of design (May 5, 2017)
TerraCast Step Planters Bring Innovation to Reclaim Public Spaces in Major U.S. Locations (July 28, 2017), 5 Little Known Facts about High Gloss Acrylic Wall Panels (July 24, 2017), What the New Urban Agenda means for architects (July 21, 2017), Gorgeous Atriums that Meet Design Aesthetic and Safety Code (July 19, 2017), Maglin Moves Manhattan (July 6, 2017), Great thermal performance + corrosion resistance = Clima-Tite™ translucent wall systems with fiberglass framing (June 29, 2017), Swedish hospital 'takes a chance' on Howe Green (June 21, 2017), Summer Birds Nesting on Your Property? (June 6, 2017), Glazing Over Global Trends: Larger Formats and Smaller Sight Lines (May 29, 2017), Door Access Control & Security Entrance Integration Techniques (May 24, 2017)
Durable skylight finishes by Linetec (July 4, 2017), Great thermal performance + corrosion resistance = Clima-Tite™ translucent wall systems with fiberglass framing (June 29, 2017), 7 Hot 2017 Bathroom Design Trends You Need to Add Style to Your Space (June 13, 2017), Preparing Glaziers To Work With Bulletproof Glass (June 8, 2017), Energize your next daylighting design with Spectra-Grid™ (May 25, 2017), Designed for resiliency and acoustic performance (May 17, 2017), Auburn® custom & pre-engineered skylights (May 1, 2017), Use of louvers-between-glass can contribute up to 31 LEED certification credits (April 5, 2017), Railing Infill Face-Off: Cable vs. Glass (March 10, 2017), High-Function Custom Bullet Resistant Solutions for Banks (February 17, 2017)
Auburn® custom & pre-engineered skylights (May 1, 2017), KINETICWALL wins 2017 Architizer A+ Award (April 19, 2017), Use of louvers-between-glass can contribute up to 31 LEED certification credits (April 5, 2017), The Original Orange Elevator Smoke Curtain (March 28, 2017), Sun Control Sunshades (January 5, 2017), Ruskin's Zone Control Solutions Brochure (October 5, 2016), Free Webinar Louver Selection & Application Using Ruskin's LEADS Software, 2nd Wednesday of every month (August 1, 2016), Green Building Tips: How To Create Eco-Friendly Landscaping (April 25, 2016), Earn LEED Points With Florence Mailboxes (November 18, 2015), LEED-ing The Way in Sustainable Building (November 6, 2015)
Top NYC architect selects Feeney for notable barn project (July 26, 2017), CableView® Aluminum Cable Railing System by Stainless Cable & Railing Inc. (June 23, 2017), Rustic Meets Modern: Transitional Design Style (May 26, 2017), Deck Railing Ideas (April 7, 2017), EnduraLine Mobile permanent warning line system (April 5, 2017), Railing Infill Face-Off: Cable vs. Glass (March 10, 2017), Backyard 2.0: 2017 Deck and Railings Forecast (February 8, 2017), Winner in NADRA 2016 Deck Competion (November 4, 2016), Kelly Edwards' Tiny Home: Shipping container turned elegant living space with rooftop deck (October 21, 2016), Color Rendering Index: Why It's important in Outdoor Lighting (September 23, 2016)
Gorgeous Atriums that Meet Design Aesthetic and Safety Code (July 19, 2017), Video Surveillance In 2017: 4 Things You Need To Know (July 7, 2017), ADA compliant aluminum walkway provides safe public tours at Harpoon Brewery (July 5, 2017), Floor Marking by Color (June 30, 2017), Starlings And The Grain/Agriculture Industry (June 16, 2017), Preparing Glaziers To Work With Bulletproof Glass (June 8, 2017), Slip resistant aluminum plank installed on Hilton's helipad (June 8, 2017), Summer Birds Nesting on Your Property? (June 6, 2017), Interior Corner Protection (May 18, 2017), Springtime Means Nesting Birds (April 28, 2017)