architecture - engineering - construction

Sherwin-Williams Colormix® Color Forecast 2019
September 7, 2018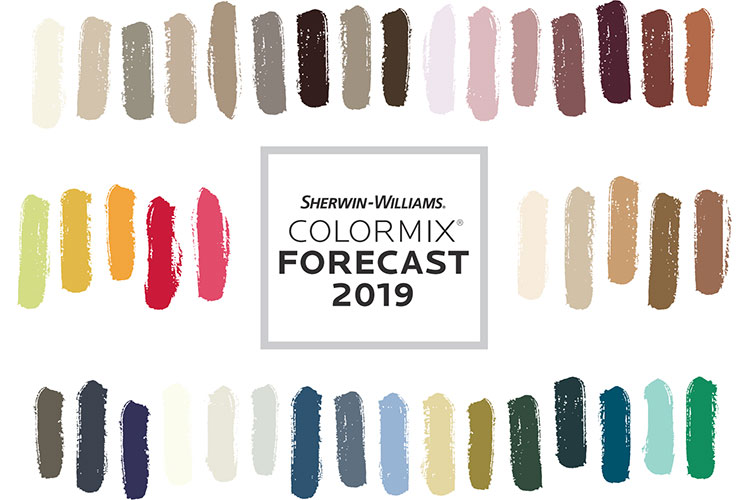 Welcome to the Color Forecast 2019!
We've gathered 42 trend colors into a master palette, then arranged them into six unique color personalities, each leading its own voyage.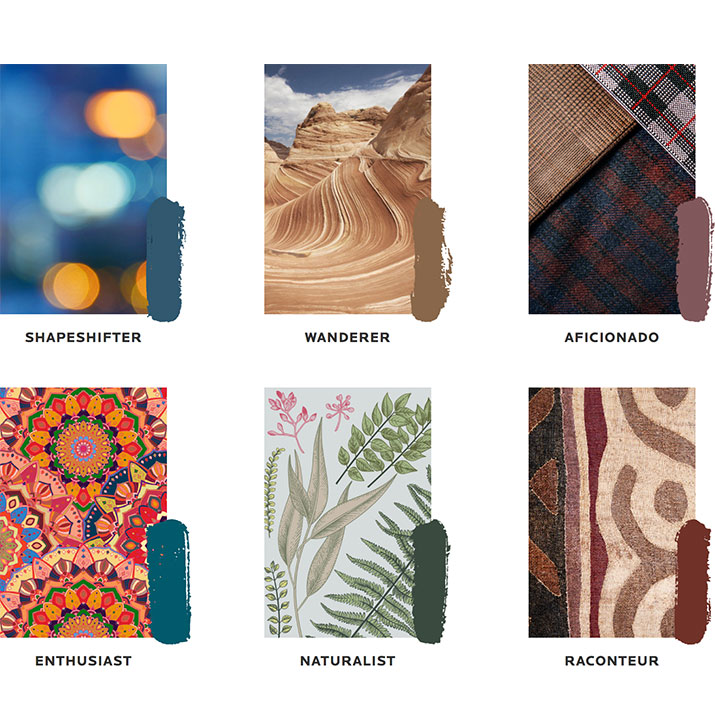 SHAPESHIFTER
There are those who always seem a little ahead of their time. Visionary and creative, this palette reaches into the cosmos and returns with a whole universe of inspiration. Atmospheric wisps of colors, grounded by deep, dark blues, capture the unique space between technology and spirituality.
WANDERER
Some spirits can never be fenced in. They need to soak in the blue of endless horizon and the subtle earthy colors of the high plains and desert. Sun-washed and warm, this palette can be seen in the baked clay canyons, worn leather and woven wool blankets of the true New West.
AFICIONADO
Devotees of the best in life appreciate the well-worn, the bespoke and the rare. Like a bookcase of leather-bound classics, this polished palette evokes nostalgia and timeless tradition. With copper and gold anchored by merlot and deep, dark gray, these tailored tones make everything feel impeccable, tasteful and elegant.
ENTHUSIAST
There are those who don't know the meaning of "less is more." Passionate and eclectic, they have a calling to be unique. They embrace the details and create scene-stealing worlds that burst with beauty. The proof is in this palette that features bold pops of vivid color, maximum impact and lots of energy.
NATURALIST
Walking barefoot in the garden, nature lovers instantly connect with the wonder of the world in full bloom. With roots in the forest, this palette's colorful tendrils grew in hothouses and conservatories until they became these lush, sophisticated tones. Ranging from mushroom to leafy green to passionate floral pink, they've now found a place where they'll never fade.
RACONTEUR
From ancient sagas to today's motivational speakers, we love our storytellers. With colorful accounts they sum up our very nature and remind us how we're all connected. Passed from grandmothers, traders and nomads, the tales traveled the world, gaining artistry, until we've translated them into a rich and modern palette that spans space and time.
Company:
The Sherwin-Williams Company
Source: https://www.swcolorforecast.com/
---
Tags:
Metallic black is a dazzling new face brick (September 3, 2018), Razzle Dazzle Camouflage Design (August 13, 2018), Black Aluminum Cable Railing (June 15, 2018), Art in Motion by Ethereal Light Installation Artist Spencer Finch (June 9, 2018), Paint vs. Stain: know the difference (April 6, 2018), The allure of 'in-between' colors (April 4, 2018), Architectural Color Trends for 2018 (February 26, 2018), Railing color: a hidden choice (January 24, 2018), Color underfoot: new design possibilities with concrete (January 17, 2018), Oceanside: the 2018 color of the year (December 20, 2017)
Metallic black is a dazzling new face brick (September 3, 2018), Louver and Architectural Solutions (August 23, 2018), Aesthetics: When Looks and Beauty Matter for Security Entrances (August 15, 2018), Razzle Dazzle Camouflage Design (August 13, 2018), Tips for specifying postal specialties (July 30, 2018), Morintegrated - Design Like a Kid Again (July 24, 2018), Using controls to personalize shading systems (July 23, 2018), Art in Motion by Ethereal Light Installation Artist Spencer Finch (June 9, 2018), Connect with Ancora (June 4, 2018), Wind-driven rain louvers (May 21, 2018)
Is Polyaspartic Coating better than Epoxy or Polyurethane Coating? (April 26, 2018), Paint vs. Stain: know the difference (April 6, 2018), The allure of 'in-between' colors (April 4, 2018), Architectural Color Trends for 2018 (February 26, 2018), Color underfoot: new design possibilities with concrete (January 17, 2018), Oceanside: the 2018 color of the year (December 20, 2017), Polished Concrete Flooring (December 13, 2017), Modern & Seamless Custom Flooring Systems (November 14, 2017), New! West Elm Fall/Winter 2017 Paint Palette (November 8, 2017), Slate, Portland's new, LEED Gold, mixed-use, transit-oriented development features Linetec's paint, anodize and thermal improvement services (November 1, 2017)