architecture - engineering - construction

Slip Resistant Aluminum Grating Utilized on ASLA Green Roof
May 23, 2016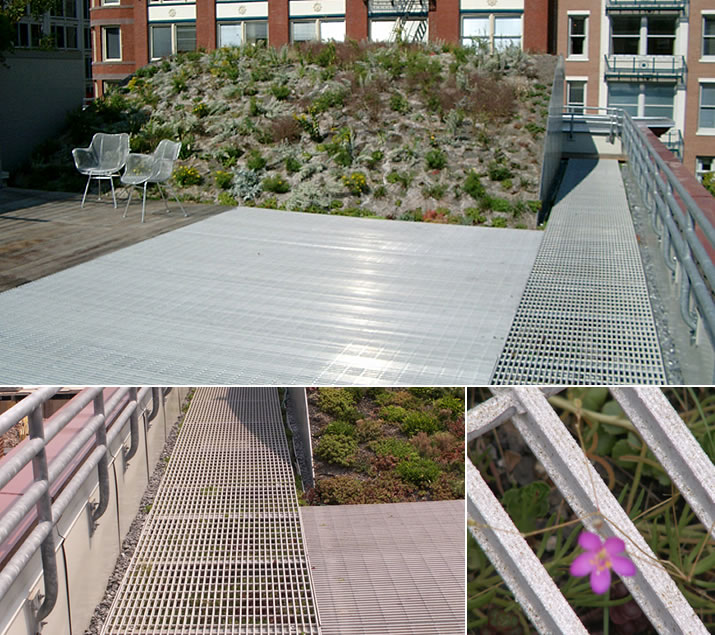 The Situation:
A general contractor was chosen by the American Society of Landscape Architects (ASLA) to provide grating for ASLA's green roof at their headquarters in Washington D.C. The green roof is a part of the ASLA's commitment to promote environmentally friendly designs to make green roofs a more widely accepted option for architects and contractors. The 3,000 sq. ft. green roof will grow a variety of plants and also have a viewing area for the public. The ASLA was looking for a walking surface that would allow plants to grow up and through the floor surface to maximize the roof space, allow people to walk on the space without damaging the plants and for a product that would remain slip resistant against transpiration from the growing plants. The general contractor contacted Ohio Gratings for a flooring solution.
The Solution:
SlipNOT®slip resistant aluminum grating was chosen as the optimal grating for the project. Slip resistant aluminum was the ideal substrate because it is a light weight material that reduced the overall weight of the grating on the roof while still being extremely durable. The aluminum coating also remains slip resistant against transpiration from plants and other outdoor elements providing a safe walking area for pedestrians. SlipNOT® slip resistant aluminum grating is corrosion resistant and will be able to withstand installation in an outside environment with minimal maintenance. Ohio Gratings worked extensively with the general contractor to provide the appropriate dimensions for the project.
The Impact:
SlipNOT® aluminum grating has provided the American Society of Landscape Architects with an aesthetically pleasing slip resistant walking surface for the green roof. The aluminum grating has proven to be the ideal solution to help the ASLA's showcase their green roof.
Download this case study as a PDF
Company: SlipNOT® Metal Safety Flooring Div.
Source: http://www.slipnot.com/industries/commercial/case-studies/
---
Tags:
How To Upgrade Light Poles With Decorative Bases (May 19, 2016), New Colors for DesignRail® Kits! (May 2, 2016), Cochran Expands and Enhances Landscape Forms Lifestyle Furniture for Terrace Life (April 29, 2016), Green Building Tips: How To Create Eco-Friendly Landscaping (April 25, 2016), Lakeside Planter (March 4, 2016), Maglin has collaborated with Philips Lumec to offer a design-integrated line of sustainable site furniture (February 17, 2016), Safety Bollards Protect Storefronts (February 9, 2016), Importance Of Outdoor Garden Planter Materials (January 22, 2016), Designing Outdoor Public Spaces is Vital to the Future of our Cities (December 28, 2015), 10 Major Benefits To Installing LED Tree Ring Lighting (December 9, 2015)
Creative Bike Racks That Make Your Space Stand Out (March 14, 2016), Video of Extech's newest kinetic wall (March 1, 2016), Advanced Arch Grilles brings Artistry to historical projects (October 28, 2015), Please be Seated: New York City expands its CityBench program and grows 'Street Seat' parklets in Brooklyn (October 23, 2015), 304 vs. 316 Stainless Steel: What's the Difference? (September 2, 2015), Watch the Kinetic Facade in Action (June 17, 2015), Metal Makeup - Comparing Metal Compositions and Uses (June 8, 2015)
May is Electrical Safety Month: Know How to Protect Workers from Electrical Hazards (May 20, 2016), School Security and Access Control for Architects (May 9, 2016), Benefits of Slip Resistant Aluminum Plates (April 27, 2016), Why We Love Ipe and You Will Too (April 18, 2016), Broan NuTone invents new mosquito barriers for decks (April 13, 2016), Premium Ballistic Frames Offer Huge Boosts in Sustainability and Multi-Threat Risk Mitigation (April 12, 2016), Safety Bollards Protect Storefronts (February 9, 2016), Partnering with Architects to Make BulletProof Beautiful (February 3, 2016), Stay Warm: How to Protect Workers from Cold Weather Hazards (January 15, 2016), Active Design Guidelines for Walkable Communities (December 23, 2015)
Cochran Expands and Enhances Landscape Forms Lifestyle Furniture for Terrace Life (April 29, 2016), Green Building Tips: How To Create Eco-Friendly Landscaping (April 25, 2016), Premium Ballistic Frames Offer Huge Boosts in Sustainability and Multi-Threat Risk Mitigation (April 12, 2016), High Performance Coatings (March 7, 2016), Maglin has collaborated with Philips Lumec to offer a design-integrated line of sustainable site furniture (February 17, 2016), Partnering with Architects to Make BulletProof Beautiful (February 3, 2016), Amager Resource Center (January 13, 2016), Kalwall Featured: Guide Dogs for the Blind New Student Residence (December 30, 2015), 3 buildings that balance aesthetics and performance (December 16, 2015), Earn LEED Points With Florence Mailboxes (November 18, 2015)