architecture - engineering - construction

Slip resistant aluminum plank installed on Hilton's helipad
June 8, 2017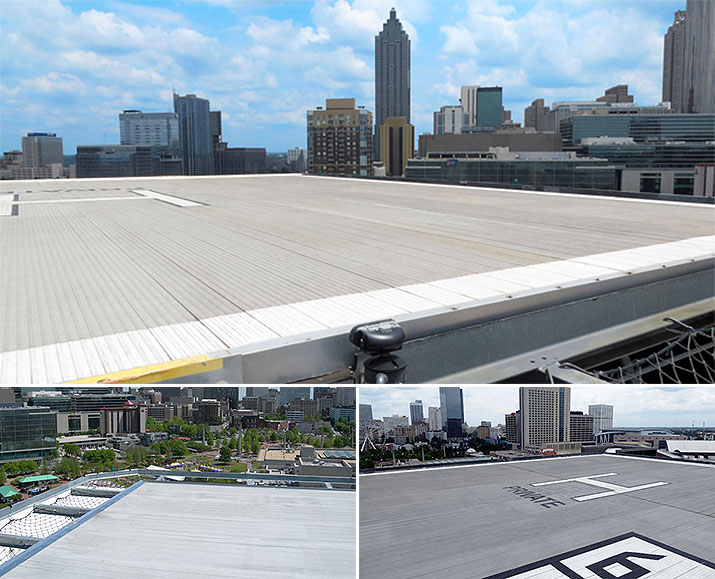 THE SITUATION:
The Luckie Marietta District in downtown Atlanta, Georgia is a premier city center that creates a chain of 25 local restaurants, 18 attractions and retail stores and 7 hotels. One of the many hotels on this strip includes the Hilton Garden Inn Atlanta. The Hilton houses the first functioning helipad that operates from the rooftop of this exclusive hotel. Providing a convenient mode of transportation and a unique experience, the helipad provides shuttle services to area airports and VIP flights. The hotel has 28 floors and over 9,500 square feet, causing safety on this rooftop to be a top concern. A slip resistant flooring was required.
THE SOLUTION:
A grating manufacturer was hired to provide 2-1/2" snap lock aluminum plank for this project with an aluminum SlipNOT® surface. Heavy duty aluminum planking includes snap lock interlocking end banded to form standard panel widths. Aluminum plank is structurally sound and aesthetically pleasing while also providing corrosion resistance.
THE IMPACT:
Safety is critical for this helicopter pad and SlipNOT® provides traction that will not fail. SlipNOT® aluminum plankwas manufactured to specific dimensions and installed flawlessly. The customer was pleased with the results and low maintenance the aluminum planking provides.
Company: SlipNOT® Metal Safety Flooring Div.
Source: http://www.slipnot.com/case-studies/aluminum-plank-hilton-rooftop/
---
Tags:
HERMETIC Industrial Flooring (May 22, 2017), 5 Compelling reasons you need to eliminate your shower pan threshold (May 16, 2017), Decorative Concrete Can Be Gray or Colorful and is Ideal for Interior or Exterior... Take a Look (April 27, 2017), Decorative quartz flooring: choosing epoxy, urethane, or MMA resin? (April 13, 2017), FDOT Improving Bicyclist Safety with SlipNOT® (April 4, 2017), Project profile: flooring installation for busy bank in El Paso exceeds tight turnaround expectations while delivering a functional masterpiece (March 27, 2017), Howe Green Access Cover provides the perfect antidote to access issue at hospital (March 14, 2017), Navigating the wide selection of polymer overlays over concrete substrates (February 2, 2017), The Benefits of Water-Based Concrete Stains (January 2, 2017), What are the Flooring Options for a Food Facility Washdown Area (December 28, 2016)
EnduraLine Mobile permanent warning line system (April 5, 2017), How to Choose the Right Product for a Nuisance Bird (January 4, 2017), Bird deterrents: why UV light may not be the answer (December 2, 2016), Keep Pigeons from Destroying Solar Panels (September 30, 2016), GuardDog Self-Closing Gate uses two stainless steel torsion springs so the gate can open in any direction (September 9, 2016), Battic Door Solar Powered Attic Fans (September 5, 2016), Starlings can be a Costly Nuisance, learn the facts on how to keep them away from your buildings (June 13, 2016), Hurricane Roof Equipment Screens (June 10, 2016), Got a Pest Bird Problem? Get These Top 5 Bird Deterrents (January 4, 2016), Hanging baffles substantially quiet this LAPD firing range - this benefits everyone who works there (September 30, 2015)
Summer Birds Nesting on Your Property? (June 6, 2017), Interior Corner Protection (May 18, 2017), Springtime Means Nesting Birds (April 28, 2017), Bulletproof Systems and Accessories for Every Building (April 18, 2017), EnduraLine Mobile permanent warning line system (April 5, 2017), FDOT Improving Bicyclist Safety with SlipNOT® (April 4, 2017), Guard Houses (April 3, 2017), The Original Orange Elevator Smoke Curtain (March 28, 2017), 10 Must-Have Safety Signs for OSHA Compliance (March 17, 2017), Railing Infill Face-Off: Cable vs. Glass (March 10, 2017)