architecture - engineering - construction

Solar shading systems: fixed & motorized louvers
May 3, 2017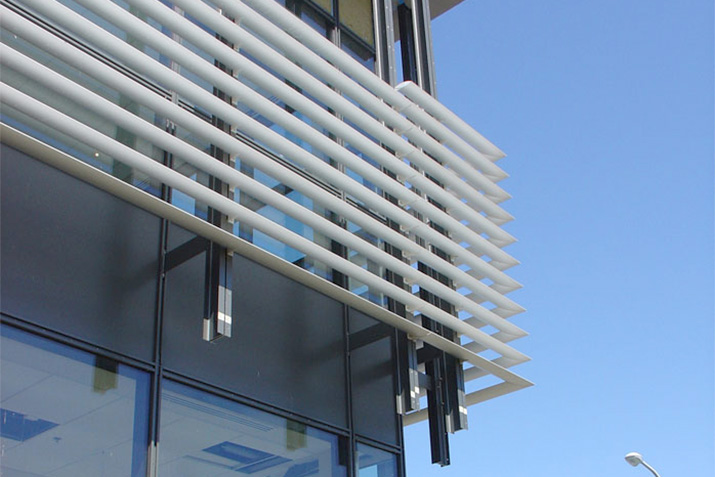 North American weather ranges from extreme cold to extreme heat, with many variations in-between. Today's design approaches need to consider weather patterns and how to best maximize energy efficiencies to address these. Unicel's solar shading systems provide optimal weather protection for the harshest climates and temperature extremes, while ensuring interior comfort and desired levels of vision.
Key Solar Shading Benefits:
Daylight control - Glare reduction and greater comfort
Heat control - Optimal solar heat gain and energy efficiency
Sound control - Acoustic insulation and enhanced tranquility
Visual appeal - State of the art aesthetic features that enhance overall design
Low maintenance - Durable and easy to maintain
Flexibility - Adaptable to many building and architectural designs
Solar Shading Features:
6063-T5 aluminum alloy extrusions
Hardware fits aluminum blade solutions
Custom colors in painted or anodized finishes
Fixed or mobile blades
Available in vertical , horizontal and cantilevered configurations
Remote controlled system
The fixed or motorized louvers can be installed as an independent structure or connected to the main facade system. Additionally, they can be painted in any color to enhance their visual impact.
When designing an architectural envelope, interior and exterior design requirements need to work together as a dynamic system to respond to variations in temperature, daylight and vision requirements. Unicel's solar shading solutions complement almost any design and are highly adaptable to the most rigorous heat and vision control requirements.
Company:
UNICEL Architectural Corp.
Product: Louvers
Source: http://www.unicelarchitectural.com/en/louvers.html
---
Tags:
Auburn® custom & pre-engineered skylights (May 1, 2017), Warwick Hotel Rittenhouse Square boasts unique, stylish lobby entrance with revolving door (April 24, 2017), 2017 COTE Top Ten - Setting the standard in design and sustainability (April 20, 2017), KINETICWALL wins 2017 Architizer A+ Award (April 19, 2017), Bicycle security solutions (April 14, 2017), Striking the Right Color Balance in ALR Screens (April 10, 2017), Guard Houses (April 3, 2017), New AIA Certified Course on Resilient Design (March 6, 2017), Global changes in construction: Kalwall's insights from BAU (March 1, 2017), Ventilation for you the music fan: Brilliant audio performance concealed behind your fan grille (February 27, 2017)
2017 COTE Top Ten - Setting the standard in design and sustainability (April 20, 2017), Global changes in construction: Kalwall's insights from BAU (March 1, 2017), Easily Earn AIA Learning Units | EXTECH, Inc. (January 6, 2017), Sun Control Sunshades (January 5, 2017), Architects empowered to drive positive change at SXSW Eco (December 5, 2016), Major announces new Auburn® skylight option (November 25, 2016), Make your buildings look good with uniquely designed polycarbonate products for building exteriors (September 19, 2016), Delray LED Circles: Uno • Dos • Cylindro I/II/III (September 14, 2016), Battic Door Solar Powered Attic Fans (September 5, 2016), AIA and Autodesk Introduce New Feature to Automate 2030 Commitment Reporting Data (August 15, 2016)
KINETICWALL wins 2017 Architizer A+ Award (April 19, 2017), New critical environment damper series from Ruskin® withstands coastal and corrosive applications (April 11, 2017), Louvers Play Key Role in Passive Air Management (December 14, 2016)
Use of louvers-between-glass can contribute up to 31 LEED certification credits (April 5, 2017), Make rooms quieter with a little help from EchoControl acoustical shading (November 14, 2016), New Unicel white paper provides guidance for specifying privacy and shading solutions (October 19, 2016), Architects Inspiration Handbook for Glass applications in commercial interiors (August 29, 2016), E2JS thin line louver used on Reptile House at the Cincinnati Zoo (August 22, 2016), Blackout & mesh shades in the same window? Dual Roller Shades are the solution! (July 5, 2016), Cut solar energy getting into buildings by up to 92% - stop it before it hits the glazing (June 17, 2016), Hurricane Roof Equipment Screens (June 10, 2016), Custom shade brackets solve big headache (May 11, 2016), Custom Pocket Headboxes (April 20, 2016)