architecture - engineering - construction

Solutions for the entire building façade
December 9, 2016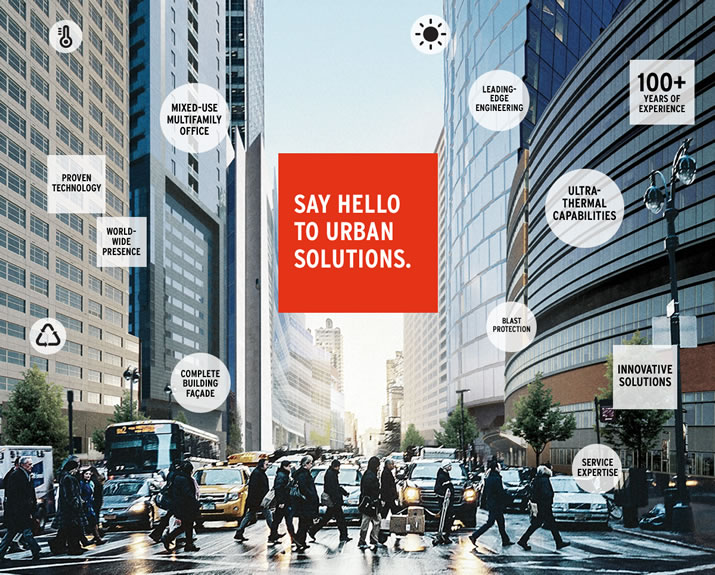 Say hello to urban solutions
Wherever you look, you will find us. Out of an office window. Walking into a shop. Looking up at an apartment building. Our range of solutions – from curtain walls and windows, to entrances and framing systems – are everywhere you need them to be, offering infinite possibilities in design, development and performance. We are here.
Explore our dynamic array of innovative solutions for new construction and renovation, like the all new MetroView™ window wall. Learn more about Kawneer windows featuring the high-performing OptiQ™ windows, GLASSvent™ UT windows and the NX-4000 series.
ARCHITECTURAL ALUMINUM SYSTEMS | ENTRANCES + FRAMING | CURTAIN WALLS | WINDOWS
Company:

Kawneer Co., Inc.
Source: http://www.kawneer.com/bcs/aap_kawneer/en/urbanbrands.asp
---
Tags:
Architects empowered to drive positive change at SXSW Eco (December 5, 2016), Major announces new Auburn® skylight option (November 25, 2016), Don't Make Color Decisions at Sunset (November 2, 2016), Roman Brick: for architects and homeowners aspiring for a unique look (October 26, 2016), Kelly Edwards' Tiny Home: Shipping container turned elegant living space with rooftop deck (October 21, 2016), Battery Life: introducing a new way to energize your outdoor space (October 12, 2016), Images in Concrete: Reckli Artico® (October 7, 2016), The future of insulated wall panels has arrived (September 28, 2016), Color Rendering Index: Why It's important in Outdoor Lighting (September 23, 2016), Make your buildings look good with uniquely designed polycarbonate products for building exteriors (September 19, 2016)
The Dock Gate's custom gas struts make the vertical gate easy to open. Easy as 1, 2, 3! (September 21, 2016), What if Someone is Determined to Get into Your Building? (September 12, 2016), GuardDog Self-Closing Gate uses two stainless steel torsion springs so the gate can open in any direction (September 9, 2016), First Appearances Matter: remove the dirt | absorb the moisture | preserve your floors (August 31, 2016), Mirror polished stainless steel enclosure top and return grilles at New York City Hospital Lobby (August 26, 2016), Peace-of-Mind for Rural Utility Offices - Bulletproof barrier security tips & news (August 8, 2016), 5 Proven Questions to Get the Size of Your Shower Opening Right (July 29, 2016), Evolution Of Revolving Door Security: Teaching Old Doors New Tricks (July 4, 2016), Turnstiles to Appear on Discovery Channel Show (May 6, 2016), The Plan to Turn NYC's Turnstiles Into Musical Instruments (February 29, 2016)
Acoustical Walls, Ceilings and Special Applications (November 11, 2016), 5 Crazy Modern Glass Wall Partition Ideas for a Loft Apartment (October 17, 2016), Interior Acoustical Finalé Wall Panels (October 10, 2016), The future of insulated wall panels has arrived (September 28, 2016), Make your buildings look good with uniquely designed polycarbonate products for building exteriors (September 19, 2016), Glass Shower & Tub Enclosures by Fleurco (September 2, 2016), Architects Inspiration Handbook for Glass applications in commercial interiors (August 29, 2016), The Feng Shui of Kalwall (July 11, 2016), Restaurant Ceiling Tiles (July 1, 2016), Continuous Insulation (ci) Systems (June 27, 2016)
Kalwall Featured in Major Award-Winning College Project (November 28, 2016), Major announces new Auburn® skylight option (November 25, 2016), Rigorous Testing Standards Ensure Effective Security (November 16, 2016), Ace Hotel New Orleans restores historic Art Deco exterior and updates performance with Winco Windows finished by Linetec (October 14, 2016), Isabel Bader Center (August 17, 2016), Peace-of-Mind for Rural Utility Offices - Bulletproof barrier security tips & news (August 8, 2016), The Sir John A MacDonald Building (June 3, 2016), School Security and Access Control for Architects (May 9, 2016), Premium Ballistic Frames Offer Huge Boosts in Sustainability and Multi-Threat Risk Mitigation (April 12, 2016), Guardian 275® translucent skylights provide a wide range of color, thermal performance and specialty application options (April 6, 2016)