architecture - engineering - construction

Spacing bike storage racks
March 23, 2020
Maximizing your bike parking or bike storage space doesn't have to be complicated. Check out this new video on spacing recommendations so you can make the most of your bicycle storage!
Correctly space bike storage racks
One of the most important pieces of a good bike storage plan is correctly spacing bike storage racks. First and foremost, you need to make sure racks are placed with enough spacing between each rack. Second, you need to ensure there is proper room for storing the bicycle and an aisle beyond the rack. Otherwise the rack could become unusable. Let's go over bike storage space recommendations in more detail for the different types of bike storage racks.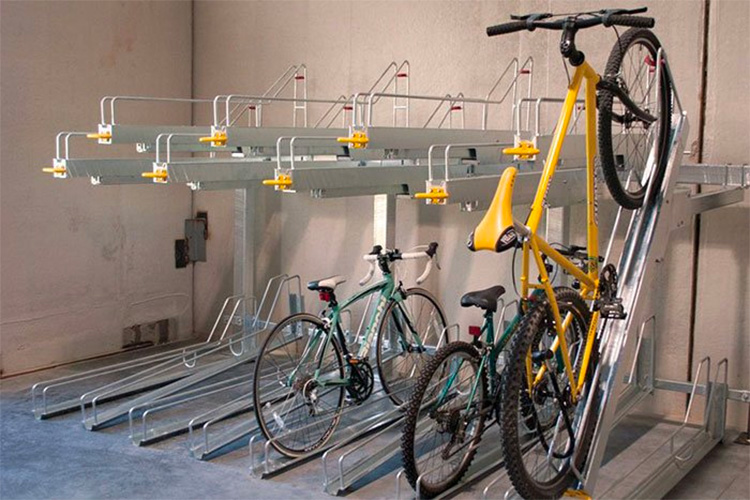 Spacing for Ground Bike Racks
When laying out ground bike racks, start by setting the leg of the bike rack back from the wall a recommended 36 inches or minimally, 24 inches. This provides enough room beyond the bike rack, for the frame of the bicycle to rest against the bike rack.
There should also be a recommended 36 inches or minimally 24 inches of clearance on the side of the bike rack. Any less and there will not be enough space to park a bicycle on that side of the rack. This would reduce the number of spots to store bicycles.
Racks should then be 48 inches recommended, 36 inches minimum, from one another. This is enough room for bicycles to maneuver into the bike parking spot, while also allowing a user to lock/unlock their bicycle from the side.
There also needs to be a minimum of 48 inches, 60 inches recommended, of aisle space beyond the tire of a parked bicycle. This would be measured to the tire of another bicycle or a wall, depending on your layout.
@madraxbikeracks #madraxbikeracks #bikestorage #madraxbikeracks #bikeroom #bikeroomplan
Company:

Madrax Bike Racks
Product: Bike Lockers
Source: https://blog.madrax.com/blog/correctly-space-bike-storage-racks
---
Tags:
Custom Bike Rack Guide (December 11, 2019), Selecting the Best Commercial Bike Rack (February 13, 2019), How to select a bike locker: the best bike security solution (January 4, 2019)
Security Barriers: Finding the Balance Between Throughput, Safety and Security (March 20, 2020), Guard Booth Industrial Applications (March 2, 2020), Safe Rooms: A New Approach To Workplace Violence (February 17, 2020), 5 Reasons to Choose a Security Revolving Door for Your Physical Security Plan (February 14, 2020), Corporate Security: Trends For 2020 (December 30, 2019), Elevating Style and Security in Chic West Coast Dispensaries (December 27, 2019), Window Wells (December 9, 2019), Retail Resurgence: 90 Percent of Gen-Z Shoppers Have Made an In-Store Purchase Within the Last Week (December 6, 2019), Red Alert! Security Entrances and Emergency Egress Plans (November 27, 2019), 5-Minute Safety Topic: Corporate Active Shooter Training (November 25, 2019)