architecture - engineering - construction

Starlings can be a Costly Nuisance, learn the facts on how to keep them away from your buildings
June 13, 2016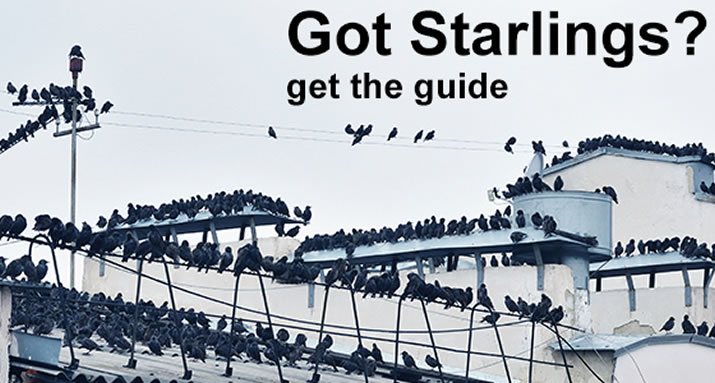 Spring is when huge flocks of these birds come looking for nesting sites, food and water. Most buildings provide everything these birds need for survival and nesting. Sprinkler systems create water puddles, open trash containers provide food, and rooftops offer all sorts of nooks and crannies for starlings to nest.
Act Now to Prevent Costly Damage
Don't let starlings settle in and make a mess of your building
Once starlings have settled in, they can damage and deface many areas of a building. Their huge flocks can rain down massive amounts of droppings, which are unsightly and affect the image of your business. Employees and visitors could slip on bird droppings and become injured. Bird droppings at this volume can also affect AC units, vents, lighting and even solar panel efficiency. If your business stores, processes or serves food, bird droppings can become a major issue because droppings can carry diseases. Starlings nesting in rain gutters can clog the gutters, causing roof leaks.
Fortunately, the bird control pros at Bird B Gone have a number of ways to keep small birds off buildings.
Starling Facts: Download the guide now.
Company:

Bird-B-Gone, Inc.
Source: http://www2.birdbgone.com/e/63162/63162-91445-Starling-Facts-pdf/2j2ys6/204999911
---
Tags:
Hurricane Roof Equipment Screens (June 10, 2016), Got a Pest Bird Problem? Get These Top 5 Bird Deterrents (January 4, 2016), Hanging baffles substantially quiet this LAPD firing range - this benefits everyone who works there (September 30, 2015), Structural Acoustic Roof Deck (July 3, 2015)
Hurricane Roof Equipment Screens (June 10, 2016), Slip Resistant Aluminum Grating Utilized on ASLA Green Roof (May 23, 2016), May is Electrical Safety Month: Know How to Protect Workers from Electrical Hazards (May 20, 2016), School Security and Access Control for Architects (May 9, 2016), Benefits of Slip Resistant Aluminum Plates (April 27, 2016), Why We Love Ipe and You Will Too (April 18, 2016), Broan NuTone invents new mosquito barriers for decks (April 13, 2016), Premium Ballistic Frames Offer Huge Boosts in Sustainability and Multi-Threat Risk Mitigation (April 12, 2016), Safety Bollards Protect Storefronts (February 9, 2016), Partnering with Architects to Make BulletProof Beautiful (February 3, 2016)