architecture - engineering - construction

Structural glass floor pavers landings & stair treads
May 7, 2018
Glass flooring provides an exciting combination of style and function, making a dramatic impression in both residential and commercial spaces. Structural glass floors, bridges, landings and stair treads can add light to lower level spaces and provide a unique design element to any interior. Every glass floor system we sell ships as a kit and will include everything you need for proper installation.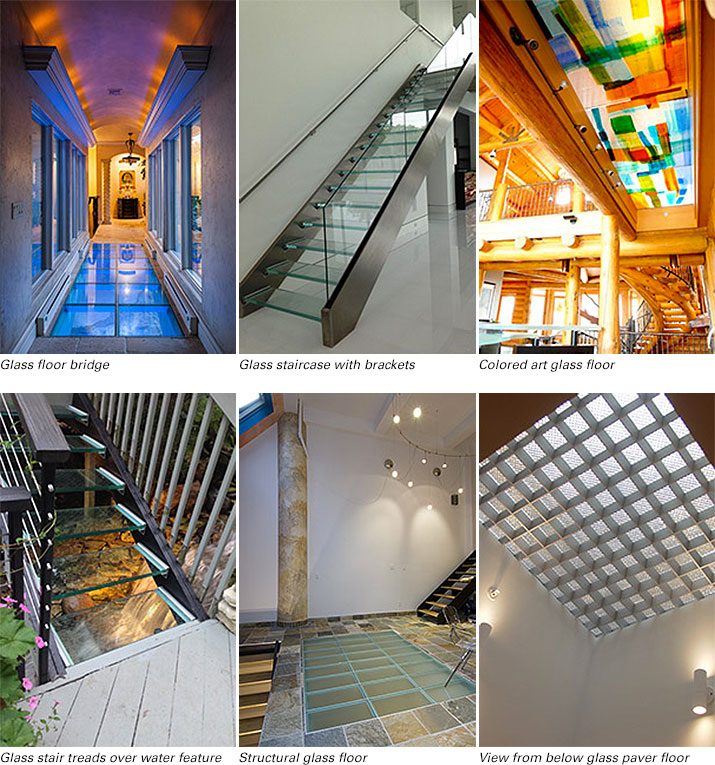 Structural glass flooring and glass block flooring systems will provide a functional and structurally sound surface for foot traffic while providing your commercial, retail, or residential building with a multitude of additional benefits including:
Light transmission from upper to lower levels
Glass walkways, bridges, and staircases allow light to pass from upper to lower levels.
Saving on your energy bill
The use of glass floor planks or pavers enhances day lighting, which in turn can cut energy costs.
A wide range of privacy levels
Our glass units come with a range of different transperancy options. From obscure(acid etched), which will provide complete privacy to those on upper floors, to clear glass which offers direct line of sight, you can set your filter.
The floors just don't look amazing; our complete glass floor systems are engineered to safely support high levels of weight. Additionally, our glass floors and pavers are set inside a lightweight, structural aluminum grid system. This makes them both easy to install and replace if damage were to occur. Let Innovate Building Solutions assist you in designing a structurally sound system that will stand the test of time in any commercial, retail, or residential structure.
In addition to looking amazing, our glass floor systems can be incorporated in wood, tile, stone, or concrete floors to create a one of kind design. Contact us today for a consultation to determine which materials and design will best compliment your space.
Company:

Innovate Building Solutions
Product: Glass floors and walkways
Source: http://innovatebuildingsolutions.com/products/glass-block/glass-block-floors-bridge-walkway
---
Tags:
LuxCore FRP Fusion Wall Panels by Decorative Ceiling Tiles (May 1, 2018), Kalwall in the Manufacturing Market (April 10, 2018), Understanding the five phases of design (March 18, 2018), Entrances & entryways - making an impact (March 2, 2018), Architectural Color Trends for 2018 (February 26, 2018), Best places to use cable railing (February 19, 2018), Oceanside: the 2018 color of the year (December 20, 2017), Polished Concrete Flooring (December 13, 2017), Design spotlight: daylighting for privacy (December 2, 2017), Architectural Wall Louvers (November 23, 2017)
Is Polyaspartic Coating better than Epoxy or Polyurethane Coating? (April 26, 2018), From west to east with Howe Green access covers (January 4, 2018), Polished Concrete Flooring (December 13, 2017), Modern & Seamless Custom Flooring Systems (November 14, 2017), 4 Major Advantages of Decorative Concrete in Commercial Settings (September 25, 2017), Keeping the castle cosy with Howe Green access covers (September 11, 2017), Concrete Resurfacing (August 23, 2017), Slipnot® provides slip resistance and aesthetic display for Times Square spotlight on Broadway project (August 7, 2017), Howe Green 'raises the bar' at former olympic site (July 18, 2017), Stenciled Concrete for your Pool decks, patios and driveways (July 11, 2017)
A Gateway To A Translucent Space (December 15, 2017), Lines, grids & aesthetics in translucent panel systems (November 3, 2017), Kawneer Project Profile: Heifer International World Headquarters (November 2, 2017), Attractive Bulletproof Barrier Design (October 27, 2017), Sto Werkstatt features alternative glass architecture by Space Popular (October 20, 2017), Skylight guarding with SRC - Skylight Screens (October 10, 2017), Using Glass Creatively In Office Interiors (October 2, 2017), Glass Block with Etchings (September 9, 2017), Blast protection and pressure relief systems (August 24, 2017), Getting Contractors The Right Bullet Resistant Barrier For Their Clients (August 3, 2017)
The Benefits of Using Interior Glass in the Office of 2018 (March 5, 2018), Entrances & entryways - making an impact (March 2, 2018), Building orientation & daylighting (February 9, 2018), Greening A Building from Top to Bottom (February 6, 2018), 7 Things to Consider When Designing a Commercial Interior using Glass Walls (January 9, 2018)