architecture - engineering - construction

Structural Glass Railing Systems
September 8, 2021
Our structural glass railings are designed with with no rails at all offering maximum, uninterrupted view. We partner with Q-railing to offer a wider range of options for whatever your project may be.
Perfect attention to all glass railing details
Versatile railings system in terms of design options
Allows for mixing and matching components
Popular kit for residential and commercial installations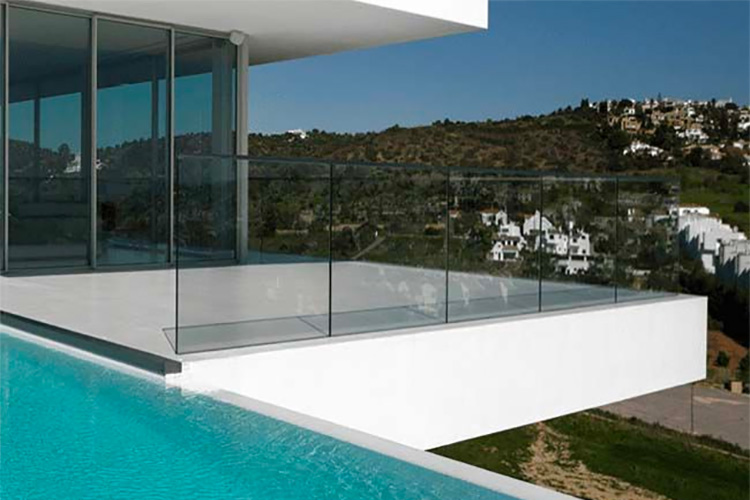 eGlass Railing™ is proud to be partnering with Q-Railing to offer premium quality glass railing systems. Q-Railing's modular systems allow you to mix and match components for uniquely designed railings that showcase the look and safety you want.
provides maximum visibility by eliminating the need for vertical posts. It can withstand a line load of 225 pounds, exceeding IBC standards. Made of aluminum, the base shoes are lightweight and easy to install with Q-Railing's Safety Wedge system.
is a robust vertical post system that provides safety and security with slim rectangular posts that allow for a great view. The straight lines and stainless steel components of this system present a sleek, contemporary look that accentuates both interior and exterior environments.
is a classic round stainless steel system with an abundance of components that can be mixed and matched with other Q-Railing systems to create unique railing appearances. Installation is quick and easy with pre-drilled posts and components that can be attached by tapping and gluing.
is a simple and sturdy square post system with a sophisticated modern appearance that can be attributed to its sharp lines and corners. This system can be combined with components from either the Q-Line system or the Square Line 60x30 system for a completely distinctive look.
Standoff Glass Adapters are completely frameless systems with a modern minimalist look. Standoffs can be mounted to the outside edge of most surfaces, creating a clean and clear barrier that won't restrict visibility.

@eGlassRailing #eGlassRailing #glassrailing
Company:

eGlass Railing
Product: Rails
Source: https://www.eglassrailing.com/q-railing-glass-railing-systems.html
---
Tags: