architecture - engineering - construction

Summer Birds Nesting on Your Property?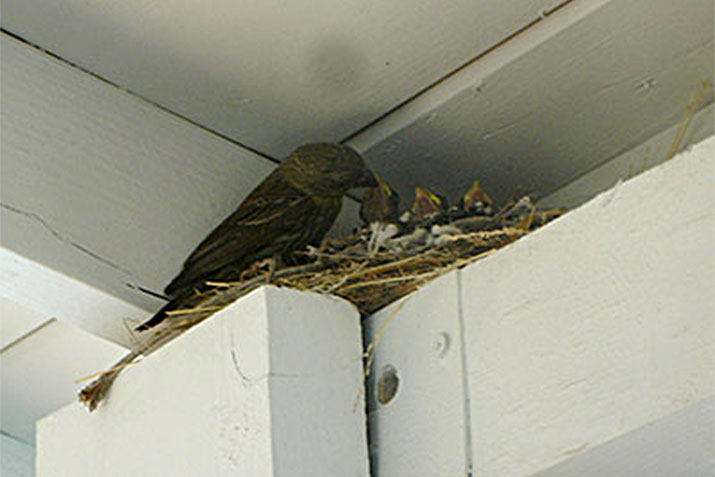 Pest birds are always looking for a place to roost and nest on buildings and commercial property. They need a place that's high enough from ground predators and close enough to food and water sources. Most buildings provide these things. Signage offers warmth, security and shelter for nests. Rooftop AC units do the same, offering the warmth of electrical motors/compressors and shelter from the elements. Rooftop water towers provide all sorts of nooks and crannies for birds to build nests. Many buildings essentially invite pest birds through their open attics.
The most effective way to prevent birds from nesting around your property is to be proactive. And that means making your property less of a bird magnet. Remove any standing water or food scraps, and close all trash containers. Seal up any attics and other lofty holes and cracks where birds can enter. Once you've done that, it's best to install some effective and humane bird deterrents to keep birds away.
Need help choosing the right product for your bird control problems? Contact the experts in bird control.
Company:

Bird-B-Gone, Inc.
Source: https://www.birdbgone.com/
---
Tags:
Glazing Over Global Trends: Larger Formats and Smaller Sight Lines (May 29, 2017), EXTECH offers LIGHTWALL 3440 translucent wall system with three new glazing options (May 15, 2017), Springtime Means Nesting Birds (April 28, 2017), 10 Must-Have Safety Signs for OSHA Compliance (March 17, 2017), Waterproofing One of London's New iconic Buildings (March 13, 2017), Global changes in construction: Kalwall's insights from BAU (March 1, 2017), Choosing the right finish for coastal projects (February 24, 2017), Three New Waterstop Profiles for Environmental Engineered Concrete Structures (February 22, 2017), Bird decoys: the hawk vs. the owl (February 10, 2017), Healthcare Center Gets the PENETRON Treatment (February 6, 2017)
Glazing Over Global Trends: Larger Formats and Smaller Sight Lines (May 29, 2017), Door Access Control & Security Entrance Integration Techniques (May 24, 2017), UNO Helix / Spiral large scale LED fixtures (May 23, 2017), EXTECH offers LIGHTWALL 3440 translucent wall system with three new glazing options (May 15, 2017), Sherwin-Williams converts digital color into fresh coats of paint for a good cause (May 11, 2017), Solar shading systems: fixed & motorized louvers (May 3, 2017), Auburn® custom & pre-engineered skylights (May 1, 2017), Warwick Hotel Rittenhouse Square boasts unique, stylish lobby entrance with revolving door (April 24, 2017), 2017 COTE Top Ten - Setting the standard in design and sustainability (April 20, 2017), KINETICWALL wins 2017 Architizer A+ Award (April 19, 2017)
Interior Corner Protection (May 18, 2017), Springtime Means Nesting Birds (April 28, 2017), Bulletproof Systems and Accessories for Every Building (April 18, 2017), EnduraLine Mobile permanent warning line system (April 5, 2017), FDOT Improving Bicyclist Safety with SlipNOT® (April 4, 2017), Guard Houses (April 3, 2017), The Original Orange Elevator Smoke Curtain (March 28, 2017), 10 Must-Have Safety Signs for OSHA Compliance (March 17, 2017), Railing Infill Face-Off: Cable vs. Glass (March 10, 2017), 6 Ways To Overcome Coastal Landscape Installation Challenges (March 3, 2017)