architecture - engineering - construction

Tectum Panel Art Wall Panels
July 20, 2015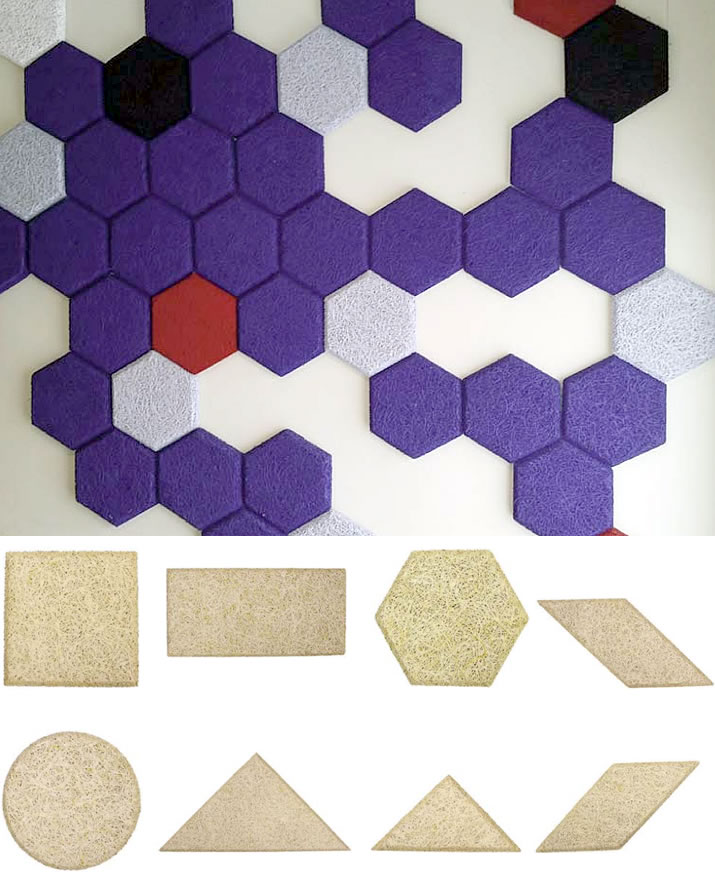 Tectum Panel Art wall panels are the latest innovation from Tectum Inc. Eight different pre-fabricated shapes allow for artistic patterns and designs while providing the abuse resistance and acoustical absorption the design community has come to rely on from Tectum products.
Tectum Panel Art wall panels are easy to install in new construction and existing buildings for attractive and highly effective sound control. Tectum Panel Art can install quickly using construction adhesive and a finishing nail to secure the panel.
All Tectum panels are available from the factory in Natural finish, painted white or custom colors. Tectum panels can also be field painted without losing their acoustical efficacy.
Custom shapes and sizes are available.
Company:
Armstrong Building Solutions
Source: http://www.tectum.com/project-photos-painted-shaped.html
---
Tags:
Enhance the beauty of ‪stucco (July 17, 2015), The Why of White (June 3, 2015), Find Your Color With ColorSnap Studio™ (May 20, 2015), Coral Reef! Jackie Jordan on the 2015 Color of the Year (February 6, 2015)
Larger Optically Seamless TecVision Surfaces (July 8, 2015), Sealed Blinds from Unicel Offer Flexibility, Low Maintenance (June 24, 2015), REFLECTOR™ Enhancer Floors (June 19, 2015), 7 Cool Uses of Glass for Contemporary Luxury Homes (June 12, 2015), The Why of White (June 3, 2015), Find Your Color With ColorSnap Studio™ (May 20, 2015), Tectum V Acoustical Roof Deck (May 8, 2015), There's a new trend in the mailbox industry... (May 6, 2015), Concrete repair, resurfacing and epoxy flooring by Super-Krete Products (May 4, 2015), OGDEN flexible curved or circular benches (April 29, 2015)
Will Your Walls Face Abuse Or Impact? (April 8, 2015), Create an accent wall with faux-leather wall panels (February 17, 2015), Nothing says cool quite like high gloss WallPanels (January 16, 2015)