architecture - engineering - construction

The Benefits of Using Interior Glass in the Office of 2018
March 5, 2018
Incorporating glass into office interiors is a trend that has skyrocketed over the past 10 years. But this is more than just a trend; glass walls provide a number of practical benefits to offices and the people who work in them. They maximize space, minimize the need for interior light, and can even increase productivity and collaboration. These are some of the biggest benefits of outfitting your office with glass walls and doors.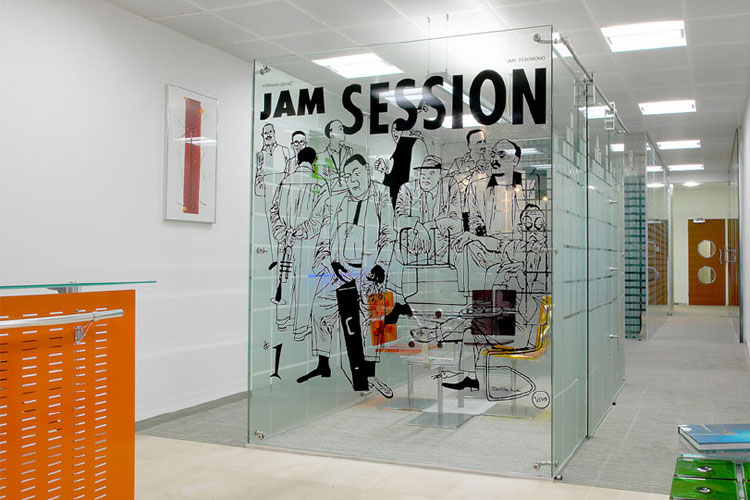 A Contemporary Appearance
Interior glass walls look both modern and timeless. They are a great way to bring a slightly dated office interior into the modern era, but they also age well compared to other building materials. Unlike painted walls, the glass will look fresh and modern and can complement other interior remodeling changes because of its opacity.
Noise-Dampening Potential
Open office designs offer a number of benefits, but peace and quiet is not one of them. Glass walls give the appearance of a wide-open and modern floor plan, but they allow people privacy so sensitive conversations are not overheard. A well-designed office incorporating glass walls can also help dampen the noise from phone calls or other distracting sounds in the office.
Encouraging Collaboration
Collaboration is key in business. Offices that allow employees to communicate openly and collaborate on a variety of projects often lead to more creative solutions and valuable insights. Glass walls aid in collaboration because they send the message that other workers are open and available to talk. Simply being able to look through the glass and see a coworker at his or her desk is often enough to encourage someone to stop in to ask a question, hash out a problem, or just have a quick chat that can lead to more.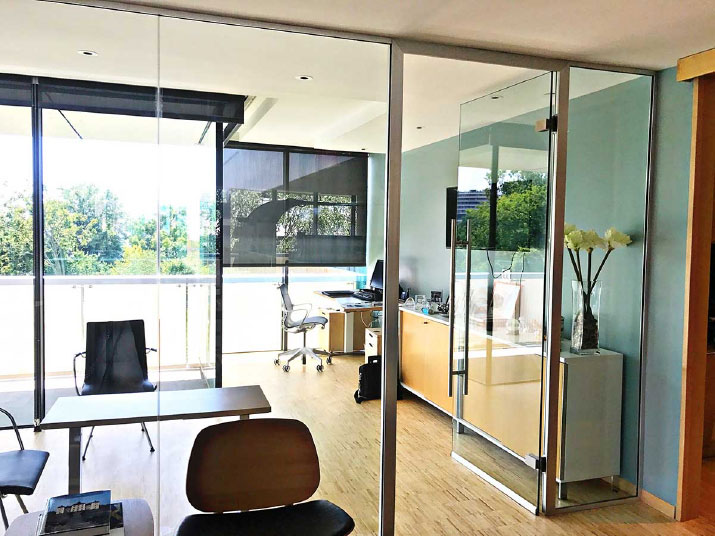 Natural Light
Glass walls can even have a positive effect on workers' health. By allowing natural sunlight to penetrate even into the center of an office building, everyone gets a chance to soak up some rays. Exposure to natural light has a proven effect on mood, stress, and overall health. Employees who get sun exposure are often less tired, in a better mood, and healthier than those who are only exposed to fluorescent light day after day.
Energy Savings
In addition to making employees healthier, natural light has the potential to save money. Often, sunlight is bright enough that overhead lighting can be reduced or even switched off entirely. This has the potential to save a lot of power and energy costs, which means that glass walls pay for themselves in time.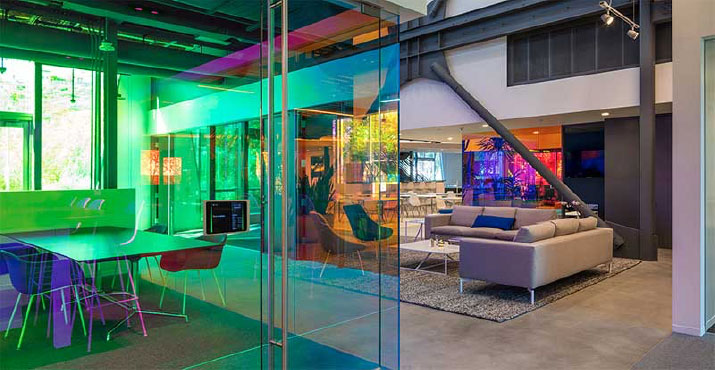 Functionality and Customization
Glass walls are fairly inexpensive compared to other types of building materials, and since they come in panels, they are easy to customize. You can leave gaps and install doors easily in a glass wall, and it can be placed in whatever configuration you need. Though glass is quite durable, if a panel becomes damaged, it's a simple procedure to replace it with a new one.
Glass walls are a great fit for offices of all types. They are a relatively inexpensive way to give your space a modern makeover that also benefits your employees.
Avanti Systems USA are the experts in manufacturing and distributing of interior glazed solutions. For more information, visit www.avantisystemsusa.com.
Company:
Avanti Systems USA
Source: http://www.avantisystemsusa.com
---
Tags:
Greening A Building from Top to Bottom (February 6, 2018), 7 Things to Consider When Designing a Commercial Interior using Glass Walls (January 9, 2018), A Gateway To A Translucent Space (December 15, 2017), Now from Armstrong ceilings: Tectum wall & ceiling panels (November 9, 2017), Armstrong® Ceilings Taps Broad Range of Capabilities To Bring One-of-a-Kind Ceiling Ideas to Life (October 4, 2017), Tectum III & Tectum IIIP Acoustical Roof Deck (September 7, 2017), Ruskin's acoustical louvers are AMCA licensed for water penetration and air performance (August 21, 2017), Tectum Panel Art (August 18, 2017), Draper Launches Acoustical Shading Solution (May 29, 2017), Designed for resiliency and acoustic performance (May 17, 2017)
Entrances & entryways - making an impact (March 2, 2018), Building orientation & daylighting (February 9, 2018), Greening A Building from Top to Bottom (February 6, 2018), 7 Things to Consider When Designing a Commercial Interior using Glass Walls (January 9, 2018)
Greening A Building from Top to Bottom (February 6, 2018), Linear motion track systems and how they help you (January 29, 2018), Color underfoot: new design possibilities with concrete (January 17, 2018), 7 Things to Consider When Designing a Commercial Interior using Glass Walls (January 9, 2018), From west to east with Howe Green access covers (January 4, 2018), 5 Cutting-edge ideas to use 3D textured designs in your home today (January 2, 2018), A Gateway To A Translucent Space (December 15, 2017), High gloss acrylic wall panels - back painted glass alternative (November 30, 2017), Modern & Seamless Custom Flooring Systems (November 14, 2017), Now from Armstrong ceilings: Tectum wall & ceiling panels (November 9, 2017)