architecture - engineering - construction

The evolution of the educational landscape
February 17, 2017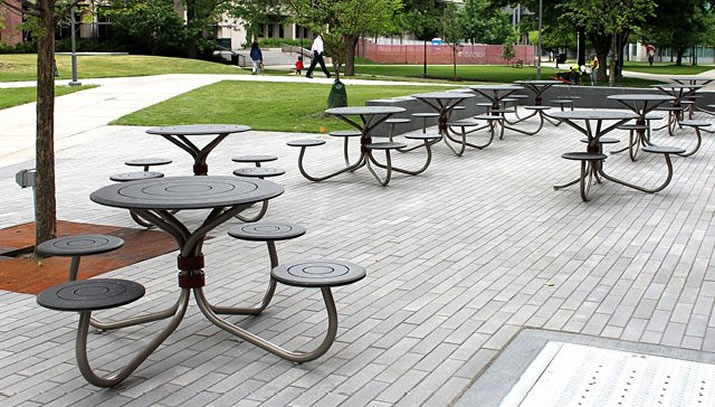 Photo credit: Maglin Site Furniture
From the first formal lectures held in medieval universities, to the online mobile classrooms of today, learning spaces are always growing to meet the needs of society; a study lounge can be a classroom; a cafeteria can become a library. Students can work from almost any location, on or off campus. Educational facilities strive to keep students engaged with their campus, and are embracing the notion of flexible learning environments. Single purpose spaces are becoming obsolete, and many facilities have moved closer to building comfortable and versatile environments that foster collaboration for their students.
An example of a school that has taken student requirements to heart is the University of Chicago. "They recognized the need to redesign their learning environments to meet the needs of today's students by creating learning spaces outside the walls of the lecture hall, library cubicles, and classrooms."i The flexible and customizable products that Maglin Site Furniture provides have played a part in helping the University reach this goal. "We needed specially designed cluster seating for a project, and I just wasn't finding what I wanted in the market, so I called (Maglin Sales Manager) Jill Roberts and we began working on the design," said Richard Bumstead, Associate Director for Campus Environment at the University of Chicago. "The final product ended up being a home run! It's fun, innovative, and works so well in the location."
Maglin provided custom versions of their MLPT1100B-W cluster seating to "jazz up" a prominent location in the heart of the University of Chicago campus. "We did a twist on the standard model and literally twisted the frame and used HDPC (high density paper composite) to create circular table tops and seats," explains Jill Roberts. ADA compliance was also required, so a matching 3-seat cluster unit was created. When asked why he wanted to work with Maglin on this project, Bumstead said, "The Maglin team is great fun to work with — the entire group is engaged in the work they do and more than willing to take a look at all requests for special orders or customization of products."
"The Maglin team is great fun to work with"
With regard to working on school campuses, Roberts stated, "Maglin loves to be involved in education projects! They give us the opportunity to assist in the creation of spaces and overall environments. Campuses have changed over time. Students and learning facilities don't just demand seating and trash collection anymore — they look for innovative spaces that promote collaboration, engagement, and community."
In order to keep up in today's mobile world, learning spaces must be able to adapt quickly and easily. The flexibility of Maglin Site Furniture's products, as well as their readiness to take on special projects, makes Maglin the right partner for your education plans.
Company:
Maglin Site Furniture
Product: Tables and Seating
Of: Article originally written for and distributed by Maglin Site Furniture
Source: https://www.linkedin.com/pulse/evolution-educational-landscape-camilla-hansen
---
Tags:
New from Thomas Steele: Monona benches, chairs, side tables and litter receptables (February 13, 2017), Waldorf™ Benches (January 12, 2017), Sherwin-Williams VinylSafe® Paint Colors (January 9, 2017), Sun Control Sunshades (January 5, 2017), Louvers Play Key Role in Passive Air Management (December 14, 2016), Winner in NADRA 2016 Deck Competion (November 4, 2016), Benefits of Smoking Shelters (October 28, 2016), 8 Questions You Need Answered Before Buying Commercial Grade Outdoor Furniture (October 24, 2016), Ace Hotel New Orleans restores historic Art Deco exterior and updates performance with Winco Windows finished by Linetec (October 14, 2016), E2JS thin line louver used on Reptile House at the Cincinnati Zoo (August 22, 2016)
New from Thomas Steele: Monona benches, chairs, side tables and litter receptables (February 13, 2017), Moving Interiors - Automotive Sliding Systems (January 16, 2017), Waldorf™ Benches (January 12, 2017), Loss Prevention: Ramping Up Retail Security for the Holidays (December 21, 2016), New designs from Victor Stanley: Camille Table & Benches (November 29, 2016), 8 Questions You Need Answered Before Buying Commercial Grade Outdoor Furniture (October 24, 2016), Battery Life: introducing a new way to energize your outdoor space (October 12, 2016), Register for a FREE Senseon Secure Access webinar: transforming lock and key systems for commercial environments (October 7, 2016), Accuride's flagship 3800 series slides are now available from bisco (August 12, 2016), Sotheby's 2016 Designer Showhouse + Auction (June 8, 2016)
New from Thomas Steele: Monona benches, chairs, side tables and litter receptables (February 13, 2017), Waldorf™ Benches (January 12, 2017), How To Avoid The Most Common Problems With Commercial Lampposts (December 30, 2016), New designs from Victor Stanley: Camille Table & Benches (November 29, 2016), 8 Questions You Need Answered Before Buying Commercial Grade Outdoor Furniture (October 24, 2016), Battery Life: introducing a new way to energize your outdoor space (October 12, 2016), An orderly revolution in waste control (August 3, 2016), Smart Ways to Upgrade Your Deck (July 8, 2016), Turn your backyard into a haven (June 15, 2016), The Rise of Outdoor Lighting: Enhancing Aesthetics and Extending Entertainment (May 26, 2016)