architecture - engineering - construction

The future of insulated wall panels has arrived
September 28, 2016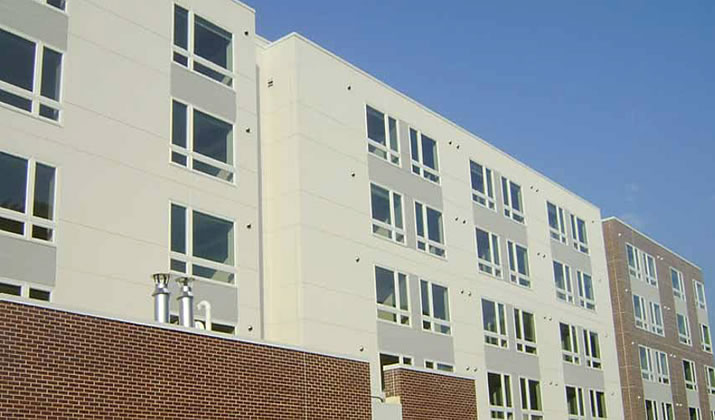 Sto Panels are the next generation of exterior wall panels, delivering superior energy ef ciency and performance along with beauty and ease of installation.
Sto, the leader in wall cladding systems, now offers the most advanced technology in prefabricated insulated wall panel solutions. Our systemized approach to panelized construction offers many benefitts over traditional precast panels, including speed, value and superior performance. Sto Panels are lightweight, energy efficient and durable, and are available in a wide variety of aesthetic options. The technical design expertise of experienced panelizers and the service you expect from Sto make Sto Panels the preferred choice for new construction as well as renovation projects.
Speed
Pre-determined and carefully controlled installation time.
Increased productivity as a result of experienced fabricators.
Construction schedule compression: panels can be manufactured while your site is being excavated and are ready for installation as soon as the site is ready.
Reduced onsite clutter and interference (i.e., scaffolding and debris).
Value
Lower structural requirements than precast due to lightweight prefabrciated panels.
Reduced jobsite manpower needed for exterior wall installation.
Jobsite scaffolding unnecessary for exterior wall installation.
Quality
Precisely engineered prefabricated panels and connections.
Quality controlled fabrication: skilled craftsmen fabricate panels in a climate-controlled environment and materials adhere to strict manufacturers' recommendations (including temperature and humidity requirements) under a stringent QA/QC program.
Extensive shipping protection prevents damage to the panels' factory-precise finish.
Code compliant systems.
Single source warranty.
Experienced panel installers.
Sto Panel Technology - Panel Assembly Animation
Design Freedom and Versatility
Sto Panel Technology helps transform architectural vision into reality in a sustainable, integrated solution
Sto Panel systems are available in a range of beautiful, durable finish options. Choose from Sto's proven line of architectural coatings and textured finishes, metal panels, thin brick veneer or precast concrete. With factory application of materials you can count on a consistent, high quality finish that will last.
Sto Architectural Coatings and Finishes
Sto has you covered in a wide range of beautiful, durable finishes for a strong, flexible layer of protection. Our finishes are manufactured in ISO-certified facilities to meet extremely strict quality control standards, contain pure white marble aggregate and 100% acrylic polymers, and come in virtually unlimited colors.
Specialty Finishes
Sto's line of artistic, protective nishes provide the look you want including brick, granite, stone, limestone and metal panels.
Lotus-Effect®
Featuring the Lotus-Effect, a patented breakthrough technology modeled on the unique self-cleaning lotus leaf, Sto Lotusan nishes and coatings are incomparable to any exterior product on the market. Like the lotus leaf, the nish is rinsed clean with rainfall, thereby reducing maintenance costs.
Company:
Sto Corp.
Source: http://www.stopanels.com
---
Tags:
Make your buildings look good with uniquely designed polycarbonate products for building exteriors (September 19, 2016), Red, traditional brick color for traditional architecture (September 7, 2016), Armortex Waterjet Cutting (August 24, 2016), Structural steel services for the building and construction sector (July 20, 2016), Download True Home Comfort. Right onto your IOS or Android device with the new Icynene Homeowner App! (June 29, 2016), Where Champions Train: Kalwall® Lights Up Broncos' Indoor Facility (May 16, 2016), How to "Future-Proof" Your Bathroom (May 13, 2016), 3 Reasons to Insulate Your Crawlspace with Spray Foam Insulation (March 30, 2016), "At Penetron, we're always talking about the weather" (March 23, 2016), Masonry stains can make historic restoration easier (February 24, 2016)
Color Rendering Index: Why It's important in Outdoor Lighting (September 23, 2016), Make your buildings look good with uniquely designed polycarbonate products for building exteriors (September 19, 2016), Red, traditional brick color for traditional architecture (September 7, 2016), Armortex Waterjet Cutting (August 24, 2016), Summer 2016 in the Hamptons (August 19, 2016), AIA and Autodesk Introduce New Feature to Automate 2030 Commitment Reporting Data (August 15, 2016), The Feng Shui of Kalwall (July 11, 2016), Blackout & mesh shades in the same window? Dual Roller Shades are the solution! (July 5, 2016), Evolution Of Revolving Door Security: Teaching Old Doors New Tricks (July 4, 2016), Balancing Bulletproof Security and Design (June 21, 2016)
AIA and Autodesk Introduce New Feature to Automate 2030 Commitment Reporting Data (August 15, 2016), Evolution Of Revolving Door Security: Teaching Old Doors New Tricks (July 4, 2016), Continuous Insulation (ci) Systems (June 27, 2016), Architects create tactical urbanism with AIA Design Competition (June 1, 2016), Slip Resistant Aluminum Grating Utilized on ASLA Green Roof (May 23, 2016), Cochran Expands and Enhances Landscape Forms Lifestyle Furniture for Terrace Life (April 29, 2016), Green Building Tips: How To Create Eco-Friendly Landscaping (April 25, 2016), Premium Ballistic Frames Offer Huge Boosts in Sustainability and Multi-Threat Risk Mitigation (April 12, 2016), High Performance Coatings (March 7, 2016), Maglin has collaborated with Philips Lumec to offer a design-integrated line of sustainable site furniture (February 17, 2016)
Make your buildings look good with uniquely designed polycarbonate products for building exteriors (September 19, 2016), Glass Shower & Tub Enclosures by Fleurco (September 2, 2016), Architects Inspiration Handbook for Glass applications in commercial interiors (August 29, 2016), The Feng Shui of Kalwall (July 11, 2016), Restaurant Ceiling Tiles (July 1, 2016), Continuous Insulation (ci) Systems (June 27, 2016), Hurricane Roof Equipment Screens (June 10, 2016), Where Champions Train: Kalwall® Lights Up Broncos' Indoor Facility (May 16, 2016), Another Award-Winner: Verti-kal™ and the John Fry Sports Park Pavilion (April 22, 2016), Guardian 275® translucent skylights provide a wide range of color, thermal performance and specialty application options (April 6, 2016)