architecture - engineering - construction

Tips to Improve Indoor Air Quality This Winter
December 19, 2016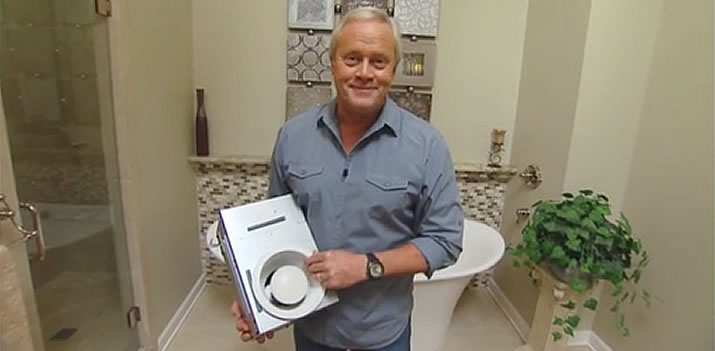 Danny Lipford with Broan recessed light vent fan
Proper home ventilation is especially important when your house is closed up during winter. Here are some tips to improve your indoor air quality this winter.
Keep Your House Clean
Using a quality vacuum to remove dust and dirt is a great way to improve indoor air quality, but unless you're using a central vacuum system, such as the PurePower™ Series from NuTone, you're just recirculating dirty air throughout your home. Unlike a canister or upright vacuum, a central vac system actually exhausts the dirt and dirty air outside your home.
Remove Moisture from Bathrooms
Too much moisture from showering and bathing can cause the growth of mold and mildew in your home. Properly installed bath vent fans, such as the new InVent™ Series from Broan, remove excess moisture and vent it to the outside. Broan fans can also come with a built-in humidistat to cut the fan on and off automatically as needed.
Add Spot Ventilation to Rooms
Bathrooms are the only room that needs good ventilation Broan also makes combination exhaust fans and recessed light fixtures, such as their 744 Series which are perfect for removing musty air in closets and laundry rooms.
Company: Broan-NuTone LLC
Of: Danny Lipford
Source: https://www.todayshomeowner.com/video/tips-to-improve-indoor-air-quality-this-winter/15/
---
Tags:
AAG100 Plaster J-Bead™ Curved Linear Grille (November 9, 2016), Ruskin's Zone Control Solutions Brochure (October 5, 2016), Battic Door Solar Powered Attic Fans (September 5, 2016), Summer 2016 in the Hamptons (August 19, 2016), Free Webinar Louver Selection & Application Using Ruskin's LEADS Software, 2nd Wednesday of every month (August 1, 2016)
Make rooms quieter with a little help from EchoControl acoustical shading (November 14, 2016), AAG100 Plaster J-Bead™ Curved Linear Grille (November 9, 2016), New Unicel white paper provides guidance for specifying privacy and shading solutions (October 19, 2016), 5 Crazy Modern Glass Wall Partition Ideas for a Loft Apartment (October 17, 2016), Reflector Designer Metallic Epoxy Flooring (October 14, 2016), Interior Acoustical Finalé Wall Panels (October 10, 2016), Register for a FREE Senseon Secure Access webinar: transforming lock and key systems for commercial environments (October 7, 2016), 4 Tips to Plan for Packages (September 26, 2016), Delray LED Circles: Uno • Dos • Cylindro I/II/III (September 14, 2016), Glass Shower & Tub Enclosures by Fleurco (September 2, 2016)