architecture - engineering - construction

Top Interior Design Ideas with Masonry Veneers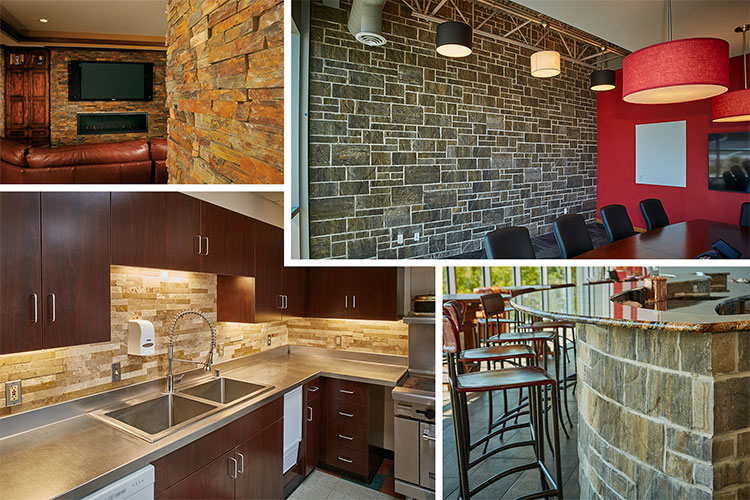 Masonry veneers used on exteriors continue to gain market share in the construction industry. However, more recently, their use is trending inside new residential and business construction because they offer stunning visual appeal and many economic benefits. As manufacturers offer a variety of full and thin veneer masonry product options, it's easier than ever to create stunning features for new home and business construction or remodels, all at an affordable price. In addition, masonry veneer applications can increase home and property values, all while reducing insurance costs due to their high fire and moisture resistance. With County Materials' many full and thin masonry veneer offerings and color choices, there are many ways to incorporate masonry veneers into your next project. Below are several popular ways our company is seeing customers build and renovate with masonry veneers.
Accent Walls
An accent wall can transform the whole look and feel of a home or commercial building by adding a timeless and natural aesthetic at an affordable price. Accent walls create a focal point or appealing backdrop for other unique design elements that are being showcased. Additionally, accent walls withstand bumps and scrapes in heavily trafficked areas. With many color and texture options available, you'll be sure to find the perfect statement making accent you are looking for.
Fireplaces, Chimneys, and Mantels
A fireplace, chimney, or mantel clad with masonry veneers becomes a stand-out feature for any room or gathering space. Concrete veneers are crafted to resemble natural stone, and veneers also come in natural stone panels for an earthy, natural aesthetic that enhances the timeless appeal fireplaces add to a room. Masonry veneers are the ideal building material for fire features because of their high fire-resistance and insulating characteristics.
Kitchen and Bathroom Backsplashes
Utilizing masonry veneers for kitchen or bathroom backsplashes will take these rooms to the next level. An attractive backsplash made of a masonry veneer requires little maintenance; any cleaning can be accomplished by wiping the backsplash with water and soap similar to other porous surfaces. The impact and high fire-resistance of masonry veneers is also an important factor when installed near cooking appliances.
Finished Basements
If you're looking to upgrade a basement into a more inviting living area, masonry veneers are a simple solution that meet the many challenges of remodeling. A masonry veneer can be directly applied to most wall surfaces, reducing preparation and construction time. Masonry veneers also help with sound insulation and temperature extremes which is beneficial in most basement applications. Many basements are damp spaces, with little air flow, that causes many materials to mold or become food sources for pests. Concrete masonry, on the other hand, does not rot, and is resistant to insects and other pests that can plague basements.
Exceptional Design Freedom
County Materials offers several collections of decorative masonry veneers, each with their own distinct features, aesthetics, and benefits. Reflection Stone™ Masonry Units Masonry Units and County Stone® Masonry Units offer a natural look with the benefits of concrete manufacturing. Their modular sizes and shapes make installation easy. Additionally, they are offered in full (nominal 4") and thin (nominal (1") thicknesses for increased versatility. Align International Natural Stone are natural stone panels that come precut and assembled in ready to use panels. Measuring only 3/8" – 1-1/4" wide, the thin veneer panels are lightweight and suitable for use on most interior applications. Premier Ultra® Burnished Masonry Units are manufactured by grinding the surfaces down to reveal a natural mix of aggregates. Premier Ultra is a popular choice for schools, government, and professional office settings because their high strength easily resists abuse. Lastly, Heritage Collection Designer Concrete Brick™ offers the classic look of traditional brick, but are more readily available and significantly more affordable than alternative options. Heralding back to the warehouses and factories of the gilded age, revealing brick veneers inside is an increasingly popular choice for many office spaces and even homes seeking a rugged look.
Company:

County Materials Corporation
Product: Masonry
Source: https://www.countymaterials.com/en/news/item/top-interior-design-ideas-for-masonry-veneers
---
Tags:
9300 Slides – for the heavier bear (September 18, 2017), Cable railing ideas for indoors - stairs, lofts & more (September 14, 2017), Glass Block with Etchings (September 9, 2017), Tectum III & Tectum IIIP Acoustical Roof Deck (September 7, 2017), Tectum Panel Art (August 18, 2017), Accuride Integrated Access Solutions: The New Frontier of Access Control (August 15, 2017), Top NYC architect selects Feeney for notable barn project (July 26, 2017), You Deserve to be Delighted: 10 Essential Elements to Look for in a Security Entrance Manufacturer (July 25, 2017), Finally a Hands Free Solution to Stop Bathroom Mold with the New Enhanced Broan® InVent™ Series (July 14, 2017), Project Spotlight: Work-friendly Daylight (July 13, 2017)
Visual Blog: Kalwall in the Transportation Market (September 15, 2017), Glass Block with Etchings (September 9, 2017), Sto launches impact resistance program (September 4, 2017)