architecture - engineering - construction

Translucent panel canopies allow for great design versatility
January 26, 2018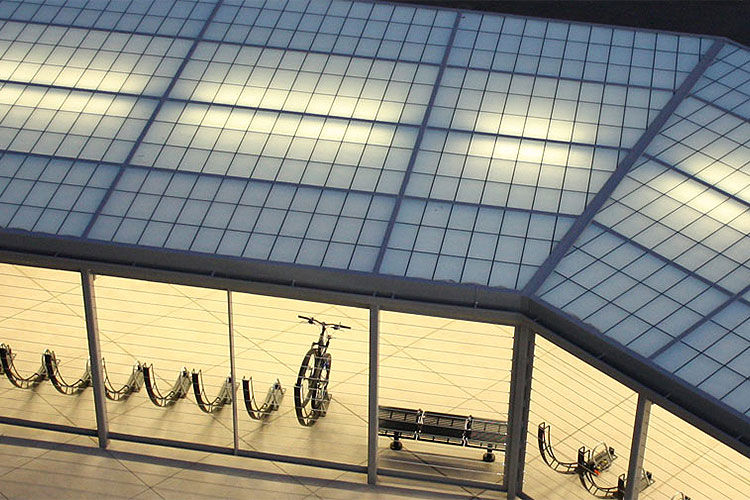 Common areas and entryways are an important element to consider when designing any space. In retail settings, attracting the attention of passers-by is key to maintaining business traffic, while commercial settings demand a space where occupants can gather while remaining sheltered from the elements. Offer them a bright, open and inviting space with a custom canopy from Major Industries.
Major provides a variety of glazing options that can help you make the most out of outdoor spaces.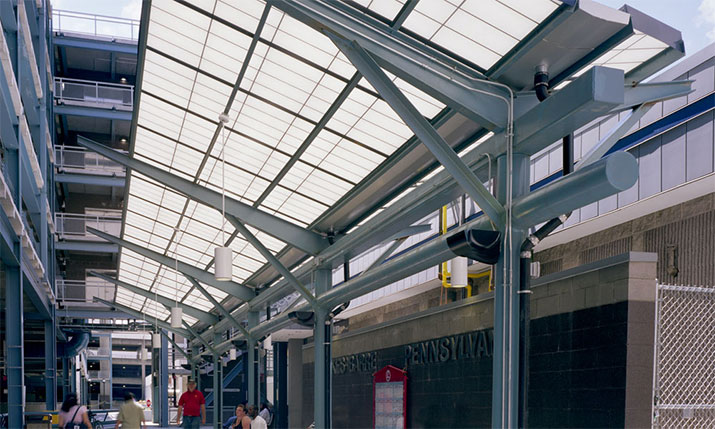 From lightweight and durable Guardian 275® translucent panel systems to more traditional glass systems to eye-catching TransCURVE™ curved panel systems and IlluminPC™ polycarbonate multi-wall options, we have the right canopy solution for your design considerations and budget. Whether you're looking for a simple single-slope solution or a complex and eye-catching polygon, all of our daylighting products feature advanced material technology for enhanced durability, and are backed by industry-long warranties.
Below are just a few examples of how Major's systems can be incorporated into a building's design, as well as their benefits compared to traditional opaque canopies and awnings.
Click here to view our gallery.
Entrances & Walkways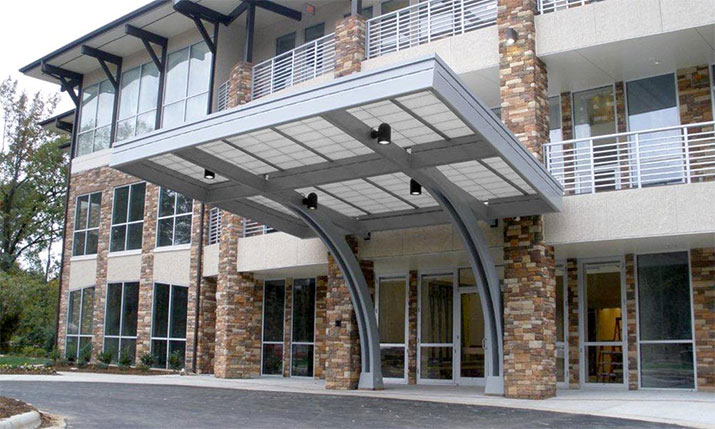 Welcome customers and protect them from the elements with an outdoor canopy or "pass-through" skylight that leads visitors into indoor spaces. Our translucent panel systems can also be utilized as a variety of attention-grabbing design elements, including covered archways and cantilevered awnings, and can be incorporated into your building's signage. Translucent panel canopies, when backlit during nighttime hours, also allow soft, diffuse light to pass through, attracting passers-by with a unique look.
Exterior Courtyards & Gathering Areas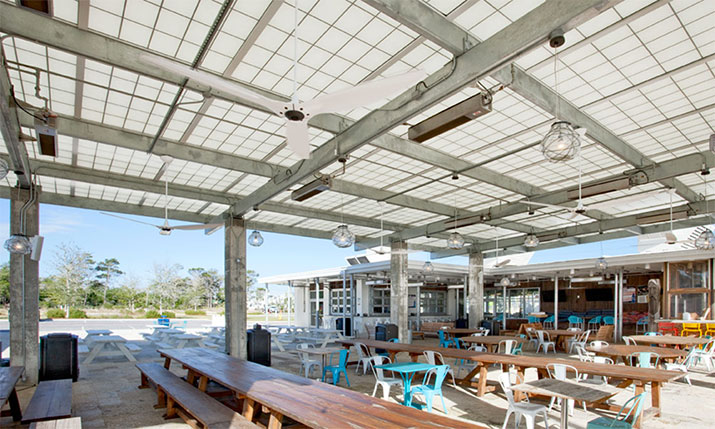 Outdoor common use areas are more welcoming when they're protected from the elements—but don't settle for a standard light-blocking system that forces you to use artificial lighting even during the middle of the day. Translucent panel canopies offer strong protection against the elements while allowing controlled natural light to penetrate the space.
Company: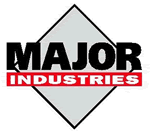 Major Industries Inc.
Product: Guardian 275® - Translucent Panel Skylights & Curtainwall
Source: http://majorskylights.com/products/canopies/
---
Tags:
Railing color: a hidden choice (January 24, 2018), Upscale GFRC (Glass Fiber Reinforced Polymer) at Caesar's Palace on the Vegas strip (October 19, 2017), Before and after deck railing with Ultra-tec® cable railing (October 6, 2017), Removable storm shutters & panels (August 30, 2017), Anodize Nickel Test (August 17, 2017), Bike lockers: The right bike parking for your site (August 16, 2017), Global warming: how architects & building owners can prepare the world (July 27, 2017), You Deserve to be Delighted: 10 Essential Elements to Look for in a Security Entrance Manufacturer (July 25, 2017), Project Spotlight: Work-friendly Daylight (July 13, 2017), Stenciled Concrete for your Pool decks, patios and driveways (July 11, 2017)
Visual Blog: Kalwall Retrofit (November 15, 2017), Thermal breaks in aluminum framing: not just a cold-weather friend (November 7, 2017), New facility at Dupage Airport in Chicago features Extech's systems (September 21, 2017), Visual Blog: Kalwall in the Transportation Market (September 15, 2017), Blast protection and pressure relief systems (August 24, 2017), Visual Blog: Kalwall in the Cultural Market (August 22, 2017), Project Spotlight: Work-friendly Daylight (July 13, 2017)