architecture - engineering - construction

Use of louvers-between-glass can contribute up to 31 LEED certification credits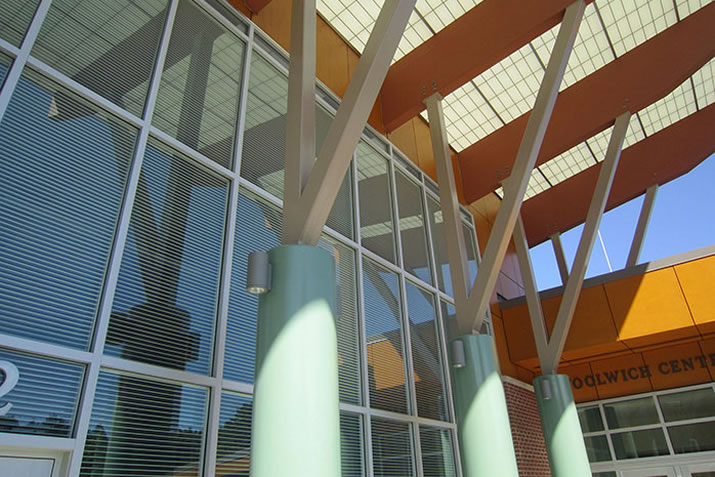 Unicel Architectural, the leading manufacturer of vision and daylight control solutions, today outlined how its Vision Control® integrated louvers can help attain multiple credits for high-performance green building certification through optimized energy performance, thermal comfort, acoustic performance, daylighting and more. Leadership in Energy and Environmental Design (LEED) is the foremost program for the design, construction and operation of green buildings.
"The operation of a building has a huge impact on the environment," said Samuel Doyon-Bissonnette, Engineer and LEED Accredited Professional at Unicel Architectural. "Our Vision Control® integrated louvers can contribute significantly toward obtaining LEED certification and/or improving a building's LEED score. In addition to environmental benefits, this also means long-term cost savings which are especially important for commercial and institutional spaces that need to optimize efficiencies and operations."
LEED is a third-party verification system for green buildings developed by the U.S. Green Building Council (USGBC). The operation of buildings and the construction of new buildings have had a negative impact on the environment for years. As a result, builders and building owners alike are now turning to LEED to assist them in retrofitting and designing more environmentally conscious buildings and communities.
Use of Vision Control® integrated louvers can contribute to LEED certification credits as follows:
Energy & Atmosphere (EA) a. Optimize energy performance (up to 18 points)
Indoor Environmental Quality (IEQ)
a. Thermal comfort (up to 1 point)
b. Interior lighting (up to 2 points)
c. Daylight (up to 3 points)
d. Quality Views (up to 1 point)
e. Acoustic performance (up to 1 point)
Innovation (IN)
a. Intelligent control of louver tilt angle is used for controlling solar heat gain and enhancing daylighting (up to 5 points)
For more information, visit: http://www.unicelarchitectural.com/en/specialty-glazing.html
Company:
UNICEL Architectural Corp.
Product: Specialty Glazing
Source: http://www.unicelarchitectural.com/en/specialty-glazing.html
---
Tags:
Railing Infill Face-Off: Cable vs. Glass (March 10, 2017), High-Function Custom Bullet Resistant Solutions for Banks (February 17, 2017), Architectural Glass Takes on a New Shape (December 23, 2016), Case study: Otterbein University's STEAM Innovation Center featuring Extech's Lightwall 3000 series curtain wall system (December 15, 2016), Kalwall Featured in Major Award-Winning College Project (November 28, 2016), Rigorous Testing Standards Ensure Effective Security (November 16, 2016), 5 Crazy Modern Glass Wall Partition Ideas for a Loft Apartment (October 17, 2016), Glass Shower & Tub Enclosures by Fleurco (September 2, 2016), Armortex Waterjet Cutting (August 24, 2016), 5 Proven Questions to Get the Size of Your Shower Opening Right (July 29, 2016)
The Original Orange Elevator Smoke Curtain (March 28, 2017), Sun Control Sunshades (January 5, 2017), Ruskin's Zone Control Solutions Brochure (October 5, 2016), Free Webinar Louver Selection & Application Using Ruskin's LEADS Software, 2nd Wednesday of every month (August 1, 2016), Green Building Tips: How To Create Eco-Friendly Landscaping (April 25, 2016), Earn LEED Points With Florence Mailboxes (November 18, 2015), LEED-ing The Way in Sustainable Building (November 6, 2015), Stadium Design Sustainability (November 4, 2015)
Make rooms quieter with a little help from EchoControl acoustical shading (November 14, 2016), New Unicel white paper provides guidance for specifying privacy and shading solutions (October 19, 2016), Architects Inspiration Handbook for Glass applications in commercial interiors (August 29, 2016), E2JS thin line louver used on Reptile House at the Cincinnati Zoo (August 22, 2016), Blackout & mesh shades in the same window? Dual Roller Shades are the solution! (July 5, 2016), Cut solar energy getting into buildings by up to 92% - stop it before it hits the glazing (June 17, 2016), Hurricane Roof Equipment Screens (June 10, 2016), Custom shade brackets solve big headache (May 11, 2016), Custom Pocket Headboxes (April 20, 2016), Decorative Panels & Screens (April 4, 2016)