architecture - engineering - construction

Wet Glaze vs. Dry Glaze: Which is Right for Your Railing Project?
November 6, 2021
Read the full original article here: https://www.morsearchitectural.com/blog-list/wet-glaze-vs-dry-glaze-which-is-right-for-your-railing-project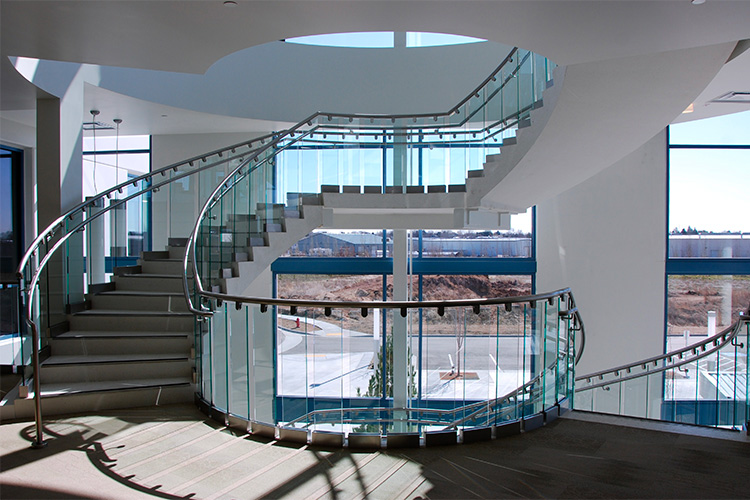 When tackling a glass railing installation project, one pivotal decision you'll face is deciding between wet glaze vs. dry glaze. In glass installation, "glazing" refers to the way in which the glass meets the surrounding material, and the choice between wet glazing or dry glazing hinges on the details of your job.
Both methods have advantages and disadvantages, so it's ideal to understand exactly what you need and want from your railing project before settling on a final option.
Here, we'll take a closer look at everything you need to know about wet glaze vs. dry glaze for your unique railing project.
What is wet glazing?
Wet glazing systems use pourable expansion cement to hold the glass in place. Occasionally, gunnable sealant is applied between the glass and the shoe to provide extra sealing and a "finished" appearance. Due to its durability and ease of plumbing the glass, this method is typically used for interior and exterior commercial projects.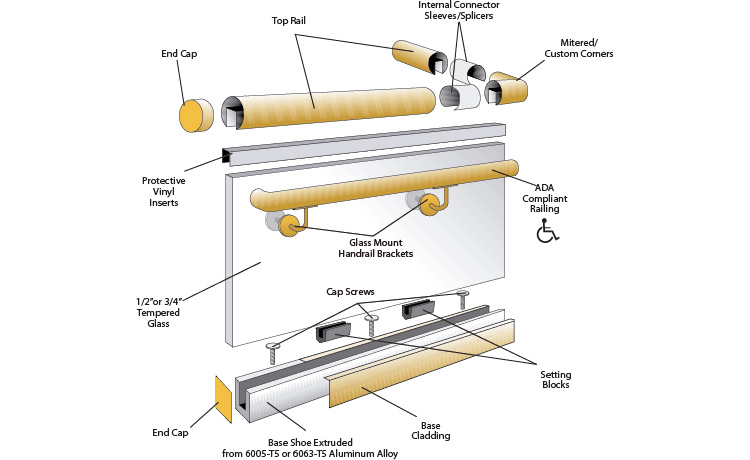 There are both positives and negatives to using a wet glazing method.
Pros:
Improves resistance to water penetration, which prevents premature deterioration and fogging, and reduces the need for maintenance over time
Reduces glass movement (known as "walk")
High load limits make it helpful for high-volume foot traffic areas
Ability to plumb glass side to side makes aligning panels easy
Cons:
Requires more manpower, experience, and time to install, and usually requires exterior access
Dependent on weather conditions for installation — rain or humidity can compromise the integrity of the cement or grout or prevent it from curing
Fixing errors or making adjustments is difficult and takes longer, especially if the cement has already dried
Labor for wet glazing tends to be more expensive than labor for dry glazing
Installing on slopes such as ramps or stairs typically require multiple pours
May not be compatible with laminate glass products
What is dry glazing?
Dry glazing requires no wetwork, and is utilized more often for interior projects. In most cases, dry glazing systems use extruded rubber or plastic components, along with aluminum or stainless steel fixing mechanisms.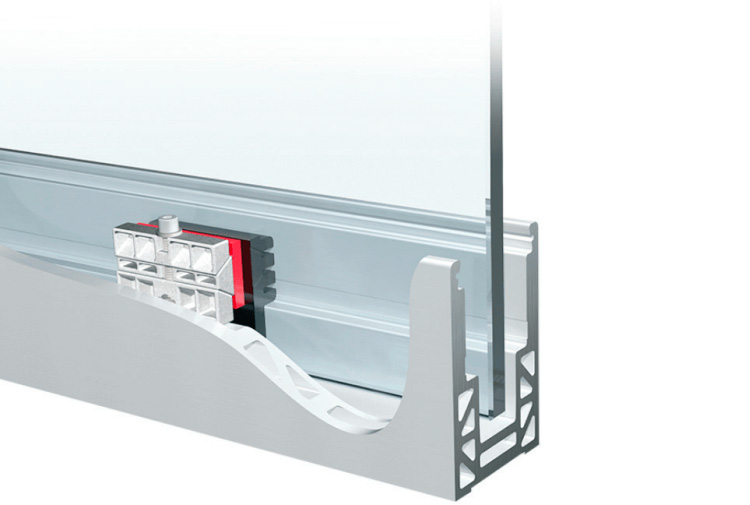 Like wet glazing, dry glazing has its own set of advantages and disadvantages.
Pros:
Installation is faster and simpler than wet glazing, as it doesn't require exterior access or waiting for cement to cure
Many dry glaze systems don't require special tools — for some, all you need is an Allen wrench
Installation isn't weather-dependent
No mess — there's no mixing and pouring of expansion cement, and no running of cement on sloped mounting surfaces
Labor tends to be less expensive
Cons:
Less watertight, requires the addition of "weep holes" and provisions for drainage when used in exposed locations
Parts may be more expensive
More "walk," or movement of the glass
May be difficult to adjust for plumb
Conclusion
As you plan your glass railing project, you'll need to determine whether wet glaze or dry glaze is the best option for your installation. Consider the details of your particular pursuit to determine the method that's right for you.
Factors to keep in mind include:
Size of project
Resources (e.g. availability and experience level of workers)
Desired timeline
Whether the installation is interior or exterior
Site conditions such as substrate, slope, or structure
Typical weather in your area (e.g. humidity and/or precipitation)
Building codes in your area
Budget
The best way to ensure you're using the correct method for your project is to talk to an expert at Morse Industries. We've been helping clients select products for difficult jobs in railing for almost 40 years. Our priority is supporting you — our team will work with you from start to finish, giving you the support you need to ensure that the job is done right.
Have questions about choosing between wet or dry glaze? Contact Morse Architectural.
#morse #MorseArchitectural #railings #WetGlaze #DryGlaze
Company:

Morse Architectural
Product: Wet Glaze Systems
Of: Morse Architectural
Source: https://www.morsearchitectural.com/blog-list/wet-glaze-vs-dry-glaze-which-is-right-for-your-railing-project
---
Tags: