architecture - engineering - construction

Would you step out on this glassfloor?
April 10, 2015
Structural Glass Floor Pavers Landings & Stair Treads
Structural glass floors, bridges, landings and stair treads can add light in lower level spaces and provide a unique design element in a commercial, retail space or residential home. Our structural glass systems include large structural glass planks, glass block pavers and the supporting framework.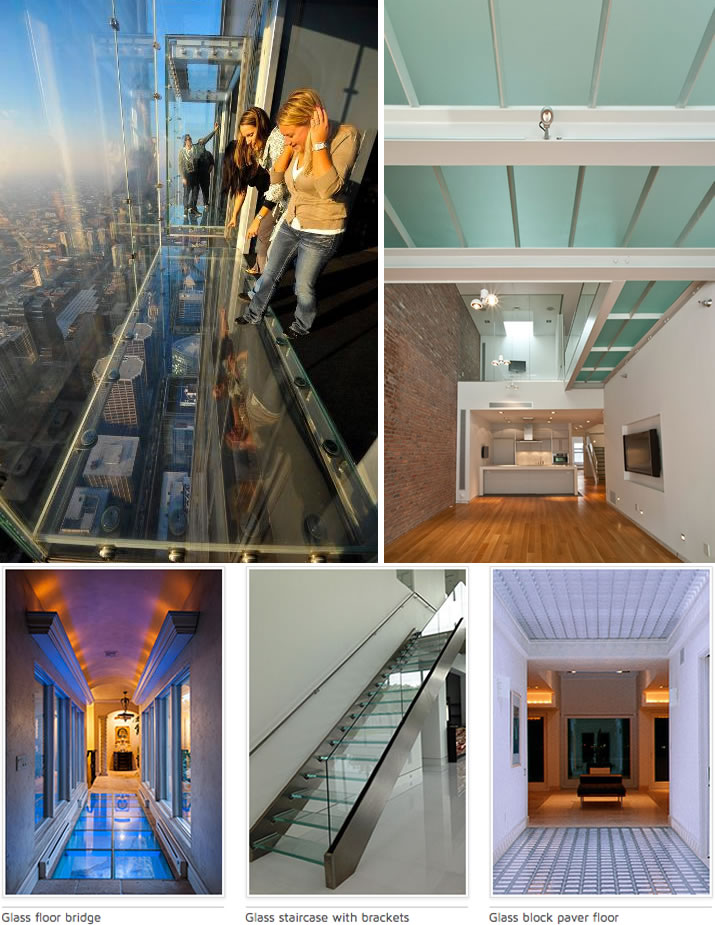 Structural Glass Floor, Staircase & Glass Block Paver Flooring
Structural glass and glass block flooring systems can provide the following benefits in commercial, architectural, retail, and residential buildings:
Light transmission from upper to lower levels. Glass walkways, bridges, and staircases allow light to pass from upper to lower levels, while providing a functional and structurally sound surface for foot traffic. Use of glass floor planks or pavers in these applications enhances daylighting, which cuts energy costs. In addition it provides a more productive environment in a workplace and more of an open, contemporary feel in a home.

High privacy or a see-through design. If you want the light but are worried about the modesty of people walking on the floor above - there is no need to be concerned. These glass units come in obsure (acid etched) units which provide complete privacy to those on upper floors. If you do want direct sight through the glass (examples include water features or a cool lower level view like a wine cellar) our clear glass will be the right choice.
A dramatic design element. Whether you're choosing structural glass floors or a glass block paver system, we offer a wide range of surface designs that are both safe and stylish. We can also customize the laminated flooring system by screening a pattern into the interior layer - how cool is that?
Engineering support for interior and exterior projects in commercial, retail, or residential homes. Our glass floor systems (which not only include the glass but the supporting aluminum framework as well) are engineered to safely support high levels of weight. We can assist you to design a structurally sound system which will stand the test of time and weight loads of even a crowded dance floor!
Can be installed within different surrounding floor materials. Glass floor systems can be put into wood, tile, stone, or concrete floors. We can provide structural details - and assist your construction or architectural team - in the right way to prepare the opening for our system.
Easily installed and replaced modular system. Our glass floors and pavers are set inside a lightweight structural aluminum grid system. This makes them both easy to install and replace if breakage were to occur. This system can span 7'6" without additional supports.
Company:

Innovate Building Solutions
Product: Glass floors and walkways
Source: http://innovatebuildingsolutions.com/products/glass-block/glass-block-floors-bridge-walkway?utm_content=buffer1878b&utm_medium=social&utm_source=twitter.com&utm_campaign=buffer
---
Tags:
Beautiful, High Performance Finished Floor Solutions (April 1, 2015)
L-Bead Installation: New and Improved (April 3, 2015), Create an accent wall with faux-leather wall panels (February 17, 2015), Coral Reef! Jackie Jordan on the 2015 Color of the Year (February 6, 2015), Bottom-Up FlexShades Offer Privacy (February 2, 2015), Nothing says cool quite like high gloss WallPanels (January 16, 2015)