architecture - engineering - construction

Stagescreen Portable Projection Screen®
September 12, 2017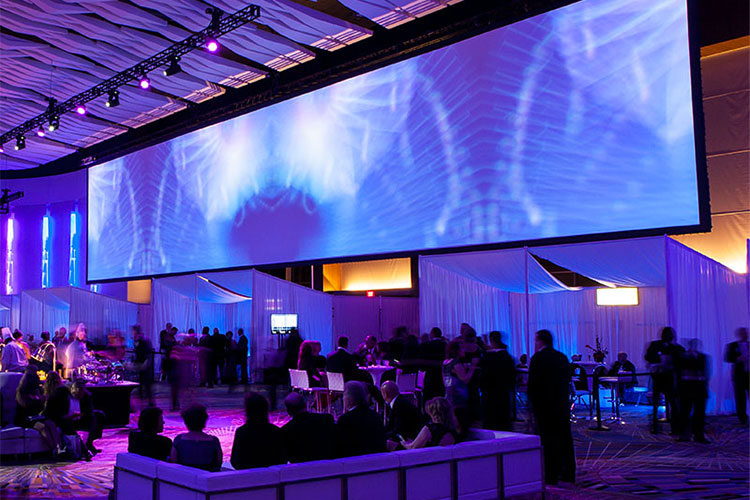 In response to requests from leading AV rental dealers, the StageScreen® is a totally new concept in projection screen design. It is designed specifically to be flown, but can also be used with legs. Either way, it is the strongest and most rigid screen on the market.
The truss system is completely modular. All available sizes of StageScreen® are built from combinations of the same 6 standard color-coded frame sections pictured in the images above. Not only does this make screen assembly faster and easier, but if a frame section should ever become damaged you can replace it in seconds without tools.
AV rental dealers can easily streamline their inventory with the StageScreen®. You can change a Multiformat to an NTS.
The StageScreen® utilizes an 8" truss that is significantly stronger than traditional truss folding screens
It is engineered to hold tolerance after repeated usage.
Color coded frame sections ensure fast and easy assembly.
Draper performed in-house testing of the strength of the StageScreen® truss compared to a folding truss screen. The results were dramatic: StageScreen® proved to be over 60% stronger, holding strong long after the folding truss failed.
The image area of each screen is exact and true to format.
StageScreen® can be assembled in about half the time of a comparable truss folding screen. See video below.
No hinges, no snaps, and no Handy Cranks are required.
Frame sections are connected with permanently attached threaded links and guide pins. No lost handy cranks.
Easy to follow color-coded assembly instructions are included with each StageScreen®
StageScreen® features a revolutionary new viewing surface attachment method. Using the attached DuraLoop™ bungee cord loops with handy nylon pull-tabs, simply hook the surface to the posts on the frame. DuraLoops are longer lasting than traditional snaps, and provide even self-centering tension for the viewing surface. You'll never want to use snaps again.
The viewing surface is stretched perfectly flat, resulting in the highest picture quality.
Sizes available are listed in charts below and depend on surface selected.
Company: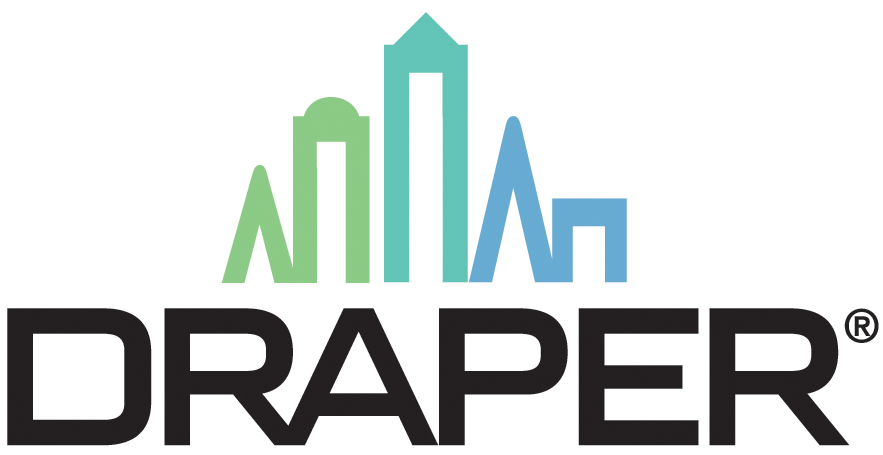 Draper, Inc.
Product: Projection Screens
Source: https://innovative.draperinc.com/projectionscreens/productdetail.aspx?detail=581
---
Tags:
Creating the perfectly flat viewing surface (July 11, 2017), Video Surveillance In 2017: 4 Things You Need To Know (July 7, 2017), Striking the Right Color Balance in ALR Screens (April 10, 2017), Ventilation for you the music fan: Brilliant audio performance concealed behind your fan grille (February 27, 2017), Videoconferencing cameras and security: Is someone watching? (September 16, 2016), TecVision Stuns in Utah Home Cinema (November 11, 2015), Custom Support Structure Delivers 4D Mapping Images (October 9, 2015)
Manchester Blend tan bricks a hot trend in the color world (August 28, 2017), Ogden by Maglin Site Furniture offers flexible straight, curved or circular bench options to suit any style (August 25, 2017), Tectum Panel Art (August 18, 2017), How to deliver true color to your clients (August 11, 2017), 5 Little Known Facts about High Gloss Acrylic Wall Panels (July 24, 2017), Creating the perfectly flat viewing surface (July 11, 2017), Maglin Moves Manhattan (July 6, 2017), Floor Marking by Color (June 30, 2017), Colormix® Forecast 2018 (June 14, 2017), Energize your next daylighting design with Spectra-Grid™ (May 25, 2017)
Mitigating Protests, Smart Mobs and Crime with Manual Revolving Doors (September 6, 2017), Green: The Color that Became a Building Philosophy (September 5, 2017), Ogden by Maglin Site Furniture offers flexible straight, curved or circular bench options to suit any style (August 25, 2017), Visual Blog: Kalwall in the Cultural Market (August 22, 2017), Ruskin's acoustical louvers are AMCA licensed for water penetration and air performance (August 21, 2017), Little things make a big difference (August 14, 2017), How to deliver true color to your clients (August 11, 2017), Sustainable and small: The tiny house movement (August 9, 2017), Architectural Series Roof Guardrail System (August 8, 2017), Slipnot® provides slip resistance and aesthetic display for Times Square spotlight on Broadway project (August 7, 2017)
Visual Blog: Kalwall in the Cultural Market (August 22, 2017), Lake Avenue light poles restoration - Pasadena, California (August 2, 2017), Global warming: how architects & building owners can prepare the world (July 27, 2017), Finally a Hands Free Solution to Stop Bathroom Mold with the New Enhanced Broan® InVent™ Series (July 14, 2017), Creating the perfectly flat viewing surface (July 11, 2017), Great thermal performance + corrosion resistance = Clima-Tite™ translucent wall systems with fiberglass framing (June 29, 2017), UNO Helix / Spiral large scale LED fixtures (May 23, 2017), EXTECH offers LIGHTWALL 3440 translucent wall system with three new glazing options (May 15, 2017), Kalwall Panels featured in "Amoeba Wall," MIT design team's award-winning project (March 20, 2017), Global changes in construction: Kalwall's insights from BAU (March 1, 2017)