architecture - engineering - construction

How to Choose the Right Perforated Grille for Your Project
August 9, 2018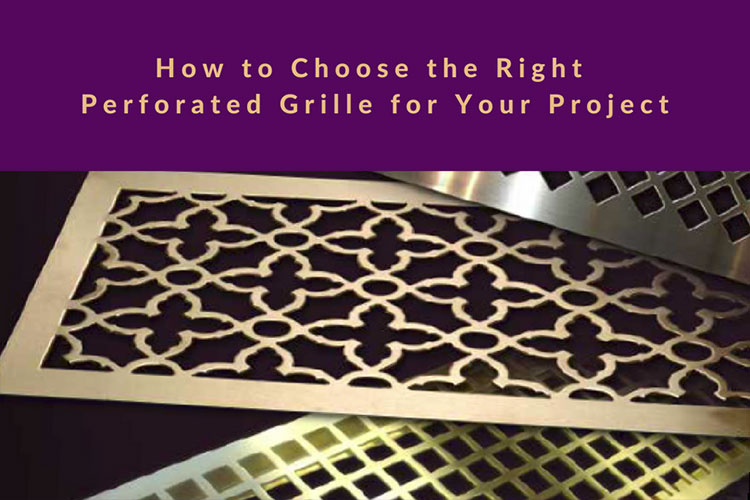 Ornamental grilles are upscale decoration for your home or business
From new builds to historic renovations, perforated metal grilles can elevate any architectural design with patterns ranging from simple to ornate and vintage to modern. No matter your style, a perforated grille can tie together a variety of architectural projects – but how do you choose the right one for your project?
We've streamlined the decision-making process into four simple steps.
1. Measure your space
Each of our perforated metal grille options comes in standard sizes, although alterations can be made upon request. When choosing your perforated metal grille, it's important to select a pattern that will accommodate your spatial limitations.
First, measure your opening for the proper length (X) and width (Y). This will help specify your perimeter, which is necessary when choosing a perforated grille size and style. Next, determine your border sizes. It is important that the perforated pattern does not extend outside the opening dimensions (B and C).
It's important to cut the appropriate opening size for your perforated grille – but don't worry, our team can help you find the proper dimensions and sizes.
2. Choose your optimal air flow
When selecting a perforated grille, it is important to choose a pattern that provides the optimal air flow for your space. This is measured by the free air percentage, or open area, not covered by the metal pattern. For perforated patterns with small vent holes, you will want more free air. This will allow more air to be pushed through the grille. The opposite applies for large vent holes.
3. Select a perforated grille design
Now, it's time for the fun part – choosing your perforated grille design. We offer a wide variety of patterns to elevate an assortment of projects from mid-century modern constructions to historic renovations and more.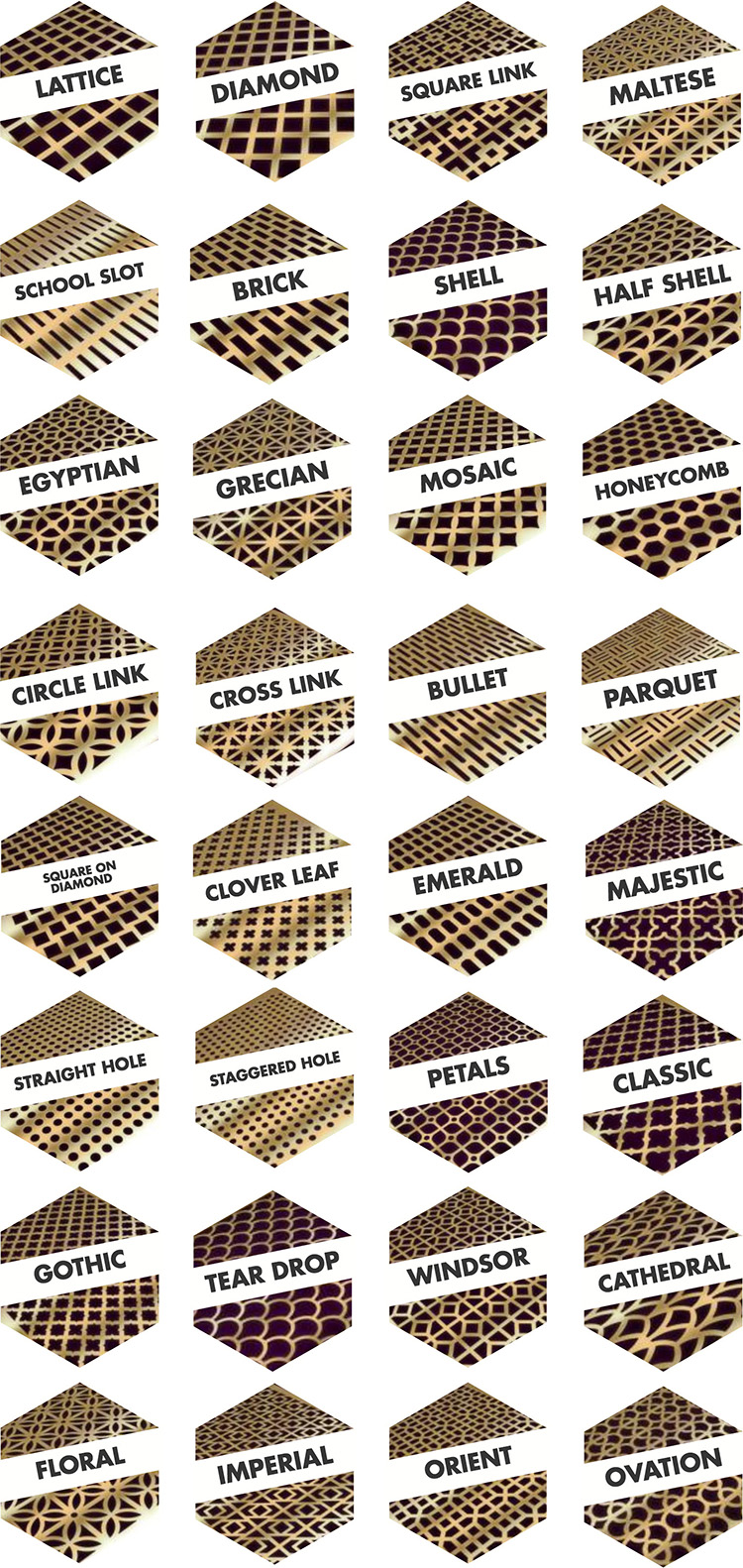 You still have two more decisions to make after selecting your perforated grille design. Success is in the details. Select your metal and finishing option to add the final touch to your project.
4. Leave the rest up to us
In some cases, your perforated grille might require concealed fasting, welded support bars, access doors or installation hardware with a matching finish. Our team of craftsmen can help with additional installation requirements or challenges. After all, we've been in the metalworking business since the early 1900s.
Our team is ready to help you pick the perfect perforated metal grille for your project. Make sure to view our product catalog for a full, detailed list of our products. For a consultation or to order your perforated grilles today, contact us at 631.482.9449 or sales@cocometalcraft.com.

Company: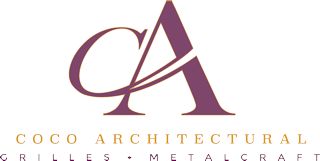 Coco Architectural Grilles & Metalcraft
Product: Perforated Metal Grilles
Source: https://www.cocometalcraft.com/blog.php
---
Tags:
From west to east with Howe Green access covers (January 4, 2018), Not all access covers are created equal (November 6, 2017), Keeping the castle cosy with Howe Green access covers (September 11, 2017), Custom Ornamental Bronze Grilles (August 4, 2017), Blackened Steel for Architectural Design (July 19, 2017), Howe Green 'raises the bar' at former olympic site (July 18, 2017), Swedish hospital 'takes a chance' on Howe Green (June 21, 2017), Howe Green supply 'specials' for renovation of Nationalmuseum of Art, Stockholm (May 9, 2017), Custom Period-Matched Perforated Grilles (April 26, 2017), Nystrom Launches 1 Inch Pan Floor Door (April 21, 2017)
Data center protection (April 15, 2018), Linear Grille Wall Cladding (March 14, 2018), Artistry in Architectural Grilles Custom Laser-Cut Decorative Metal Screen (September 28, 2017), Custom Ornamental Bronze Grilles (August 4, 2017), Blackened Steel for Architectural Design (July 19, 2017)
Data center protection (April 15, 2018), Thermal breaks in aluminum framing: not just a cold-weather friend (November 7, 2017), Ruskin's IAQ50 air flow measuring control damper solves Las Vegas air curtain challenge (September 20, 2017), Custom Ornamental Bronze Grilles (August 4, 2017), Blackened Steel for Architectural Design (July 19, 2017), Finally a Hands Free Solution to Stop Bathroom Mold with the New Enhanced Broan® InVent™ Series (July 14, 2017), Custom Period-Matched Perforated Grilles (April 26, 2017), Warwick Hotel Rittenhouse Square boasts unique, stylish lobby entrance with revolving door (April 24, 2017), New critical environment damper series from Ruskin® withstands coastal and corrosive applications (April 11, 2017), Ventilation for you the music fan: Brilliant audio performance concealed behind your fan grille (February 27, 2017)
Black Aluminum Cable Railing (June 15, 2018), Elevare™ Mullion High Wall System (May 16, 2018), LuxCore FRP Fusion Wall Panels by Decorative Ceiling Tiles (May 1, 2018), The benefits of motorized window shades (April 27, 2018), The allure of 'in-between' colors (April 4, 2018), Repair, replace or upgrade: what to do with an outdated mailbox system (April 2, 2018), Flipper & Pocket Doors: What's the Difference? (March 29, 2018), Ceiling tiles - what you need to know before you buy (March 23, 2018), Linear Grille Wall Cladding (March 14, 2018), The Benefits of Using Interior Glass in the Office of 2018 (March 5, 2018)
Folded Zinc Panels in One Henry Adams, A Multi-Family Residence in Design District, South San Francisco (March 9, 2018), Stainless Steel Waterstop for High Heat Applications (October 18, 2017), Which Metal Ceiling Tile Finish Is Right For You? (October 11, 2017), Skylight guarding with SRC - Skylight Screens (October 10, 2017), Artistry in Architectural Grilles Custom Laser-Cut Decorative Metal Screen (September 28, 2017), Green: The Color that Became a Building Philosophy (September 5, 2017), Anodize Nickel Test (August 17, 2017), Modular Seating - Volare™ (August 10, 2017), Slipnot® provides slip resistance and aesthetic display for Times Square spotlight on Broadway project (August 7, 2017), Blackened Steel for Architectural Design (July 19, 2017)
Architectural Wall Louvers (November 23, 2017), Ruskin's IAQ50 air flow measuring control damper solves Las Vegas air curtain challenge (September 20, 2017), Custom Ornamental Bronze Grilles (August 4, 2017), Blackened Steel for Architectural Design (July 19, 2017), Finally a Hands Free Solution to Stop Bathroom Mold with the New Enhanced Broan® InVent™ Series (July 14, 2017)