architecture - engineering - construction

Therm+ H-I Timber Curtain Wall Systems
November 21, 2022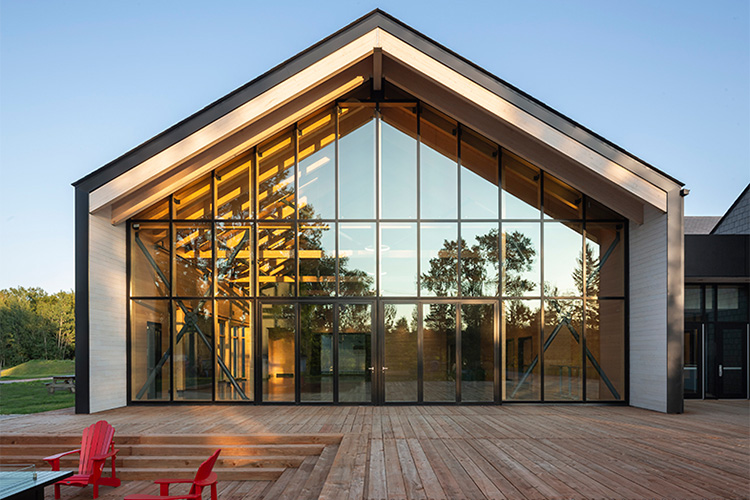 Read the full original article here >
The aesthetic and material benefits of sustainable, well-engineered timber curtain walls are well documented. But Unicel Architectural's Therm+ H-I curtain wall systems with proven RAICO technology and high-quality glazing by Unicel Architectural take curtain wall performance to the next level.
That's because each Therm+ H-I curtain wall system (available in sizes of 56 and 76 mm) combines lightweight and elegant design with Passive House certification-level thermal insulation, along with superior wind resistance and greater air tightness than any other curtain wall product on the market.
Therm+ H-I curtain wall systems can be equipped with a range of glazing products, including double or triple glazed Vision Control™ integrated louvers for unprecedented comfort and control of vision, light, temperature and sound. Rich timber facades can be fabricated from any timber-based material, including glue laminated Douglas fir, red cedar, black spruce, or other woods – helping contribute to biophilic design principles.
The Therm+ H-I system strictly separates all structural elements from functional components, such as gaskets and the aluminum profile, for longer product life and functionality. Recent Unicel Architectural products featuring Therm+ H-I 56 and 76mm curtain walls include:
The Osler Bluff Ski Club's renovation project, featuring 450 sq. m. of curtain wall with red cedar solid wood caps, Douglas fir glulam, and double glazing
Québec City's Base de plein air de Sainte-Foy's 1,500-plus sq. ft. Therm+ H-I 76 mm curtain wall with black spruce and pine glulam
System Features
System width: 56/76 mm
Rectangular profile depth: 25 to 200 mm
Drainage levels: 2 or 3
Infill thickness: 4 to 64 mm
Glass weight: Up to 600 kg
Polygonal assembly: Up to 45 degrees
Application glass roofs: Inclinations of up to 2 degrees
Key Benefits
RAICO insulating block technology for stepless thermal insulation
Two types of screw fixed aluminum base profiles (with or without profile locator)
Integrated drainage system
Superior wind resistance (2.5/3.75 kN/m2), water tightness (RE 2,100), air permeability (AE (>600), fire resistance (F30/G30/E130), and burglar resistance (RC2/RC3)
Can also be outfitted with Vision Control™ louvered glazing
@UnicelArch #UnicelArch #UnicelArchitectural #Aluminum #Glass #Louvers #Glazing #Skylights
Company:
UNICEL Architectural Corp.
Product: Specialty Glazing
Source: https://unicelarchitectural.com/therm-h-i-timber-curtain-wall-systems/
---
Tags: