architecture - engineering - construction

Brick Stairways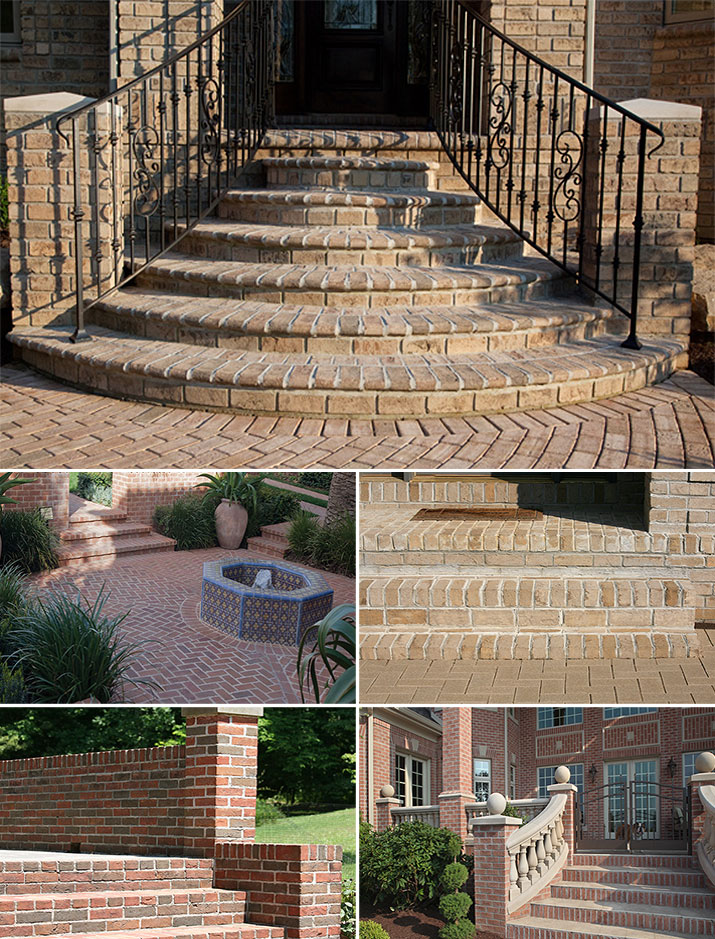 Alamo Blend, Belcrest 530, Harbour Mist Blend, Rosewood Blend, St Anne Clear - The Belden Brick Company
It is a well-known fact that first impressions are lasting. Belden Brick adds an elegant touch to your project's entryway and represents a classic look of beauty and grace. The addition of a brick stairway leaves your guests with an indelible impression of rich tradition.
Stairway design has become an art form in itself and for those who appreciate the finest in craftsmanship, Belden Brick is the perfect solution to all your landscaping ideas. Paving brick can be used in any number of different ways. Talk to your landscape architect about the alternative uses of color and patterns to create a one-of-a-kind entryway design. As you look through the sample pages provided here, you will see how versatile brick can be when it comes to creating a personalized look for your home or commercial project. If you need additional information about the options available for your particular plan, please contact one of our Belden Brick distributors.
Company: Belden Brick Co.
Product: Paving Brick
Source: http://www.beldenbrick.com/
---
Tags:
Custom outdoor furniture that reflects your vision (November 10, 2017), 5 Innovative Public Square Design Ideas (September 29, 2017), Ogden by Maglin Site Furniture offers flexible straight, curved or circular bench options to suit any style (August 25, 2017), Concrete Resurfacing (August 23, 2017), Bike lockers: The right bike parking for your site (August 16, 2017), Modular Seating - Volare™ (August 10, 2017), Lake Avenue light poles restoration - Pasadena, California (August 2, 2017), TerraCast Step Planters Bring Innovation to Reclaim Public Spaces in Major U.S. Locations (July 28, 2017), Transform your yard, patio, or outdoor cafe into majestic gathering places with these beautiful brick outdoor entertainment pieces (July 3, 2017), CableView® Aluminum Cable Railing System by Stainless Cable & Railing Inc. (June 23, 2017)
Special Brick Shapes (October 3, 2017), Top Interior Design Ideas with Masonry Veneers (September 19, 2017)