architecture - engineering - construction

Custom Ornamental Bronze Grilles
August 4, 2017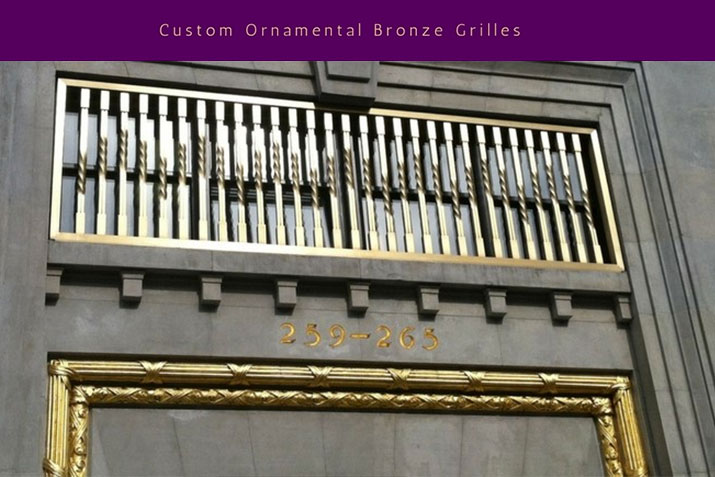 Coco Architectural offers custom fabrications for ornamental grilles and other products. In a recent project located at 80 8th Ave, in New York City, we created several custom pieces for the client, including a custom ornamental bronze grille over the entrance, a bronze header and jamb assembly for the Newsstand, and a custom bronze radiator enclosure with bronze bar grilles in the lobby.
Here at Coco Architectural, we offer upscale custom metal fabrications for a variety of different industries. In the 80 8th Ave project, our craftsmen created a custom ornamental bronze grille to protect the windows over the entrance of the business (shown above). The unique decorative twist on the custom bronze bars added a grand entrance feel to the business.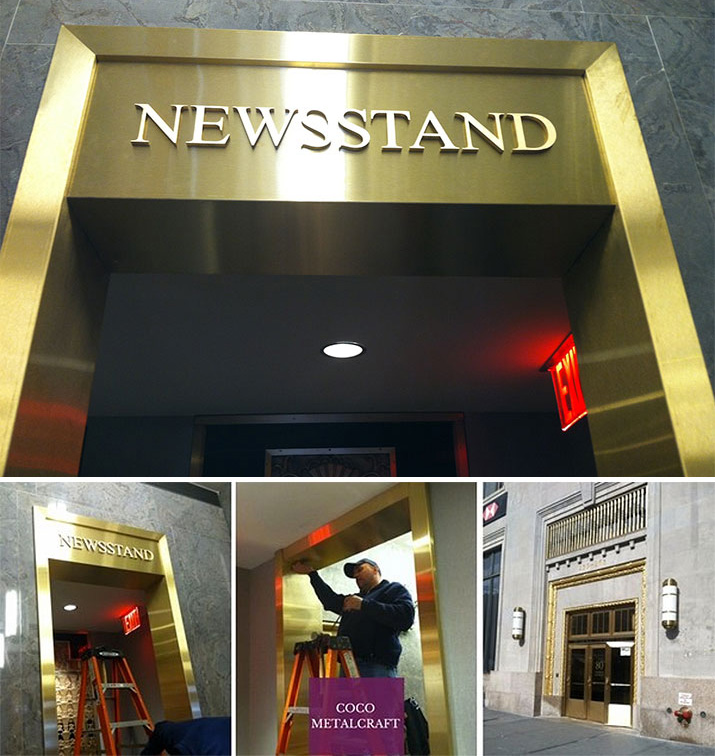 Our specialized CNC Waterjet services allow us to offer unlimited possibilities for any metal work on custom orders. Waterjet cutting is often used during fabrication of machine parts but can also be used for custom-perforated metal sheets and other architectural metalwork. In this project, we created custom waterjet lettering for the newsstand area and cut the brake formed bronze header and jamb assembly to complete the look.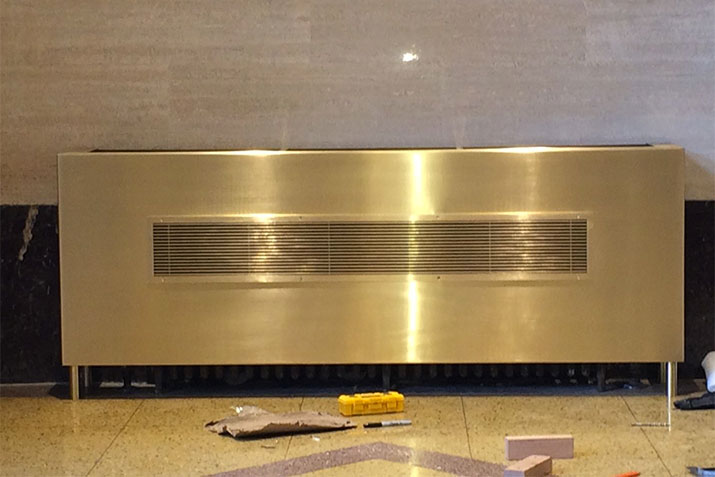 Finally, as all of our work is custom for each project, we provided a satin bronze radiator enclosure with custom linear bar grilles in the main lobby, rather than your basic cookie cutter HVAC products. The aesthetic impact on the space and functional performance of the grille is very important to us, so we leave no detail untouched to provide our clients with a flawless, functional piece.
If you're interested in custom ornamental grilles for your project, we can help your ideas come to life. From choosing metals for your project to matching unique designs with our waterjet and laser technology, we can add unique details to your commercial business or home to make your space feel complete.
Company: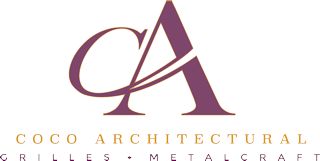 Coco Architectural Grilles & Metalcraft
Product: Custom Metal Fabrication Products
Source: http://www.cocometalcraft.com/custom-ornamental-bronze-grilles
---
Tags:
Blackened Steel for Architectural Design (July 19, 2017), Howe Green 'raises the bar' at former olympic site (July 18, 2017), Swedish hospital 'takes a chance' on Howe Green (June 21, 2017), Howe Green supply 'specials' for renovation of Nationalmuseum of Art, Stockholm (May 9, 2017), Custom Period-Matched Perforated Grilles (April 26, 2017), Nystrom Launches 1 Inch Pan Floor Door (April 21, 2017), Concealed Access Doors, a high-end architectural panel (March 24, 2017), Howe Green Access Cover provides the perfect antidote to access issue at hospital (March 14, 2017), An Introduction to Access Covers (December 12, 2016), Mirror polished stainless steel enclosure top and return grilles at New York City Hospital Lobby (August 26, 2016)
Blackened Steel for Architectural Design (July 19, 2017)
Blackened Steel for Architectural Design (July 19, 2017), Finally a Hands Free Solution to Stop Bathroom Mold with the New Enhanced Broan® InVent™ Series (July 14, 2017), Custom Period-Matched Perforated Grilles (April 26, 2017), Warwick Hotel Rittenhouse Square boasts unique, stylish lobby entrance with revolving door (April 24, 2017), New critical environment damper series from Ruskin® withstands coastal and corrosive applications (April 11, 2017), Ventilation for you the music fan: Brilliant audio performance concealed behind your fan grille (February 27, 2017), New pressure-independent automatic balancing dampers (ABDs) from Ruskin® mitigate stack effect in high-rise applications (January 25, 2017), Tips to Improve Indoor Air Quality This Winter (December 19, 2016), AAG100 Plaster J-Bead™ Curved Linear Grille (November 9, 2016), Ruskin's Zone Control Solutions Brochure (October 5, 2016)
Blackened Steel for Architectural Design (July 19, 2017), Finally a Hands Free Solution to Stop Bathroom Mold with the New Enhanced Broan® InVent™ Series (July 14, 2017)