architecture - engineering - construction

Flipper & Pocket Doors: What's the Difference?
March 29, 2018
Once relegated to storing console televisions and video cassettes, flipper and pocket doors have made a resurgence in space-saving designs. If you haven't considered or may be totally unfamiliar with, these types of entries, you could be missing out.
Here's a quick overview.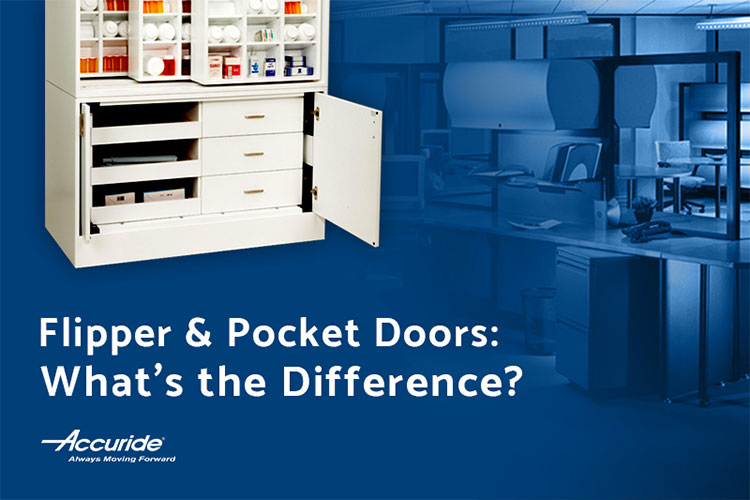 Flipper Doors
A flipper door is a hinged cabinet-level entry with a door that lifts ("flips") open and retracts out of view—like a garage door. Like conventional drawer slides, these openings use ball bearing systems to slide open or closed. This retractable opening allows for easy access to contents and keeps the door from being in the way. Unlike many conventional drawer slides, however, the members on these slides don't disconnect.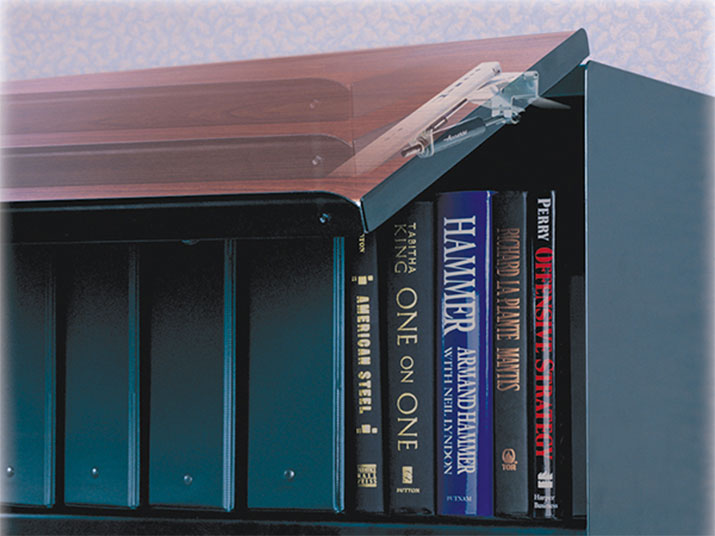 Flipper doors are commonly used as overhead storage in kitchens, media centers, garages, and offices.
Flipper doors are often used for overhead storage in homes and offices, but some innovative designers have used them to help conceal appliances to craft a clean space without exposed hardware. The 1155 Easy-Down is an example of a flipper door slide with a mechanism that brings doors to a gentle close.
Pocket Doors
Similar to a flipper door, a pocket door uses a ball bearing or track system to slide doors out of view. The difference is that pocket doors open outward, like a traditional door, but then retract into the cabinet space. Because pocket doors retract into cabinetry, they don't occupy space that traditional pull-out doors do when they're open.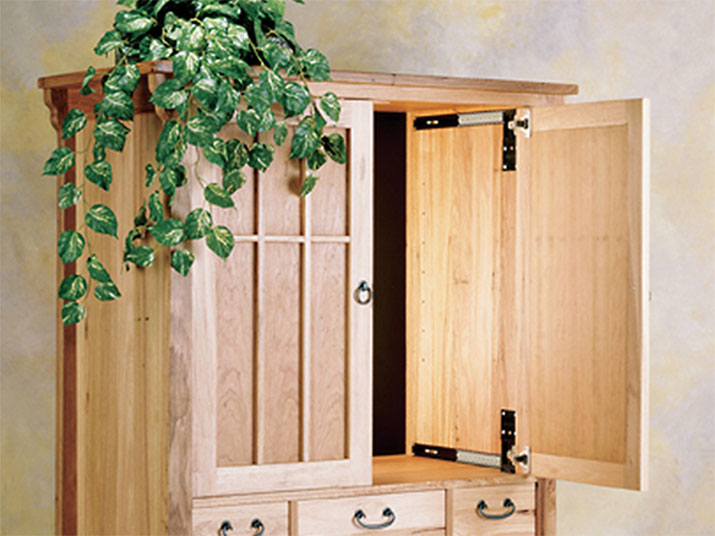 Pocket doors are commonly used on armoires, display cabinets, and entertainment centers.
Pocket doors can be used in pantries, media centers, armoires—virtually any casework or millwork with a door application that opens outward. The Accuride 1234 is an example of a ball bearing slide for pocket doors.
Specs & Options
Pocket and flipper door slides come in a wide array of specs, sizes, and variants.
Some models, such as the 1145 Flipper Door Slide, may offer polymer bearings instead of steel for silenced movement. Some models of flipper or pocket door slide may also offer optional features, such as soft-close (as with the 1155 Easy-Down Flipper Slide) or push-to-open mechanisms.
Cabinet-level pocket and flipper door slides tend to be light-duty. Accuride models, for instance, generally support doors weighing 20 to 30 lbs., with max vertical (for pocket) and horizontal (for flipper) sizes up to 42 in.
The exceptions are the 1332 and 1432: These pocket door slides use an innovative cable system to maintain stability and support doors up to 78 in. tall and weighing 75 lbs.
This 3D video shows how Accuride movement solutions, including flipper and pocket door slides, can create a space-saving environment.
Regardless of which movement solution you choose, pocket and flipper doors provide you with a great space-saving solution for your kitchen, living room, or office.
Accuride offers a full range pocket and flipper door slides, as well as accessories. Whether your application is a light duty or one that needs soft-close, visit Accuride's Pocket and Flipper Door Page to see a full range of solutions.
Company:

Accuride International
Product: Flipper Door Slides
Source: https://www.accuride.com/blog/products/flipper-doors-pocket-doors-difference/
---
Tags:
How are mantrap portals designed to mitigate physical security risk? (March 12, 2018), A Gateway To A Translucent Space (December 15, 2017), Art Gallery of Ontario enjoys more space and comfort with BoonAssist TQ revolving door entrance (November 28, 2017), Kawneer Project Profile: Heifer International World Headquarters (November 2, 2017), Mitigating Protests, Smart Mobs and Crime with Manual Revolving Doors (September 6, 2017), Security Entrances Protect Your Bottom Line and More (March 31, 2017), The Original Orange Elevator Smoke Curtain (March 28, 2017), Brass clad & bronze clad doors & frames (January 30, 2017), Mantrap Portal Solutions Eliminate Piggybacking (January 23, 2017), Tunnel Vision: New York City's East Side Access Project (November 21, 2016)
Educational design: Connecting people and place (March 28, 2018), Custom outdoor furniture that reflects your vision (November 10, 2017), LumiSplash™ Decorative Laminates with LED Edge Lighting (October 23, 2017), Theater Seating that says enjoy the show! (October 17, 2017), Four Cross-Departmental Benefits of Electronic Access Control (October 13, 2017), 5 Innovative Public Square Design Ideas (September 29, 2017), 9300 Slides – for the heavier bear (September 18, 2017), Ogden by Maglin Site Furniture offers flexible straight, curved or circular bench options to suit any style (August 25, 2017), Bike lockers: The right bike parking for your site (August 16, 2017), Accuride Integrated Access Solutions: The New Frontier of Access Control (August 15, 2017)
Ceiling tiles - what you need to know before you buy (March 23, 2018), Linear Grille Wall Cladding (March 14, 2018), The Benefits of Using Interior Glass in the Office of 2018 (March 5, 2018), Greening A Building from Top to Bottom (February 6, 2018), Linear motion track systems and how they help you (January 29, 2018), Color underfoot: new design possibilities with concrete (January 17, 2018), 7 Things to Consider When Designing a Commercial Interior using Glass Walls (January 9, 2018), From west to east with Howe Green access covers (January 4, 2018), 5 Cutting-edge ideas to use 3D textured designs in your home today (January 2, 2018), A Gateway To A Translucent Space (December 15, 2017)
Linear motion track systems and how they help you (January 29, 2018)