architecture - engineering - construction

Hotel X Toronto
May 27, 2019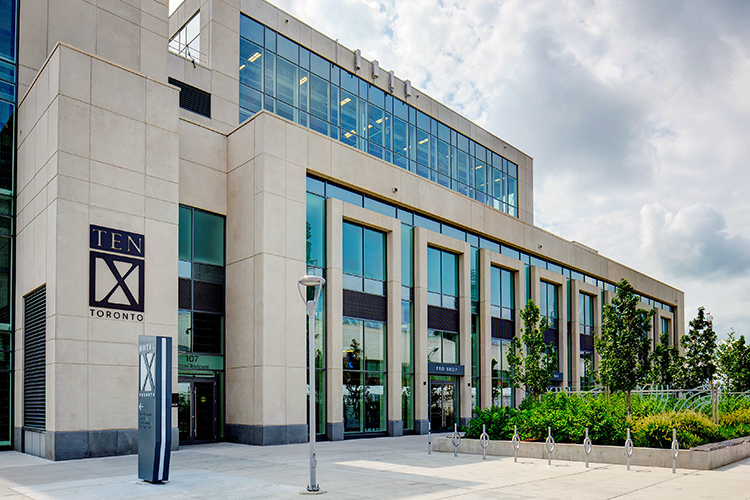 High style and eco-conscious design are often perceived as mutually exclusive. Hotel X Toronto—the latest addition to the Library Hotel Collection's portfolio of international boutique hotel properties—boldly challenges this assumption.

Hotel X Toronto is located in downtown Toronto, Ontario, Canada on the grounds of the historic Exhibition Place and the revitalized property of the Stanley Barracks (a former military post) on the shore of Lake Ontario.

Hotel X Toronto's love for nature is clearly expressed by the design of the hotel and in the displayed art. Located on the lakefront on 192 acres of city parkland, the hotel and its keepers are deeply committed to preserving the environment.

Designed with a focus on the vibrant Toronto community and driven by environmentally sustainable practices and eco-friendly initiatives, the new hotel perfectly encapsulates authentic hospitality by offering a modern hotel experience in the heart of Toronto's most historic and iconic location. 1
Part of the grounds surround the only remaining building original to the Stanley Barracks and offer seating and gathering spots which generously punctuate the parkland.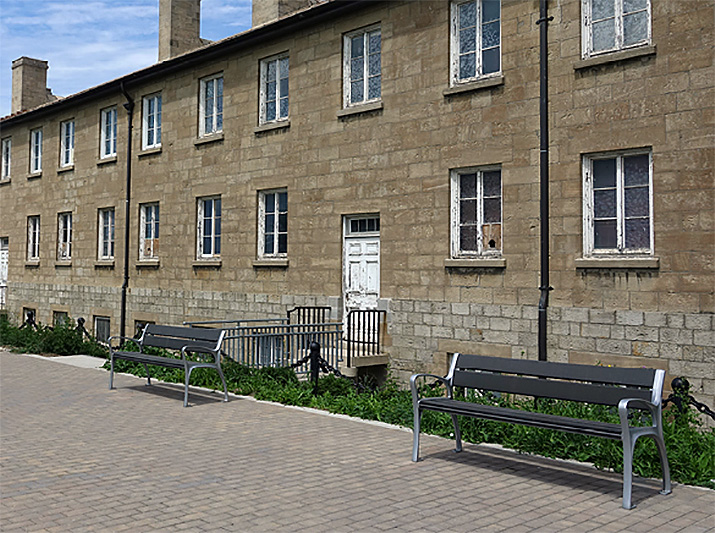 Major sustainability features of the facility include:
Energy efficiency
The design is aiming to be at least 29% more efficient than the mnecb-1997 reference building.
Best in class construction practices
The specifications and contracts will mandate compliance with the erosion plan, management during construction prior to occupancy plan, and commissioning plan.
Food and waste disposal
Hotel X Toronto has implemented a food composting program along with a garbage compression program to minimize transportation waste. The initiative helps us reduce not only volume of garbage generated but also limits the carbon emissions created during transportation of disposed items.
Food sourcing
The food and beverage operator adheres to a "buy local products' program that promotes ontario grown produce and incentivizes the local economy.
Collection of rain water irrigation
All rain water falling on property is collected in an underground cistern and the gray water is used for irrigating green spaces
Green roofs
The building's 6 green roofs help reduce the reflective heat radiation from the building. The green roofs use climate appropriate plants and lichens indigenous to ontario.1
Hotel X Toronto is a stunning expression of intentional design—targeting LEED Silver as a minimum performance requirement without sacrificing stunning decor and amazing amenities. The hotel's interior boasts spectacular views from every room; hosts Toronto's only three-level rooftop Skybar; entertains with a 250-seat cinema and 56-seat screening room; and encourages fitness with indoor tennis and squash courts, rooms dedicated for pilates, spinning, yoga, and more! Thoughtful attention was paid to the surrounding grounds as well.1
The hotel's website states, "We created six acres of parks and gardens in an area previously occupied by asphalt parking lots. Over 200 trees were integrated in the design of our gardens along with grass areas and perennial grasses to recreate the original landscape of the location." 1
The exterior benches and waste containers at Hotel X Toronto are manufactured by Maglin Site Furniture and are made from High Density Paper Composite (HDPC) material, which is eligible for LEED credits. HDPC is composed of FSC-certified recycled paper and phenolic resin that has the EcoBind™ designation (being one of the lowest VOC emitters existing on the resin market to date). All emissions are recaptured and reutilized in the manufacturing process, destroying 100% of the VOCs. Again, none of the environmental gains of the exterior furniture pieces come at the expense of style in keeping with Hotel X Toronto's commitment to sustainable luxury.
Guests at Hotel X Toronto can sleep better knowing that they are supporting the environment by choosing a hotel that prioritizes sustainability.
1 https://hotelxtoronto.com/en/the-concept.html
Project: Hotel X Toronto by Library Hotel Collection - Toronto, ON Canada
Specified by: Dillon Consulting - Toronto, ON Canada
Contractor: UCC Group Inc. - Toronto, ON Canada
Maglin Site Furniture Products: 870 / 872 Series Backed and Backless Wall-mount Benches, 400 Series Waste Containers, 200 Series Bike Racks
@maglinfurniture #maglinfurniture #maglin #streetfurniture
Company:
Maglin Site Furniture
Product: Benches
Source: https://www.maglin.com/eNews/March2019.html
---
Tags:
Ogden Collection offers flexible backed and backless curved, circular and straight bench options to configure a style that you visualize (March 13, 2019), Commercial trash receptacles to reduce litter and promote recycling (March 11, 2019), Material Highlight: High-Density Polyethylene (February 11, 2019), What Is Fixed Theater Style Seating? How to Calculate Fixed Theatre Seating (December 24, 2018), Whistler's Cultural Connector (December 19, 2018), Working Inside Out (November 14, 2018), Modern Heirlooms - Historic Urban Mixed-Use Developments (June 25, 2018), Connect with Ancora (June 4, 2018), Flipper & Pocket Doors: What's the Difference? (March 29, 2018), Educational design: Connecting people and place (March 28, 2018)
Self-watering planter reservoirs (May 10, 2019), What types of planters are safe to grow vegetables and fruit? (April 12, 2019), Ogden Collection offers flexible backed and backless curved, circular and straight bench options to configure a style that you visualize (March 13, 2019), Commercial trash receptacles to reduce litter and promote recycling (March 11, 2019), Trellises… Another way to beautify outdoor spaces with Feeney (February 18, 2019), Selecting the Best Commercial Bike Rack (February 13, 2019), Material Highlight: High-Density Polyethylene (February 11, 2019), How Lightweight Planters Can Lower Your Costs (January 25, 2019), Bronze Aluminum Cable Railing (January 18, 2019), Whistler's Cultural Connector (December 19, 2018)
How to - Pro Polished Concrete Floor Systems (February 15, 2019), Material Highlight: High-Density Polyethylene (February 11, 2019), Visual Blog: Kalwall in the Retail/Commercial Market (February 8, 2019), Meeting modern trends in multifamily construction (October 17, 2018), Facades+ features UW NanoES building with finishing by Linetec (October 15, 2018), Daylight modeling services (September 10, 2018), Varying perforation pattern technique provides sun shading system (April 30, 2018), A Gateway To A Translucent Space (December 15, 2017), Now from Armstrong ceilings: Tectum wall & ceiling panels (November 9, 2017), Kawneer Project Profile: Heifer International World Headquarters (November 2, 2017)
What's the best strategy for solar-hungry homeowners? (May 24, 2019), Visual Blog: Kalwall in the Retail/Commercial Market (February 8, 2019), Meeting modern trends in multifamily construction (October 17, 2018), Facades+ features UW NanoES building with finishing by Linetec (October 15, 2018), Thermal performance and energy savings with polycarbonate glazing systems (July 16, 2018), Thermal breaks in aluminum framing: not just a cold-weather friend (November 7, 2017), Kawneer Project Profile: Heifer International World Headquarters (November 2, 2017), Slate, Portland's new, LEED Gold, mixed-use, transit-oriented development features Linetec's paint, anodize and thermal improvement services (November 1, 2017), Andamar Lifestyle Center uses revolving doors to combat wind, air infiltration (October 25, 2017), 5 Innovative Public Square Design Ideas (September 29, 2017)