architecture - engineering - construction

How to Compare an Acrylic Shower Pan to a Cultured Marble or Granite Base
April 7, 2021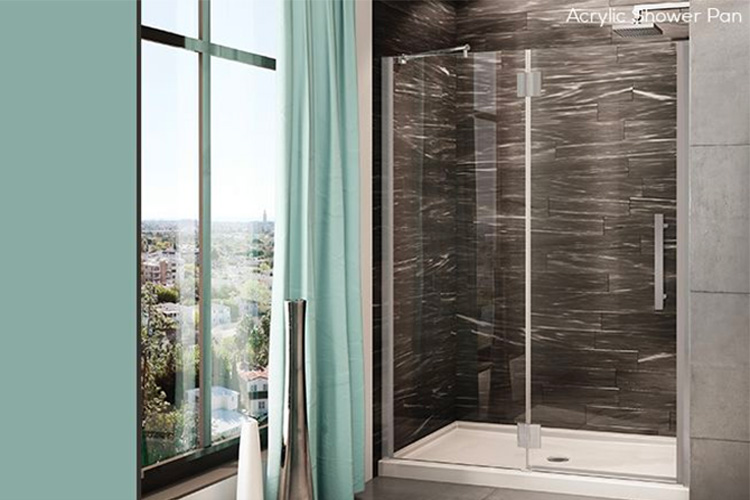 Shopping for shower pans can be a pain in the rear. There I said what most of you were thinking. There's a ton of options and this part of your bathroom remodeling project isn't exactly the most exciting item you need to complete the job. However, as anyone who has had a shower pan fail in the past knows, not getting this decision right can have expensive consequences (like having to replace everything above it if the base fails).
While there are many types of shower pans (including fiberglass and tile which I won't cover in this article), I personally spend A LOT of time talking about acrylic and cultured marble bases. And that's NOT because of my 'wild, jet-setting' lifestyle, it's because my business wholesales and installs thousands of shower pans in a year. And with this experience here's one thing I can tell you with 100% certainty….
Both acrylic and cultured marble or granite have their place.
But I know there's only ONE THING which matters to you, and that's what's best for your project. So, to guide you through this decision I'm going to present 9 critical factors to help you make the right shower pan choice for your remodel.
Critical factor #1 – You need a shower pan which is sturdy.
Critical factor #2 – You need a shower pan which works for your budget (a budget which isn't as big as you'd like).
Critical factor #3 – You need a shower pan which is simple to clean.
Critical factor #4 – You need a pan where you can keep the drain where it is.
Critical factor #5 – You need a pan which is not back-breaking to install.
Critical factor #6 – You need a pan with color and pattern options.
Critical factor #7 – You need a pan which is safe.
Critical factor #8 – You need a pan you can get quickly and won't be damaged in shipment.
Critical factor #9 – You need a pan with a long guarantee.
In this article I'm going to 'get you to the bottom' (OK – that was a bad shower pan pun, but I resemble that remark) of this difficult – but I'd contend very important decision. And I promise to 'give it to you straight.' Neither of these types of bases is the right choice in all situations. You need to understand which of the 9 factors above are most important for you, and then make your decision accordingly. So, without further delay let's dig into the 9 factors.
Critical factor #1 – You need a shower pan which is sturdy
…and the winner is… CULTURED MARBLE OR GRANITE
If you've experienced a cheap fiberglass pan which cracked, or an expensive tile pan where the tiles are barely hanging on, you know having a pan you don't have to worry about cracking or chipping is a good thing. And if you're looking for the ultimate in durability a cultured granite pan is at the top of the list. After all it's an engineered stone with a thick (and heavy) bottom layer.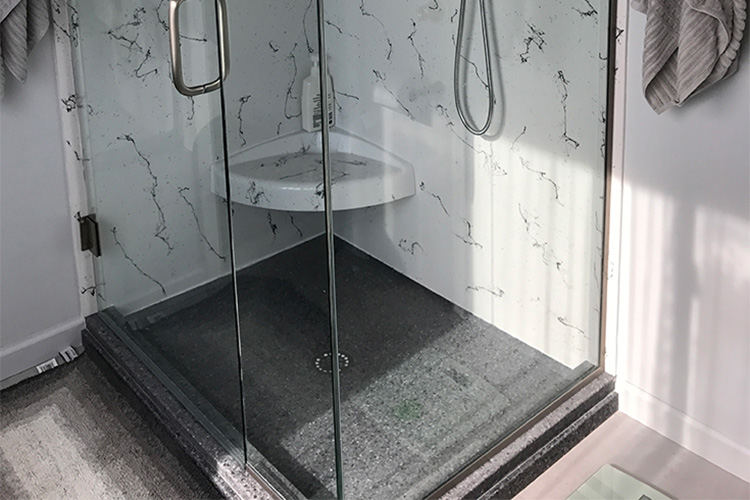 And while there are reinforced acrylic shower pans with stronger structures underneath, nothing compares to the 'sure-footing' you'll feel when you step into a cultured marble shower pan.
Factor #2 – You want a shower pan which works in your budget (which isn't as big as you'd like)
…and the winner is… ACRYLIC
Just like your Dad used to say, you're not made of money. And the costs of this bathroom remodel are skyrocketing at every turn. You want (OK, you NEED) to save money somewhere – and you'd like to do it in less noticed areas of the bath remodeling. However, you don't want to compromise quality. And if your goal is to keep costs down, you'll hands-down want to choose acrylic shower pans. Acrylic pans cost 30% to 70% less than cultured marble or granite (and note – cultured marble and cultured granite are comparably priced to one another).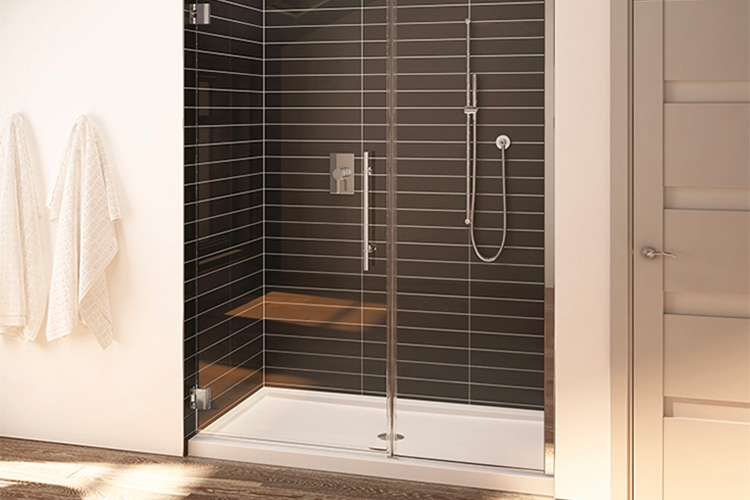 However, I WOULD NOT recommend getting the cheapest acrylic pan you can find (some are simply not built well). And if you want more input on the best acrylic pan for your money read How much do acrylic and fiberglass shower pans cost (with 5 buying tips you need to stop making dumb mistakes).
Download Our Shower Base Guide Now! >
Factor #3 – You DESPERATELY want a shower pan which is simple to clean
…and the winner is…. IT'S a TIE
If you're living with nasty tile grout joints and scrubbing the shower down until your arms want to fall off, or you've finally 'thrown in the (bath) towel 'attempting' to clean the bottom of your scummy and yellowed fiberglass shower pan you know somethings got to give. You've vowed to get an easy to clean shower pan in this remodel…. even if it's the last thing you'll do. And here's the good news for you. Both acrylic and cultured marble shower pans are simple to clean. You can wipe them with mild cleaners or soap and water. There's no need for scrub brushes or crazy chemicals ANYMORE.
@innovatebuild #innovatebuild #shower #remodeling #bathroom
Company:

Innovate Building Solutions
Product: Custom shower base
Source: https://blog.innovatebuildingsolutions.com/2021/03/09/how-to-compare-acrylic-shower-pan-to-cultured-marble-granite-base/
---
Tags: