architecture - engineering - construction

The Industry's 1st Monitored Light Curtain - Now Available
September 25, 2015
NEW!! — Miller Edge Light Curtain: Monitored or Fail-Safe
Using a series of thru beam photo eyes attached near the door track or guides, this light curtain is designed
to provide a dense barrier of light that, when interrupted, signals the door to reverse. With the ability to span
up to 32 feet wide and 6 feet high, it is suitable for use on the majority of commercial and industrial door applications.

Paired with an edge sensor, this combination offers the premier sensing solution for door systems.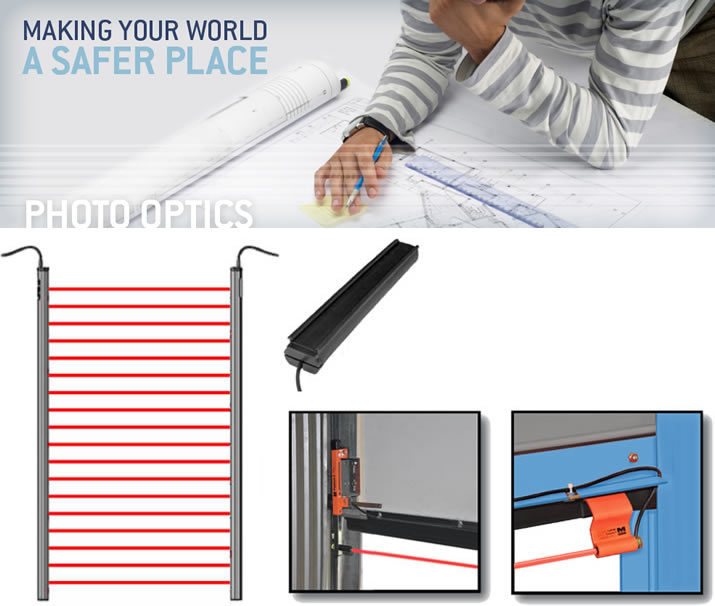 Company:

Miller Edge, Inc.
Source: http://www.milleredge.com/light-curtains-photo-optics.html
---
Tags:
A perfect blend between revolving doors and transparent architecture (September 4, 2015), Ruskin Air Doors Protect Indoor Air Quality (August 28, 2015), Sweet Dreams, Courtesy of AMBICO Products (June 30, 2015), Quick Ship Booths (June 29, 2015), Revolving Doors and ROI for Retail (June 10, 2015), Entrance possibilities are endless! See the 7 elements of revolving door design (February 23, 2015)
Flexible Bollards: Traffic & Parking Lot Posts (September 9, 2015), Bank Security: Balancing the Priorities of Security Managers, Architects, and Facilities (August 31, 2015), Introduction to Flashing/Talking Interactive Signs (August 13, 2015), Plastic Bollard Covers: Security Post Sleeves (August 7, 2015), Custom Mill Work, Bullet Resistant Barriers, and Inconspicuous Perfection (July 24, 2015), Ergonomics: When Work Really Can Be Hazardous to Your Health (July 14, 2015)
A perfect blend between revolving doors and transparent architecture (September 4, 2015), Bank Security: Balancing the Priorities of Security Managers, Architects, and Facilities (August 31, 2015), University Housing 101 (August 21, 2015), Par-Kut parking booth (August 3, 2015), Custom Mill Work, Bullet Resistant Barriers, and Inconspicuous Perfection (July 24, 2015), Benefits of Precast Concrete Bollards (July 10, 2015), Sweet Dreams, Courtesy of AMBICO Products (June 30, 2015), Quick Ship Booths (June 29, 2015), Optically Clear Aluminum Provides Bulletproof Protection (June 5, 2015), Will Your Walls Face Abuse Or Impact? (April 8, 2015)