architecture - engineering - construction

Tree grilles and floor access covers at The Wintergarden
February 27, 2019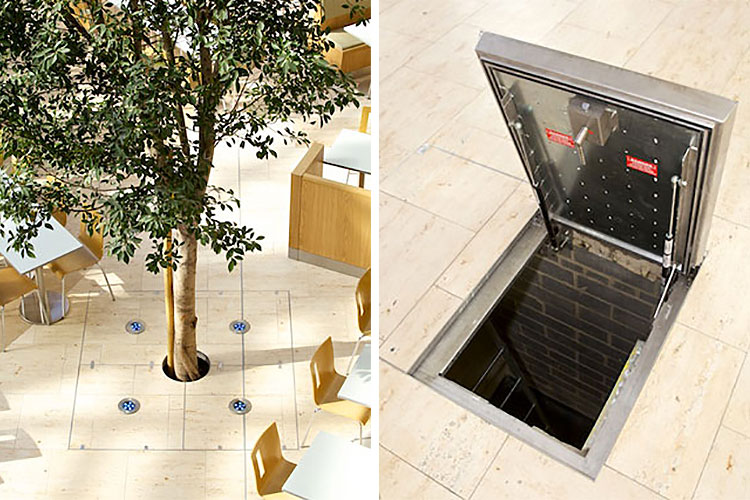 THE WINTERGARDEN, BLUEWATER SHOPPING CENTRE - LONDON
Bluewater's new social dining experience at The Wintergarden is open for business. Featuring different seating areas created with an intelligent blend of materials, colours and finishes, the contemporary new dining space designed by Leslie Jones incorporates seven ornamental trees to add to the aesthetics and help bring a touch of the outside in.
TREE GRILLES
Howe Green, the industry's leading manufacturer of access cover solutions, designed and supplied made-to measure-tree pit covers in stainless steel for the project. These bespoke panels and frames facilitate access to the root chamber and make for straightforward maintenance of the highly valuable trees. Importantly from a design perspective, they also enable the 4,000m2 area of Limestone and Travertine flooring in The Wintergarden to continue uninterrupted to within just millimetres of the tree trunks for a seamless and monolithic effect.
With a commitment to high quality products and an ability to produce made-to-measure solutions without having to charge a premium, Howe Green's tree pit access covers were the obvious choice for The DMC Group who delivered the flooring programme. Made from 304-grade stainless steel, each was manufactured to individual size specifications to fit with the tile grid, accommodate light fittings and the tree pit void underneath. Resistant to rust and corrosion, they are also double sealed to prevent moisture or dirt ingress, helping to further protect the tree and keep soil free from contamination.
Howe Green is a customer-focused company and many of their existing access covers have been developed as the result of a request for a solution to a particular access problem or situation. Tree pit covers were originally developed to answer such a need but have since been specified for many prestigious interior and exterior landscape projects including One Hyde Park, the Broadgate development and Terminal 5 at Heathrow Airport.
Find out more about bespoke metalwork >
FLOOR ACCESS COVERS
The Howe Green access panels give The Wintergarden an easy and reliable method of accessing the essential building services that supply the new contemporary dining spaces and food preparation areas. Specialist flooring contractor DMC Group carried out the 4,000m2 tiling programme and fitted 20 Howe Green covers using a combination of light duty 5000 Series and heavier duty 7500 Series stainless steel access covers in single and multipart configurations.
For an excellent aesthetic finish, they inlaid the access cover frames with Travertine and Limestone tiles to match the surrounding flooring. Designed to sit perfectly flush, the covers pose no trip hazard and are industry proven to withstand heavy foot traffic. 7500 Series covers can also accommodate a load bearing of up to 5 tonne pneumatic tyre wheel loads, ideal where cars and light delivery vehicles need passage. They are resistant to rust and corrosion and double sealed to prevent water ingress and dirt trapping and provide a more hygienic solution with the added peace of mind of trouble-free maintenance and a cleaner floor.
A hinged HSE 75 access cover with gas springs and internal and external release latches was also installed above a machine room in one of the main approaches to the concessions. The HSE 75 stainless steel cover was the perfect solution in an area where a heavier loading combined with the need for regular access was required and health and safety was paramount.
"Working with Howe Green is always a good experience and The Wintergarden looks excellent" said David McCartney of The DMC Group. "The covers are all made to order so there's never any issues. We know that when we place the order they're going to fit and that we can take delivery within days. Installation on site is easier too because the covers are such good quality".
Find out more about Light Duty Floor Access Covers >
Find out more about Medium Duty Floor Access Covers >
@howegreen #howegreen #treegilles #accesscovers
Company: Howe Green US
Source: https://www.howegreen.com/access-covers/projects/tree-grilles-bluewater-london.php
---
Tags:
Floor access covers for flexible floor finish (January 30, 2019), How to Choose the Right Perforated Grille for Your Project (August 9, 2018), From west to east with Howe Green access covers (January 4, 2018), Not all access covers are created equal (November 6, 2017), Keeping the castle cosy with Howe Green access covers (September 11, 2017), Custom Ornamental Bronze Grilles (August 4, 2017), Blackened Steel for Architectural Design (July 19, 2017), Howe Green 'raises the bar' at former olympic site (July 18, 2017), Swedish hospital 'takes a chance' on Howe Green (June 21, 2017), Howe Green supply 'specials' for renovation of Nationalmuseum of Art, Stockholm (May 9, 2017)
How to - Pro Polished Concrete Floor Systems (February 15, 2019), Floor access covers for flexible floor finish (January 30, 2019), REFLECTOR™ Enhancer Flooring Systems (January 16, 2019), StonePly lightweight natural stone panels (December 21, 2018), Microtopping Floors in Retail Furniture Stores (November 28, 2018), 7 Fun ideas using glass to jazz up your outdoor patio or deck this summer (July 27, 2018), Structural glass floor pavers landings & stair treads (May 7, 2018), Is Polyaspartic Coating better than Epoxy or Polyurethane Coating? (April 26, 2018), From west to east with Howe Green access covers (January 4, 2018), Polished Concrete Flooring (December 13, 2017)