architecture - engineering - construction

Wind-driven rain louvers
May 21, 2018
Wind-driven rain louvers provide the maximum amount of protection in keeping wind-driven rain from egressing past an opening. Wind-driven rain louver models have both horizontal and vertical orientations and utilize a chevron style rain resistant blade that rejects horizontal rain as it comes in contact with the louver. These louvers are tested per AMCA 500-L at wind velocities of 29 and 50 miles per hour. Based on the results of the testing, the louvers are then graded from A to D, with A being the best performance at 99% effective or better at repelling wind-driven rain, B being 98.9% to 95% effective, C being 94.9% to 80% effective, and D being below 80% effective. Additionally, some wind-driven rain models have also been tested for impact and qualify as louvers that can be installed in states like Florida where hurricane conditions exist.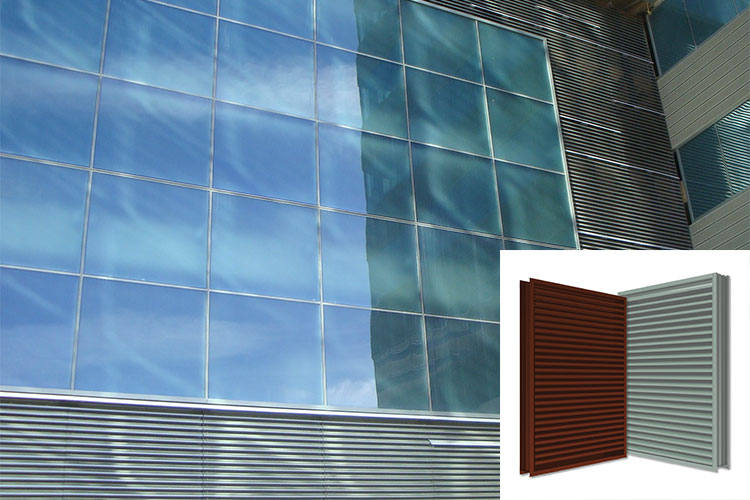 New AMCA 540 (Enhanced) Wind-Driven Rain Louver Models
Ruskin® proudly introduces the new (4") EME420DDE and (5") EME520DDE louver models, both listed for AMCA 540 (enhanced) protection. With both these new models you now have two new louver options for jobs that require Missile Level E protection. You also have the same AMCA certified performance as their respective 'DD' models.
Features:
Horizontal architectural blades minimize the penetration of wind-driven rain, reducing damage and additional operating expenses
AMCA certified wind-driven rain results
Published performance ratings based on testing in accordance with AMCA
Publication 511
40% Free Area.
AMCA 540 Listed (Enhanced Protection)
EME520DDE : Wind-Driven Rain Resistant Stationary Louver
Features:
Closely spaced horizontal blades minimize the penetration of wind-driven rain, reducing damage and additional operating expenses
Tested in the AMCA 500-L Wind-Driven Rain Penetration Test
Published performance ratings based on testing in accordance with AMCA Publication 511
47% Free Area
Excellent pressure drop performance
AMCA 540 Listed (Enhanced Protection)
Company:

Ruskin
Product: Louvers
Source: http://www.ruskin.com/News-Articles/entryid/798/new-amca-540-enhanced-wind-driven-rain-louver-models
---
Tags:
Varying perforation pattern technique provides sun shading system (April 30, 2018), Daylight & Learning (April 20, 2018), Kalwall in the Manufacturing Market (April 10, 2018), Educational design: Connecting people and place (March 28, 2018), Understanding the five phases of design (March 18, 2018), Folded Zinc Panels in One Henry Adams, A Multi-Family Residence in Design District, South San Francisco (March 9, 2018), Smoke Control in High Rise Buildings (March 2, 2018), Blue polycarbonate translucent wall system for Gap in Times Square NYC (December 5, 2017), Design spotlight: daylighting for privacy (December 2, 2017), Art Gallery of Ontario enjoys more space and comfort with BoonAssist TQ revolving door entrance (November 28, 2017)
Structural glass floor pavers landings & stair treads (May 7, 2018), LuxCore FRP Fusion Wall Panels by Decorative Ceiling Tiles (May 1, 2018), Kalwall in the Manufacturing Market (April 10, 2018), Understanding the five phases of design (March 18, 2018), Entrances & entryways - making an impact (March 2, 2018), Architectural Color Trends for 2018 (February 26, 2018), Best places to use cable railing (February 19, 2018), Oceanside: the 2018 color of the year (December 20, 2017), Polished Concrete Flooring (December 13, 2017), Design spotlight: daylighting for privacy (December 2, 2017)
Data center protection (April 15, 2018), Architectural Wall Louvers (November 23, 2017), Visual Blog: Kalwall in the Transportation Market (September 15, 2017), Removable storm shutters & panels (August 30, 2017), Ruskin's acoustical louvers are AMCA licensed for water penetration and air performance (August 21, 2017), Global warming: how architects & building owners can prepare the world (July 27, 2017), Econospan® Screen System (June 7, 2017), Solar shading systems: fixed & motorized louvers (May 3, 2017), KINETICWALL wins 2017 Architizer A+ Award (April 19, 2017), New critical environment damper series from Ruskin® withstands coastal and corrosive applications (April 11, 2017)