architecture - engineering - construction

Wind-driven rain resistant stationary louvers
October 8, 2018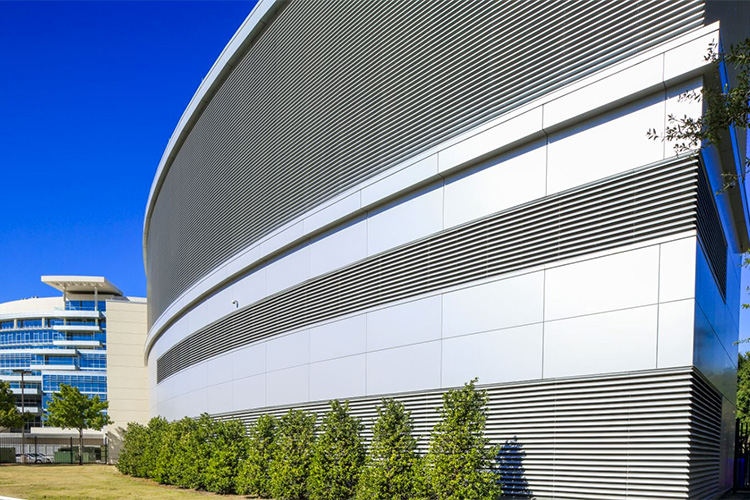 Louver and architectural solutions
While providing fresh air intake and exhaust, Ruskin Louvers can also provide architectural style to building design. With the variety of models, sizes, and paint finishes available, Ruskin Louvers can add unusual and appealing features to exterior and interior elevation. Ruskin louvers are available in depths ranging from 1.5" to 12", and can accommodate various blade angles with high free area.
Stationary louvers
Stationary louvers are commonly seen in applications that require intake and exhaust ventilation. Of all of the louver sub categories, stationary louvers are the most common ones used and have the largest breadth of models. Stationary louvers are both drainable and non-drainable, provide protection for water infiltration, and wind-driven rain. Non-drainable models are commonly sought after for projects with an emphasis on architectural aesthetics while drainable models perform better in guiding moisture away from the area behind the louver.
Wind-driven rain louvers
Wind-driven rain louvers provide the maximum amount of protection in keeping wind-driven rain from egressing past an opening. Wind-driven rain louver models have both horizontal and vertical orientations and utilize a chevron style rain resistant blade that rejects horizontal rain as it comes in contact with the louver. These louvers are tested per AMCA 500-L at wind velocities of 29 and 50 miles per hour. Based on the results of the testing, the louvers are then graded from A to D, with A being the best performance at 99% effective or better at repelling wind-driven rain, B being 98.9% to 95% effective, C being 94.9% to 80% effective, and D being below 80% effective. Additionally, some wind-driven rain models have also been tested for impact and qualify as louvers that can be installed in states like Florida where hurricane conditions exist.
The EME745 wind-driven rain resistant stationary louver is 7" deep and features a continuous blade, two component design. It features:
49% Free Area (48" x 48" size)
A two component design that allows continuous blade appearance while providing wind driven rain resistance
Good pressure drop performance
Aluminum construction for low maintenance and high resistance to corrosion
Company:

Ruskin
Product: Louvers
Source: https://www.ruskin.com/model/eme745
---
Tags:
Four steps to prepare your home for the golden years (September 12, 2018), Louver and Architectural Solutions (August 23, 2018), Aesthetics: When Looks and Beauty Matter for Security Entrances (August 15, 2018), Tips for specifying postal specialties (July 30, 2018), Morintegrated - Design Like a Kid Again (July 24, 2018), How to find the perfect architect for you (July 10, 2018), Modern Heirlooms - Historic Urban Mixed-Use Developments (June 25, 2018), Art in Motion by Ethereal Light Installation Artist Spencer Finch (June 9, 2018), Design spotlight: enhancing the grid (June 3, 2018), Wind-driven rain louvers (May 21, 2018)
Louver and Architectural Solutions (August 23, 2018), Webinar Presentation on Louver Selection and Application (June 7, 2018), Wind-driven rain louvers (May 21, 2018), Data center protection (April 15, 2018), Architectural Wall Louvers (November 23, 2017), Visual Blog: Kalwall in the Transportation Market (September 15, 2017), Removable storm shutters & panels (August 30, 2017), Ruskin's acoustical louvers are AMCA licensed for water penetration and air performance (August 21, 2017), Global warming: how architects & building owners can prepare the world (July 27, 2017), Econospan® Screen System (June 7, 2017)