architecture - engineering - construction

How façade elements are increasing health, safety, and sustainability in school design
August 14, 2020
Recognizing the occupant benefits of natural light, flexibility, and fresh air, architects are increasingly designing schools with ample amounts of glass and open, versatile layouts. Here's a look at what's driving trends in school design—and how the façade plays a crucial role.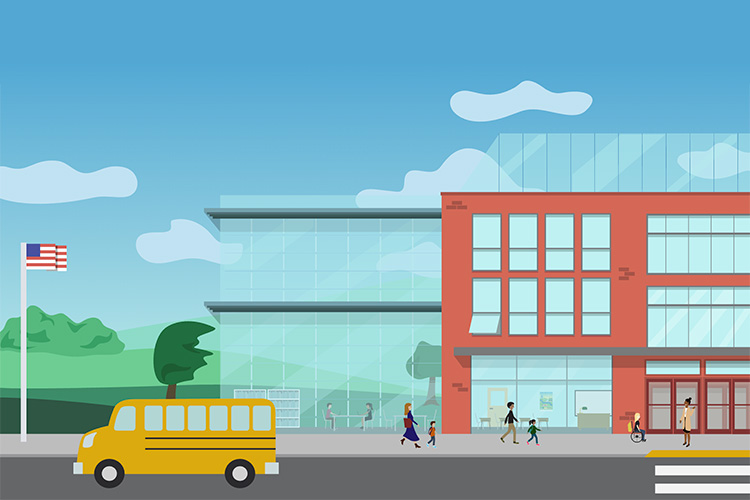 Safety and Protection
Many of our curtain walls, doors and windows are stringently tested for impact resistance for both large and small missile impact, and blast-tested to ASTM standards. For added safety and security, our entrances feature panic exit devices for crowded buildings, allowing quick emergency egress as well as controlled user access. We also provide a wide variety of ADA-compliant entrance options and appropriate hardware to meet regional building codes.
Natural light and ventilation
Our high-performance solutions allow maximum use of natural light, which helps students be more productive, work faster, and perform better on cognitive tests.1 Operable windows provide natural ventilation and improved classroom air quality, leading to better health and fewer sick days.2
Occupant comfort
Energy-efficient, high-performing façades are vital for indoor temperature management, optimizing the comfort of students and faculty, while conserving energy and reducing long-term costs.
Sustainable building certification
Our sustainable products can help contribute to Leadership in Energy and Environmental Design (LEED®) points across several categories, assist schools in achieving certification, and promote integrated, whole-building design practices. LEED®-certified schools have demonstrated a 30 to 50 percent reduction in energy use, which lowers operational costs and allows more resources to be channeled into student education.3
Our commitment to social and environmental responsibility empowers us to deliver highly functional, healthy and secure solutions for K-12 and higher education facilities.
@kawneer #kawneer #façade #school #sustainability
Company:

Kawneer Co., Inc.
Source: https://www.kawneer.com/kawneer/north_america/en/info_page/education_solutions.asp?utm_source=dot-org&utm_medium=website&utm_campaign=partnerships19-kawneer
---
Tags: